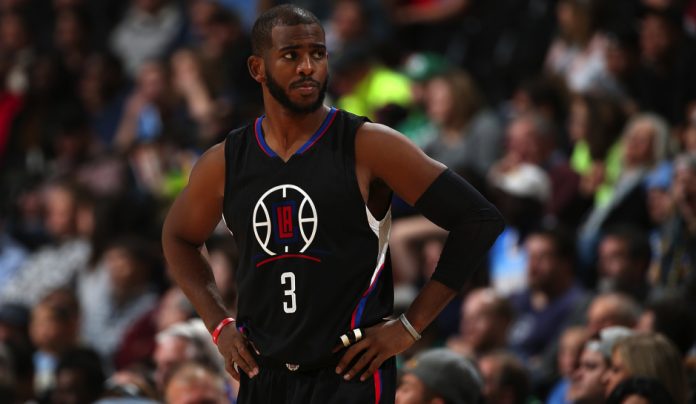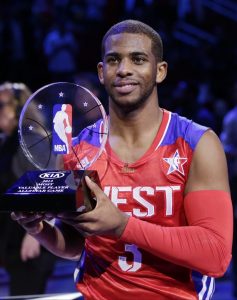 He is one of the greatest point guards in NBA history. He was the 2005-06 Rookie of the Year, 9x All-Star, 8x All-NBA team member, and an 8x All-Defensive team member, but he has never made it to the NBA Finals. He is second in career assists, first in career steals, and second in player efficiency, among active players. However, he has never made it to the Western Conference Finals. Basketball Reference has Chris Paul's Hall of Fame probability at 100%, so why has he never had success in the playoffs?
Chris Paul has made the NBA playoffs in 8 out of his 11 complete seasons in the NBA, and, with his Clippers in 4th place in the Western Conference, he is closing in on his 9th postseason appearance. I would like to investigate what happened in those 8 postseason runs.
Three of the eight postseason visits were with the New Orleans Pelicans, who were still the Hornets at the time. In those three visits, Paul was surrounded by a group that included Chris Andersen, David West, Tyson Chandler, Peja Stojakovic, Trevor Ariza, and Emeka Okafor. Alongside those average players, Paul and the Hornets made it to the Conference Semifinals, only to lose to San Antonio in a seven-game series. The playoff runs with the Hornets were actually impressive considering how little help he had around him, but then he took his talents to Hollywood.
The next five appearances have been with the Los Angeles Clippers, where he resides today. Since arriving in LA in 2011, Paul is yet to miss a postseason. In those five playoff runs, the Clippers have made it past the first round three times, but still can't get over that hump. The three conferences semis appearances included being swept by the Spurs, losing in six games to OKC, and blowing a 3-1 lead against Houston.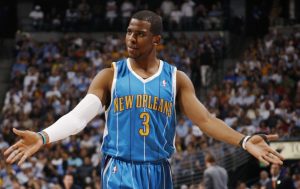 However, this scenario is different for Paul, because he has exponentially more talent around his than he did in his time in the Big Easy. During his tenure in Los Angeles, he has been surrounded by players such as Blake Griffin, Deandre Jordan, Chauncey Billups, Mo Williams, Jamal Crawford, Grant Hill, J.J. Reddick, Josh Smith, and Paul Pierce. The possibility that Chris Paul might end his career without making it past the second round of the playoffs could be the eighth wonder of the world. Paul has had all of the cards he needs, but injuries and unlucky seeding scenarios have tormented the Clippers. There is really no one to point fingers at in the organization. The team appears to have great chemistry (except for that ONE time Blake Griffin punched an equipment manager in the face), they have great executives and management, and they have a championship-winning coach in Doc Rivers. Rivers has .579 career winning percentage and a .667 winning percentage while being at the helm in Los Angeles.
The Clippers are a talented group of very good players and coaches, but they have one flaw that has kept their beloved CP3 from ever attaining the seemingly unattainable. They are cry-babies. Since Doc Rivers came to town, the Clippers have received 284 TECHNICAL FOULS. They are leading the league over the last 4 years by a long shot, and this problem is caused by the coaches and the players. Of the 284 technical fouls called under Doc's regime, 28 of those were given to Rivers himself. It is not a good sign when about 10% of the techs you receive are from your coach losing his cool. Although that also shows how many of the technical fouls are given to the players. 170, or about 60%, of the technical fouls, were called on the players. A bunch of hot-head players led by a hot-head coach is not a good combo. People always say that referees should never make a call based on emotions or feelings, but it is pretty hard not to when you are being yelled at by a coach and his players for 3+ hours.
CP3 finally has talent around him. He has two developed superstars in Blake Griffin and Deandre Jordan, great role players such as J.J. Reddick and Jamal Crawford, and veteran leadership with Paul Pierce and himself. The Clippers just need to learn how to control their temper. If they can figure that out, they will be deadly.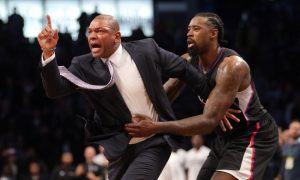 In conclusion, if Chris Paul ever wants to make it to the Finals, or even the Conference Finals, I recommend that he starts with controlling his team, and his coach.