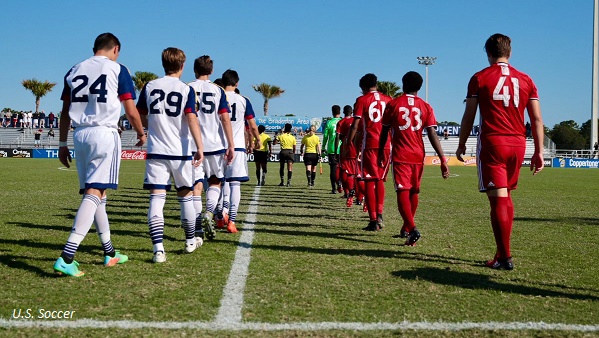 The U.S. Soccer Development Academy program, born in 2007, was set up to develop players into world-class talents and has been the #1 league for soccer players. As players stand out, it's typically the best of the best who play in the DA, and that's the way it's been for over 10 years. Competition and politics can also play a huge factor as to whether you make a DA team, but those factors are no more.
Recently, US Soccer announced that it would shut down the USSDA program after 13 years during the coronavirus. This announcement has been rumored to be linked to the women's national team advocating for equal pay with the male players, pay which they certainly deserve after their 2020 World Cup victory. Nevertheless, this has created a major shakeup for our youth soccer program, especially with the 2022 World Cup in our near future. So, what does this massive announcement mean for the future of US Soccer, as a whole?
MLS Development League
In response, US Soccer plans on creating a development league for MLS-affiliated clubs such as FC Dallas, Houston Dynamo, and DC United. While it is unclear whether this will apply for the girls' side, the MLS league plans to go in effect in 2021 as soon as possible. It looks like it will be similar to the USSDA program, and US Soccer wants to make sure players are being developed especially national-team and professional players. However, this has affected lots of smaller clubs, clubs not MLS-affiliated.
Some teams have been selectively dropping their teams out of the Development Academy such as Lonestar SC (Texas), while U.S. Soccer kicked out clubs that they deemed unfit such as FC Wisconsin. The majority of American soccer players are not able to play for MLS Clubs, as they are highly competitive and selective. There are local clubs not in the MLS that can perform better than MLS Clubs, such as Solar S.C. as opposed to FC Dallas. There are tons of talented players, and yet they may not be looked at due to this MLS league. Recruiting is now crazy for athletes, as there's no tournaments or showcases and second-semester junior year is a big time for recruitment. Let's just say that decisions are going to be tougher.
2022 World Cup
Ever since the drastic age-pure change back in 2017, US Soccer has been making changes to match Europe's system and improve our national team. These changes have been in light of crushing defeats to South American teams, a recent 2-0 loss to Canada, and of course, our inability to qualify for the 2018 World Cup.
We are in a relatively easy qualifying group (CONCACAF) with smaller teams like Panama and Costa Rica, whereas European teams can face Germany, France, or Spain. The hardest team we face is Mexico. However, aside from my rant on CONCACAF, getting rid of your primary development league is going to force you to make decisions about how to make a new league.
Furthermore, it must be improved from the DA, or else there wouldn't be a justifiable reason to get rid of the program. There are rumors of US Soccer having a lower budget due to its high investment in the DA program, and I don't know if they'll be able to do the same thing with a new league. If they don't come up with an appropriate solution fast, there won't be much hope for the next World Cup and future international tournaments.
Conclusion
While the DA program has produced lots of talented players, it doesn't always create players destined for a long path in US Soccer. They are creating players who can play in the D1 NCAA level, but not necessarily for a long-lasting career in the MLS or abroad. Unless you are way ahead of your time, that seems like the predominant path and can be an effect of American soccer. We don't have a strong soccer culture, and parents prioritize education for kids over sports, with school ultimately taking up more time than soccer for most American players. The USSDA program hasn't done enough to produce players that can allow us to compete in big international tournaments such as the Copa America or the World Cup. Will the changes in the next couple of years allow us to do that? I'm not sure.
But until then, check back to The Roundup for more coverage of American youth sports!