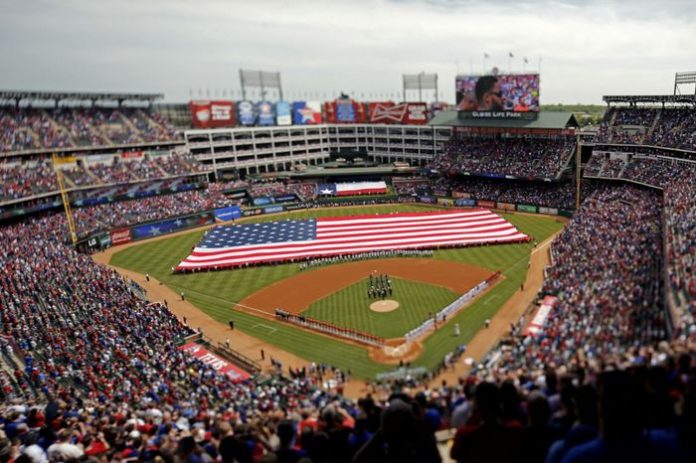 2016 has finally reached April, which marks the start of warm weather, the entrance of the home stretch for the school year, and the dawn of a new baseball season.
Monday marks Opening Day for much of the MLB, including the Texas Rangers, who take on Seattle at home. After a comeback season in which they conquered their division only to lose in spectacular fashion to the Blue Jays in last year's ALDS, the Rangers had a largely uneventful offseason, in part because their biggest move for this year was completed at last season's trade deadline in the acquisition of Cole Hamels. The Rangers have one of the deepest rosters in baseball and have fortified their outfield situation, the greatest weakness from last year. Texas will bring back much of last season's AL West Championship team, and by filling many of the holes in their roster, have positioned this year's club to be a serious contender.
1. Who's Gone
OF Leonys Martin (traded to Seattle) – This move didn't affect the lineup as much as it reaffirmed the Rangers' trust in Delino DeShields as the everyday centerfielder for the time being. It also didn't hurt to free up the $4 million that the underachieving Martin would have cost them as a 4th outfielder.
1B/LF Mike Napoli (Free Agent) – We all love the NAP-O-LI chant. He filled in admirably as a platoon bat against lefties in the 2015 season, fulfilling multiple roles in the porous lineup. However, Napoli in left field was a disaster and the $7M that he wanted this year was better spent on someone who could bring athleticism to the outfield.
2. New Guys on the Block
Ian Desmond (Free Agent from Washington) – The Rangers acquired the former National as a for 1 year/$8 million during Spring Training. Originally a shortstop, the Rangers have converted Desmond to an outfielder who can play infield if needed. Left field was the only glaring hole in the Rangers' roster, and re-signing Napoli to play outfield or trusting Josh Hamilton to stay healthy for an entire season (he's already out until May) was just not going to work. Desmond's regression over the past 3 years is worrisome, but given a second chance at earning a big contract next year, Desmond has a chance to show that he can still hit for average to go along with his 20 home run power.
OF Justin Ruggiano (Free Agent from LA Dodgers) – The journeyman outfielder will provide a right-handed bat with a surprising amount of pop and decent speed and defense off the bench and should be an upgrade over last year's outfield roulette.
RHP Tom Wilhelmsen – Acquired in the Martin trade, Wilhelmsen, who saved 66 games for the Mariners over the last 3 seasons, will add depth to the Rangers' already solid bullpen. The hard-throwing righty can dial his fastball up to 98 MPH and has had particular success against Angels star Mike Trout.
RHP Tony Barnette (Free Agent from Japan) – The Rangers took a flyer on Barnette, a 10th round pick who pitched for 4 unspectacular minor league seasons in the Diamondbacks organization before signing to play in Japan. Overseas, he transformed himself into a dominant closer, finishing last season with a 1.29 ERA while recording 41 saves. Barnette's fastball sits in the low to mid-nineties, maxing out at 97 MPH, but he relies more on the movement of his 6 pitches.
Pitching Coach Doug Brocail & Hitting Coach Anthony Iapoce – Jeff Bannister, after a hugely successful rookie managerial campaign, was able to bring in pitching and hitting coaches this year who should work better with his style, and the Rangers' 17-3 Spring Training record seems to be evidence of a motivated clubhouse going into the season.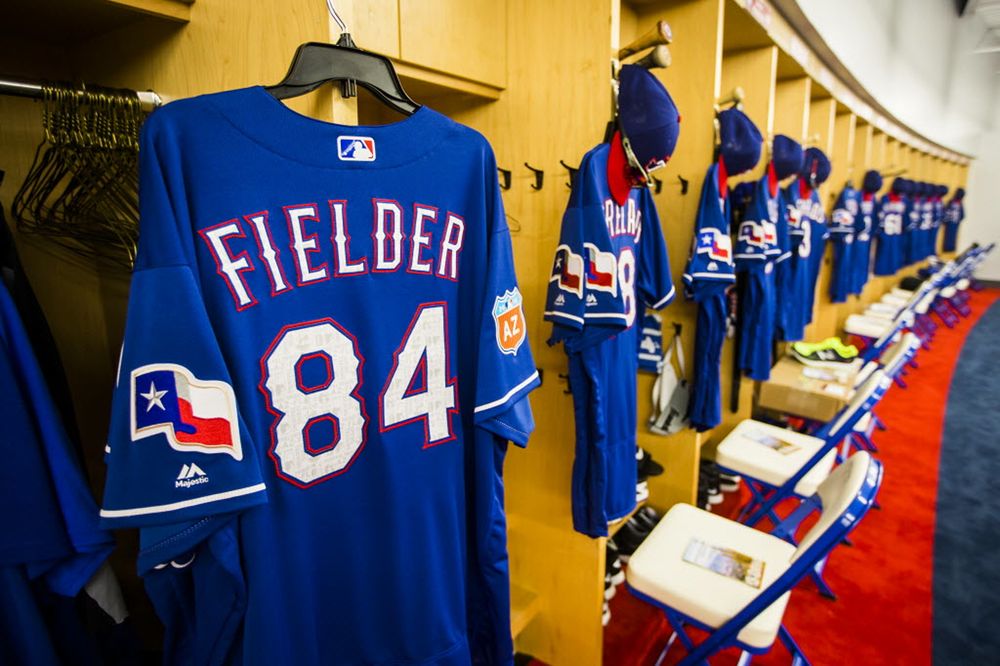 3. Position Players
Projected Lineup: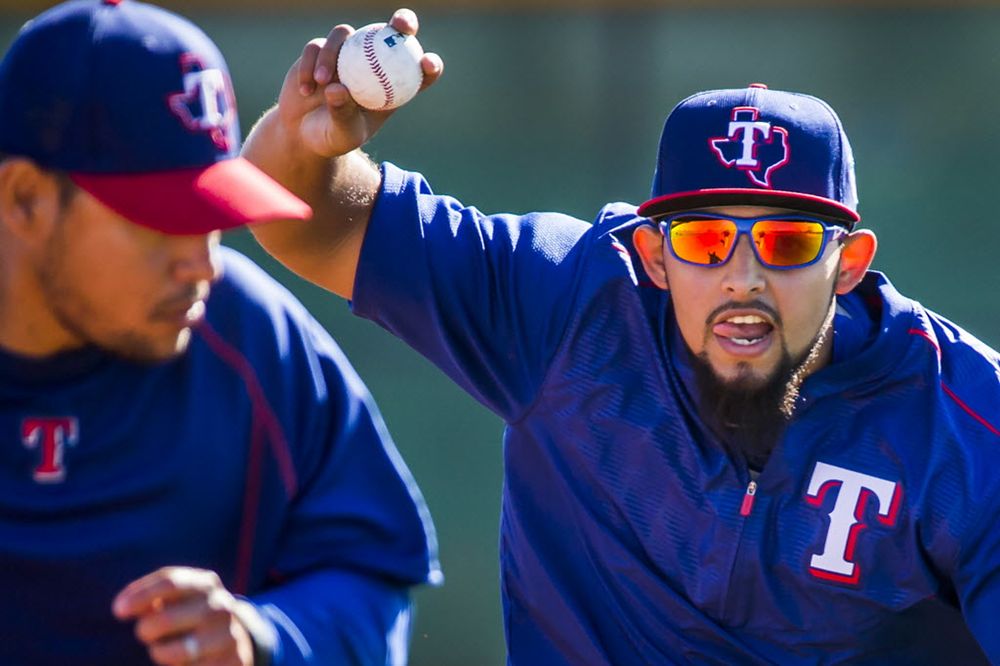 CF Delino DeShields Jr – DeShields should continue to bring dynamic speed and energy to the leadoff spot in his sophomore season.
RF Shin-Soo Choo – If he can keep up his pace from second half of '15, Choo could be an all-star.
DH Prince Fielder – The all-star looks to have returned to form and should anchor this lineup.
3B Adrian Beltre – Even at 36, Beltre is still a premier third baseman at the plate and in the field.
1B Mitch Moreland – Moreland had a breakout 2015, hitting .278 with 23 HR, but needs to hit lefties more consistently.
LF Ian Desmond – Once accustomed to left field, Desmond will provide much-needed right-handed power.
2B Rougned Odor – After a terrible start to last year, Odor was sent down and responded with all-star caliber numbers when he returned.
SS Elvis Andrus – 3 errors in game 5 a bad taste in everybody's mouth, but Andrus could step up to his full potential with a chip on his shoulder.
C Robinson Chirinos – Chirinos has a solid bat and works well with the pitching staff, the question will be if he can stay healthy enough to play 100 games.
Reserves:
C Bryan Holaday – The Dallas native WT White and TCU product had a spectacular Spring Training and will upgrade the backup catcher situation while Chris Gimenez recovers from an ankle injury.
OF/1B Ryan Rua – Earned a roster spot with an outstanding Spring Training after an injury-plagued 2015 and could enter a 1B platoon with Moreland.
INF Hanser Alberto – Alberto won the utility job in Spring Training, and will contribute top-class defense off the bench.
OF Justin Ruggiano – A competent defender and baserunner, Ruggiano has a surprising amount of pop in his bat.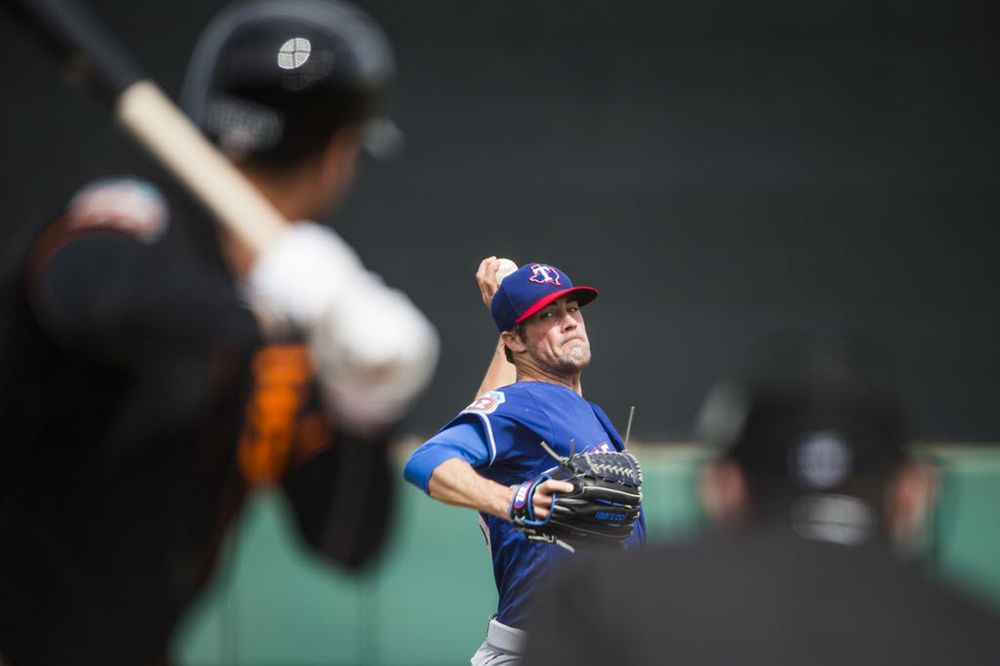 5. Pitching Rotation
LHP Cole Hamels – The Hamels deal already paid off during last year's playoff run and provides the Rangers with an ace, even with Darvish out until May.
LHP Derek Holland – The biggest question mark on the team is whether Holland will return to form after a subpar return from injury.
RHP Colby Lewis – A rock in the Texas rotation, Lewis lost 20 lbs after throwing 200 innings last year on a bad knee.
LHP Martin Perez – 2 years removed from Tommy John surgery, Perez has shown glimpses of dominance when healthy.
RHP AJ Griffin – After earning the #5 starter role in Spring Training, the former Oakland starter looks to bounce back from injuries.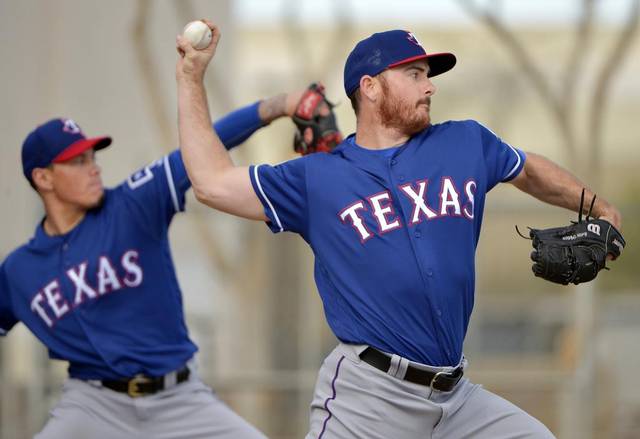 6. The Bullpen
RHP Shawn Tolleson – Tolleson converted 95% of his save opportunities last year, and is the team's closer for the foreseeable future.
RHP Sam Dyson – Dominant in 31 appearances for Texas after being traded from Miami, Dyson looks to bounce back from giving up a big home run to Bautista in the ALDS.
LHP Jake Diekman – A throw-in by the Phillies in the Hamels trade, Diekman performed well last year, though was oddly better against righties last year.
RHP Keone Kela – Kela had a fantastic rookie campaign in which he appeared in 68 games and was one of the team's most reliable bullpen options.
LHP Andrew Faulkner – Called up late in the year, Faulkner performed well in 11 games last year, and earned the lefty bullpen spot with a strong spring.
RHP Tony Barnette – If his success in Japan carries over, Barnette could bring lights-out stuff to the middle-relief innings.
RHP Tom Wilhelmsen – Adding yet another high-quality arm to the bullpen, the former closer and setup man will slot in as a middle reliever, a testament to the Rangers' bullpen depth.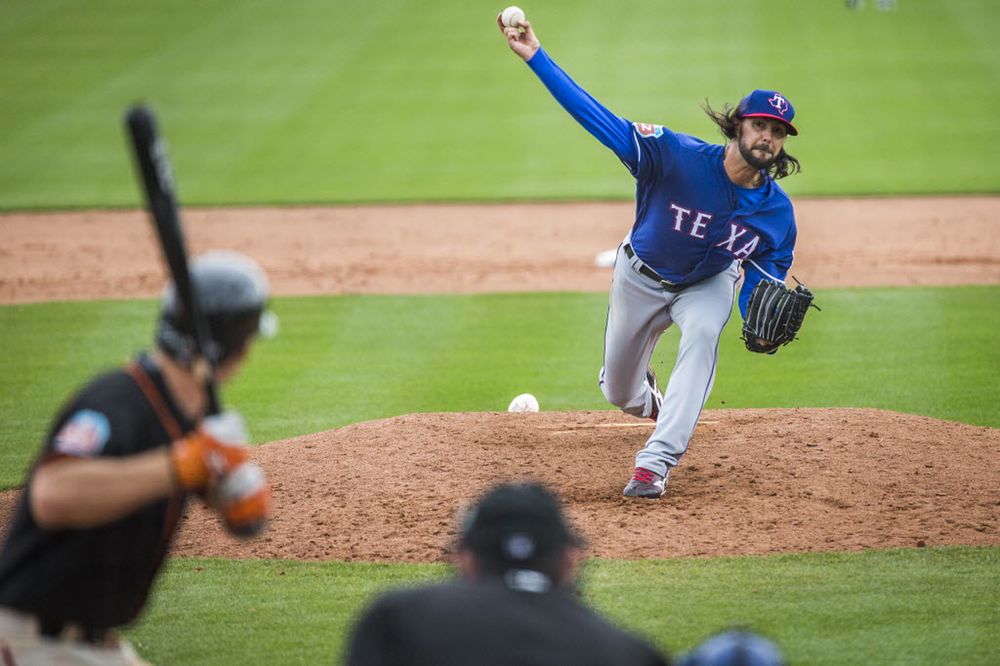 7. Greatest Strengths
Bullpen: The Rangers have a ridiculous number of legitimate bullpen options, an asset which is becoming increasingly significant in baseball, especially after the Royals' success with the most dominant 'pen in baseball.
Organizational Depth: After an absurd amount of injuries in 2014, the club has mostly recovered and has brought in new faces to fill most of the holes from last season. Beyond the strong bench and bullpen options, the Rangers have a core of AAA prospects with all-star potential who could give a glimpse of the future this season.
8. Glaring Weaknesses
Catcher: The Rangers were reportedly looking to acquire a starting catcher this offseason such as Jonathan Lucroy or Derek Norris, but were not able to make the deal, instead settling for a backup catcher upgrade. As long as Chirinos can stay healthy, they should be fine, but don't be surprised if Daniels deals for a catcher during the season.
Rotation Depth: At least until Darvish comes back, the rotation behind Hamels and Lewis is mostly unproven, and it looks like the fifth spot could resemble last year's revolving door, at least until Yu Darvish returns in mid-May.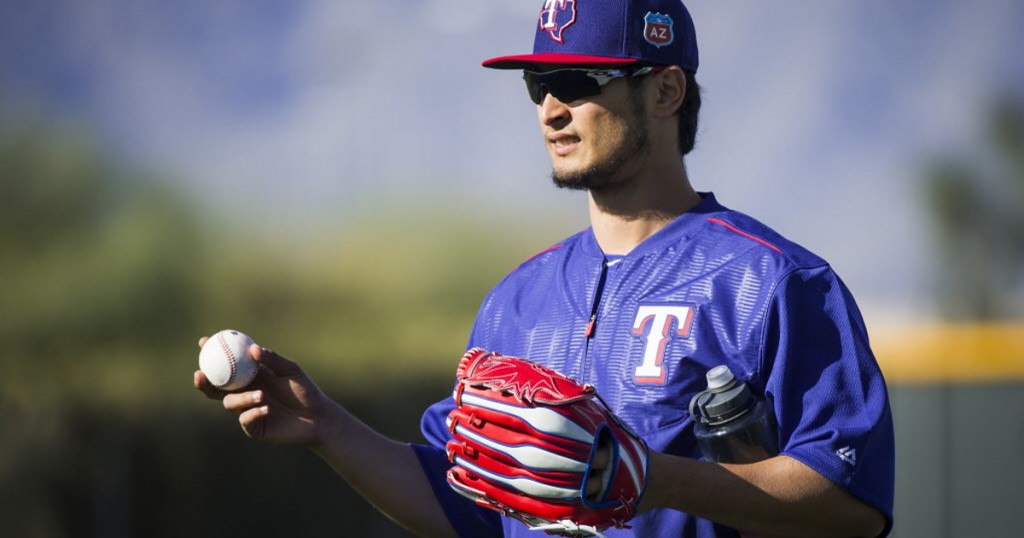 9. Biggest Question Marks
Ian Desmond – Desmond looks to have adjusted to the outfield, but can he still produce at the plate?
Yu Darvish – Coming off Tommy John surgery, adding 20 starts from Darvish in addition to a full season of Hamels could give the Rangers a fearsome 1-2 top of the rotation punch.
Ryan Rua – Not that Spring Training means anything, but a platoon at 1B with Moreland could give the Rangers the best of both worlds.
Josh Hamilton – Hamilton can still hit a little bit, and since the Angels are paying for his contract, he's a fine option as a bench outfielder once he returns in mid-May.
Derek Holland – Can command of lower velocity pitches help Holland return to a double-digit win total? If so, the Rangers could have the strongest rotation in baseball by year's end.
10. On the Farm
The Rangers, even after trading 5 highly touted prospects to the Phillies in the Hamels deal, still have a top 10 minor league system. Briefly, here are the most prominent in the system:
3B Joey Gallo – Probably the most exciting Rangers prospect, Gallo is known for his mammoth home runs and hit 6 (including this one of the best pitcher in baseball) in a short stint with the club last year, and if he cuts down on strikeouts, could be a superstar successor for Adrian Beltre at third base.
OF Nomar Mazara – Widely ranked in the top 15 prospects in baseball, Mazara has a great swing and raw power to go along with plus defense as a corner outfielder but needs a little more time in AAA.
CF Lewis Brinson – An outstanding athlete, Brinson has a high ceiling in center field and continues to display his high upside.
SS Jurickson Profar – The former #1 prospect in all of baseball has missed 2 seasons with shoulder injuries.
RHPs Dillon Tate & Luis Ortiz – Future top of the rotation starters, but won't be ready for the majors this season.
RHP Matt Bush – Like Hamilton, shortstop-turned-pitcher Matt Bush was a top overall pick who has run into trouble with alcohol (including serving time for DUI manslaughter). If he can change his ways, Bush and his 100 MPH fastball could find their way to Arlington before the season's end.
11. Division Preview
The Angels have some good hitters, the Mariners have some rotation depth and a decent lineup, and the A's are always unpredictable, but the Houston Astros will be the team to beat in the West. The Rangers did it last year, but this year's Houston club looks to have improved their bullpen (though not to the level of the Rangers) and retain much of their power-heavy lineup, including 2015 Rookie of the Year Carlos Correa. If their rotation lives up to expectations, expect the division race to come down to the wire.
Baseball is back, and the Rangers have the potential to play championship-caliber baseball and rinse the bad taste of last year's ALDS Game 5 loss to the Blue Jays out of the franchise and its fans' mouths.