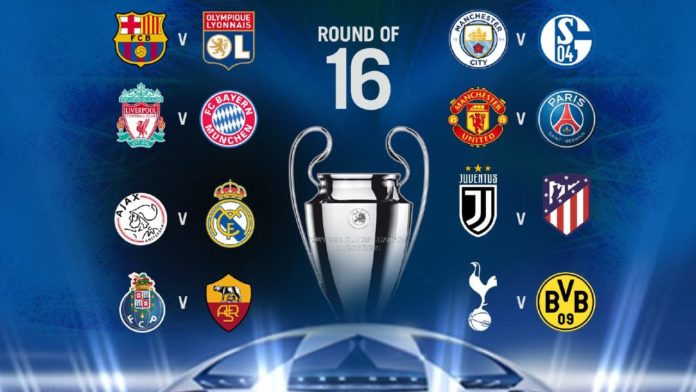 Fresh cut grass, screaming supporters, and the biggest names in football (or soccer); finally, after nearly two long months off, the Champions League is back, and with it comes this new series in which I'll preview the biggest upcoming games, give my predictions, and highlight the most important storylines in the tournament.
For those who don't know, the Champions League is a European football tournament in which thirty-two of Europe's top clubs battle it out to see who is the king of the continent. The tournament started in September, with the thirty-two clubs divided into eight groups of four, with the goal being to finish in the top two of your group based on points. Teams are awarded three points for a win, one for a tie, and zero for a loss. Each team played the other three teams in their group twice (one at home and one away) with the top two advancing to the round of sixteen.
After these games were completed, a drawing was held to determine who plays who in the next round, with the only rules being that a team that finished top in its group must play a team from a different group that finished second, and you cannot play a team from your own domestic league (for example Manchester City couldn't draw Liverpool since both teams play in the English Premier League). Also, like the last round, you play whatever team you are drawn against twice, but now whichever team has the most goals at the end of the two games wins and advances.
Now that you're caught up let's dive into the full slate of games.
Manchester United vs. PSG
At the time of the drawing, this was considered to be a feeble test for PSG with their phenomenal front three of Cavani, Neymar Jr, and Mbappé going up against a weak Manchester United defense, and a struggling manager.
But, after Jose Mourinho's firing in December, United has since been able to do a complete one-eighty and have gone on a ten game unbeaten spree in the Premier League, rocketing them up to fifth in the league. United's talented duo of Marcus Rashford and Paul Pogba have finally found themselves on the field and have reached a level of play that seemed unimaginable only a few months ago. With these two players playing at top form and the newfound confidence that the entire squad has gained under new manager Ole Gunnar Solskjær, the Red Devils have become a feared force in the world of soccer.

On the flip side, PSG is on a downwards trend that rightfully has many worried about their upcoming fixture. After Neymar Jr. went down with a injury to his right foot last week (pictured to the right), PSG fans have grown increasingly worried about their chances. Their nerves were evident last week as they lost their first Ligue 1 (French Football League) game last Sunday in a 2-1 away defeat to Lyon.
Despite their struggles, PSG is still favored by many analysts due to the sheer attacking talent they still possess even without Neymar, but due to Man U's sudden ability to score goals, as well as defend their own net, I believe Manchester United will be able to surge onto the next round.
Tottenham Hotspurs vs. Borussia Dortmund (BVB)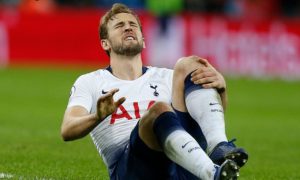 This set of games will come down to one man and whether or not he plays: Harry Kane. Kane damaged ligaments in his ankle in a loss to Manchester United on January 13, and until recently was expected to be out until early March.
New reports out of Tottenham claim that their medical staff is optimistic that Kane will be fit to play come time for the Dortmund game. If these rumors are true, it's a massive boost for Tottenham, as it never hurts to have your best player in the lineup. It'd be a huge help for Tottenham as they've struggled to find the net without Kane, only averaging 1.2 goals per game since he's been injured.
Before his injury, Kane was tied for first in goals scored in the Premier league, and is currently tied for fourth in Champions League goals. Plain and simple: when this man is in the lineup, goals are scored.
On the flip side of this game is the hottest team in all of Europe. Despite being known for their high speed attacking play, BVB was the best defensive team in the group stages of the competition, only allowing two goals in six games. BVB's deadly attack is lead by their German captain, Marco Reus, who has been fantastic in the Bundesliga (German Football League) ,scoring thirteen goals and assisting six more in nineteen appearances. But, he was almost non-existent in their Champions League matches, scoring only once in five games.
Luckily for Dortmund, his slack was picked up by an unexpected left back/left midfielder. Raphael Guerreiro appeared in four of Dortmund's group stage games and scored four times, averaging an impressive fifty-five minutes per goal. Guerreiro will look to continue his impressive form as he'll be attacking the right side of Tottenham's defense, where a struggling Kieran Trippier plays.
For this game I'll make two predictions, one with Kane and one without. If Kane plays this will be an exciting set of games with many goals scored by both sides, but I think the edge of having Kane on the field lifts Tottenham to victory. But a Kane-less Tottenham simply won't have the attacking power to keep up with BVB's goal scoring capabilities, and thus will allow BVB to advance.
Liverpool vs. Bayern Munich
As soon as the games were drawn for the round of sixteen, many football fans had a big circle around this set of games.
Liverpool did just enough to squeak into this round, despite losing all three of their away games in the group stages, and it was never certain which Liverpool would show up.
But, last season's runner up seems poised for another deep run in the league behind their golden boy, Mo Salah. Salah scored three goals in Liverpool's group stage, and his speed and finesse with the ball makes him dangerous anywhere on the pitch. However, Liverpool's "You'll Never Walk Alone" motto is evident in their attack as Salah is joined by the Brazilian striker Roberto Firmino, and the elusive Sadio Mané. If Liverpool is to win this set of games, they're going to need these guys to help Salah out, as both players had a less than impressive group stage with only three goals between them and no assists.
But, they may not need to score as often as predicted if the 6'4ft defender Virgil Van Dijk could keep Liverpool's back line strong. However, unfortunately for Liverpool, Van Dijk picked up three yellow cards in the group stages, meaning that he's suspended for the first of these two games.
His absence will leave a gaping hole in Liverpool's defense and one man will take full advantage of that… Robert Lewandowski.
Bayern's Polish striker has arguably been the best player in the Champions League this season, scoring eight times in the group stages, making him the highest goal scorer of the league so far. Lewandowski's attack and ability to find the goal is second to none, but it would be hard for him to put up these numbers if it wasn't for Thomas Muller controlling the midfield, and that's the problem.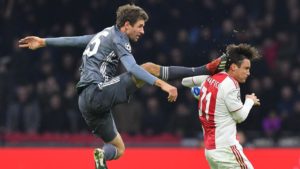 Muller picked up a red card in Munich's last group stage match for a brutal foul (pictured to the right), and is suspended for both of these games against Liverpool. His absence will be massive for Bayern, as they've depended on him for almost ten years, and in the end will be too much for them to overcome.
This will be a closely contested game with lots of back and forth between the two teams, but in the end Liverpool will want it more, and manager Jurgen Kloop will lead his team to victory.
Atletico Madrid vs. Juventus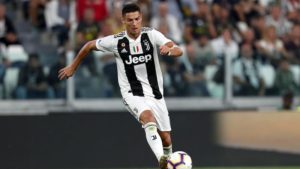 To the surprise of no one, Cristiano Ronaldo is back in the last sixteen of the Champions League, but this time he has a whole new team around him.
Ronaldo & Co. (more commonly known as Juventus) weren't the dominant force every one thought they'd be in the group stages, but their four wins were enough to win a lackluster group. Their new leader (Ronaldo) has had one of his worst Champions League starts ever, scoring the same amount of goals as he had red cards, one.
Thankfully for Juventus, Ronaldo's struggles were picked up by Paulo Dybala. The twenty-five year old scored five goals in his five appearances, and was often the best looking player on the pitch. If the Italian giants wish to continue in the competition, they're going to need to hope Dybala can get some help.  
Lining up from these giants are the winners of last years Europa League, Atletico Madrid, being lead by the French Striker Antoine Griezmann. Fresh off of winning the world cup, Griezmann continued his hot streak and scored four goals in the group stages, showing flashes of why some consider him the best striker in Spain.
Joining Griezmann on the attack is the Spanish bad boy Diego Costa. Costa's temper is known to get him in trouble, but when he's on it's his feet that do the talking. Sadly for Madrid, Costa has had a horrendous season scoring only once in the Champions League, and once in La Liga (Spanish Football League). Someone is going to need to wake this sleeping giant up if Madrid wants a chance to advance.
Out of all my predictions this one was easiest to make as I simply cannot see Ronaldo exiting the league this early, especially against a vacillating Madrid team. Juventus win this easy.
Conclusion
That's all for this issue of the Champions League roundup, I'll be back in a month for an analysis of the round of sixteen predictions, and new predictions for the quarter-finals.