Ok, for this article, I need to make this intro paragraph really short, because I need to get this out for you all to read and enjoy as soon as possible. Anyway, here's what went down in Week 8 in the NFL.
Drew Brees Returns and Does Great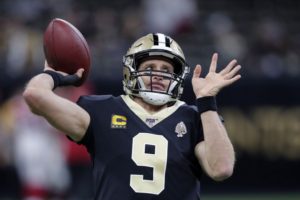 After five games of Teddy Bridgewater holding down the fort for the New Orleans Saints (and he did a pretty freakin' good job doing it), Drew Brees returned this week against the Cardinals and it looked like he hadn't missed a beat against Arizona. Granted, he was playing a terrible defense, but he looked very efficient and played very well aside from the one interception in the first quarter. He threw for over 300 yards passing and tossed three TD passes, and with the surefire Hall of Famer back under center, the Saints look like they're back at full strength: a very real Super Bowl contender.
The Colts are For Real Now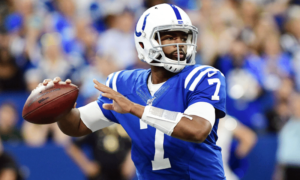 Coming into the 2019 season, I did not expect the Indianapolis Colts to have the same level of success that they did last year following Andrew Luck's sudden retirement.
Well, now it's time to talk about that.
Now-starting QB Jacoby Brissett has done nothing but show up and ball, as he's tossed 14 touchdown passes and a mere three interceptions. In my opinion, if he keeps this up consistently, Brissett should be considered as a serious MVP candidate, and the Colts are back in the hunt for an AFC South crown.
Baker Mayfield is Not Cleveland's Franchise QB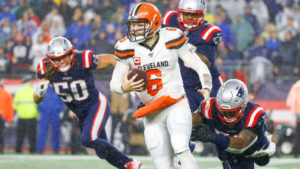 There.
I said it.
Baker Mayfield has taken a step back, to say the very least, this season. Turnovers have been a massive issue for him, and in some games, he's ended up just handing the ball off to Nick Chubb every play. This was especially true against the Patriots, where it was a just a horrible game in general for Mayfield, but more than that, he looked like he was just a rookie, or even a college player, nervous and afraid to throw the ball or take risks, something that he did all too well at Oklahoma. I understand that the first half of the Browns' schedule has been absolutely brutal, but so far? Against the best competition they'll play this year?
He doesn't look like he's feeling dangerous.
Packers beat Chiefs in an SNF Classic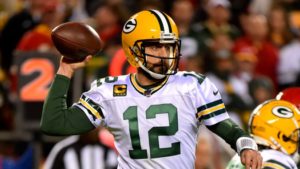 In the rematch of the first ever Super Bowl, the Green Bay Packers outlasted the Kansas City Chiefs in a game that I think too many people underappreciated.
I thought this game was a fantastic game, even without Patrick Mahomes, who would be the best player on the field if he was playing. Matt Moore, KC's backup QB, did pretty well in his place, but I think the Chiefs would've won if Mahomes was out there on Sunday night. Needless to say, though, Aaron Rodgers was playing like his usual self even without star wide receiver Davante Adams. Overall, this game was great fun to watch, but Green Bay got a very important win over an elite-caliber opponent.
Without a defense.
The Dolphins Almost Won a Game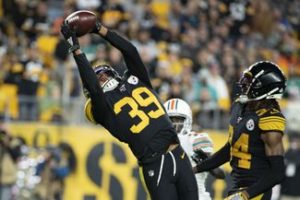 Operation Tank for Tua almost hit a roadblock.
Almost.
Miami was up 14-10 on the Pittsburgh Steelers on Monday Night Football at halftime. I turned on the game that night and for a moment, I was in shock. I thought to myself, How could this be happening? But, of course, the Dolphins went full Dolphin and proceeded to lose the game, as James Conner rushed for over 130 yards and got a grassy, Ryan Fitzpatrick-esque beard in the process. Operation Tank for Tua is in the main stages of development now, and everything is proceeding according to plan through eight weeks.
Great job so far, Coach Flores.
That's all I've got for Week 8, but stay tuned to The Roundup for more NFL and sports news!