Week 7 of the NFL season has come and gone. I'm really running out of good things to say in the introductory paragraph. So here's Week 7, and what happened around the league this week. And yes, I know this is late. I'm so sorry.
Kyler Outduels Daniel Jones as Cards Climb to .500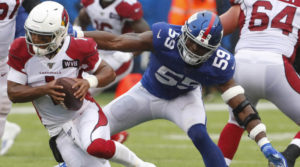 Kyler Murray, the #1 overall pick in this year's NFL draft, and Daniel Jones, the #6 pick in the draft, faced off in New York this weekend. Even though the Cardinals escaped with a 27-21 win, and Kyler Murray looked better overall than Jones when they were on the field, the running game for Arizona was the main reason that they succeeded. And it wasn't franchise halfback David Johnson, who was out of the game with an injury. It was Chase Edmunds, their backup, who rushed for 126 yards and three touchdowns. And don't look now, but the Cardinals are 3-3-1, and Kliff Kingsbury's Air Raid offense looks like it might have things figured out.
Ravens Run Over Seahawks at CenturyLink Field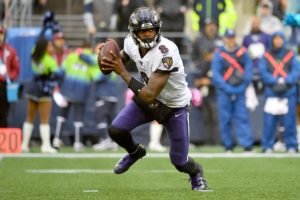 CenturyLink Field in Seattle has never been a fun place to play. With the fans constantly screaming in your face and getting as rowdy as can possibly be, it's no picnic when you're on the road and playing the Seahawks. But during this particular game, the Ravens were able to ignore the constant distractions and pull out a very impressive win. First, things started with a bang as the newest Baltimore Raven, Marcus Peters, returned a Russell Wilson INT to the house for a pick-six. Lamar Jackson did his usual thing, passing for over 200 yards and rushing for a TD, and that alone gave Baltimore a boost that the Seahawks could just never keep up with. I was impressed with the Ravens this game, and I expect them to keep their momentum going into a huge Week 9 matchup with the New England Patriots.
The Chicago Bears are in Trouble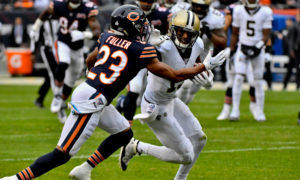 After the big loss against the Saints on Sunday, I officially believe that the Chicago Bears have a problem.
And that italicized problem is quarterback Mitchell Trubisky.
Trubisky did throw 2 touchdowns, and no interceptions, but he only completed 63 percent of his passes and had an 86.3 passer rating. If the Bears don't find a way to make Trubisky produce at a more consistent rate soon, Chicago will be in legitimate danger of becoming a huge NFL disappointment for this season.
Cowboys Destroy Eagles on SNF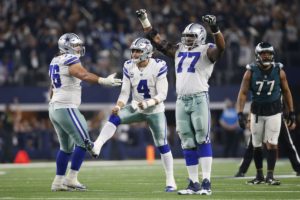 I don't really think it's quite safe to say the 'Boys are back (although many insanely obnoxious Cowboy fans will ambush me and say the opposite after this article is published, no doubt), but their Sunday Night win over the Eagles by a score of 37-10 was sure done in convincing fashion. Dak Prescott looked comfortable in the pocket and impressed me with more than a few very accurate and efficient throws, and he did more than a great job of taking advantage of a horrible Eagles secondary. And even though the night was more or less dampened for us Dallasites by that little tornado thing that came to within a half mile of our house, nearly blowing right through it, the Cowboys sure took care of business against Philly.
Sam Darnold is Seeing Ghosts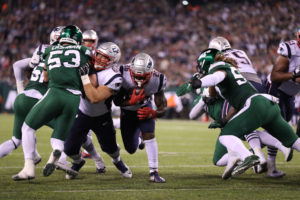 Those ghosts surely are posing as the stout Patriots defense.
That mic'd up moment from the Jets QB was truly legendary, but not much else was for New York, who lost to the Pats at home by a score of 33-0. The New England defense was the big story this game, as they accomplished a feat that is impossibly hard to do in the NFL: shut out a team. The Jets mustered a very respectable zero points against the Pats' D, and this unit, which I didn't even believe would be this good, looks scary as ever and will be a big reason why the Patriots will, once again, play deep into the postseason and undoubtedly get to another Super Bowl.
Again, apologies that this is late, and stay tuned to The Roundup for the next article in the NFL takeaways series!