Week 11 of the NFL season started with a bang (like, a literal bang, as in someone's helmet going bang), but that was rather quickly overshadowed by things like Lamar Jackson being Lamar Jackson, Philip Rivers' terrible accuracy issues, the 49ers almost losing to Kyler Murray and the Cardinals, and the Patriots being carried by their defense to a gutsy win over the Eagles in Philadelphia. Just read the rest of the article and you'll find out what happened. I tend to say that every week, don't I?
Myles Garrett Went A Little Bit Too Far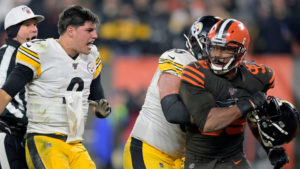 Just a little bit, Myles.
Like, you just barely crossed the line when you smacked Mason Rudolph in the head with his helmet.
What the heck could he possibly have been thinking? I know it's a passionate, emotion-filled game, one filled with emotions and feelings, but why did he feel the need to do that? It was a pointless play, and the Browns had already had the game locked up and won.
I'm speechless, except for What were you doing?
Cowboys Should Really Pay Dak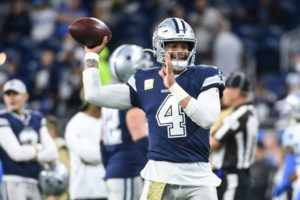 Okay, I'm convinced.
Dak Prescott is more than an above-average quarterback, at least in my opinion, despite many other people's opinions. Prescott came in against the Lions, against a defense that's better than it looks, and simply tore them to shreds. It was almost too bad that Dallas nearly let the game get away from them midway through the fourth quarter, but overall, when the Cowboys couldn't get the run game going with Zeke, Prescott stepped up in a big way and gave Dallas the win to improve to 6-4 on the season and get a better grip on the NFC East lead.
Pats Use Defense to Get Gutsy Win over Eagles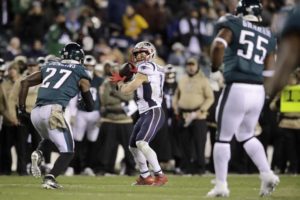 The Patriots were 8-1 and were heading into Philadelphia to take on an Eagles squad that has had an up-and-down season that's been ravaged by injuries to so many skill position players, it's getting next to impossible to count how many bumps and bruises they've sustained.
The game started slowly in the first half, with Philly taking a 10-9 lead into halftime that saw exceptional performances from both defenses. The Pats came out in the second half and used both a gusty performance from their defense and a Julian Edelman touchdown throw to walk out of Lincoln Financial Field with a low-scoring 17-10 win.
This game went about the way I expected it to. Although, I did not except the outcome. I took a chance with the fact that I thought the Eagles were going to upset the Patriots. This sends Philadelphia to 5-5 overall and looking up at the Cowboys in the NFC East, their playoff hopes getting slimmer and slimmer by the game. And the Pats?
Well, they're being the Pats.
The Bears' Offense is a Mess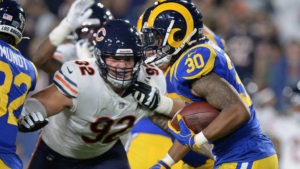 As if anyone didn't figure this one out already.
The Chicago Bears' playoff window is all but closed, at least for this year. The culprit for this lack of success has been, in large part, the offense. Quarterback Mitchell Trubisky was a popular MVP pick coming into this season due to his promising last season.
Wow. Where are those people who voted that way now? If anything, eating their words, to say the least.
Coach Matt Nagy benched his QB near the end of the Bears' Sunday Night loss to the Rams, and while he said postgame that it was because of a hip injury, I think you can figure out that that probably wasn't why he got benched by his head coach, the guy who should be supporting him the most.
He's just bad.
Philip Rivers is Not Accurate Throwing the Football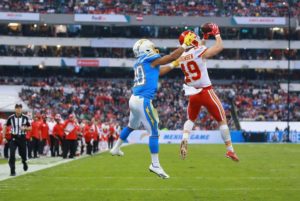 Philip Rivers has a bit of an accuracy problem.
This was evident against the Chiefs in Mexico City, as Rivers threw four interceptions against an awful Kansas City defense, and this performance undoubtedly sent rumors about a potential QB change in Los Angeles flying. Rivers is simply aging and is not the consistent field general he used to be for the Chargers. He is probably one of the reasons Los Angeles has had such a disappointing season thus far. Their playoff hopes are likely all but gone. For the Chiefs, however, this re-establishes them as the team to beat in the AFC West, and while the Raiders are close behind, Oakland likely doesn't have the firepower to keep up with Patrick Mahomes and Kansas City's firework show of an offense.
That's all I've got for Week 11 but stay tuned to The Roundup for the next article in the NFL takeaways series!