Week 10 saw more than a few surprises in terms of final scores and who won which game(s). I myself was taken aback just a bit when I opened up ESPN on my phone from the back of my dad's car to check the scores of the early and later games (we were on a 6-hour road trip back to Dallas from Lubbock, if you're curious). Anyway, I'll stop talking and let you read what happened around the league this week.
Falcons' Defense Feasts on the Saints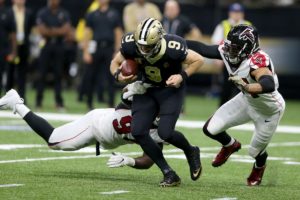 Wait, what?
How?
Where?
Why?
Okay, I'll stop with the questions. But seriously, this game baffled me. The Saints were one of the best teams in the league just like last season, and the Falcons were in the NFL's basement with a 1-7 overall record. But holy cow, did the Saints lay an egg this week! Grady Jarrett and the Atlanta defense did an outstanding job of pressuring Drew Brees and getting him on his back. I know the offense didn't do much, but Matt Ryan brought the consistent veteran presence we all know, and the Falcons just seemed like they were more comfortable as a team with him under center. As for the Saints, well, this dud probably won't affect their chances of making the playoffs, but it might affect where they stand (in terms of seeding) come January.
Patrick Mahomes' Return Gets Spoiled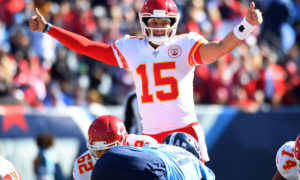 Yes, America, he's back.
The NFL's golden boy.
Patrick Mahomes made his return this Sunday in a road bout with the Tennessee Titans, and he had himself a game, to say the very least. He threw for over 440 yards through the air and threw for three scores, and if not for a last-second field goal block by the Titans at the end of the fourth quarter, the Chiefs might've been walking out of Nissan Stadium in Tennessee with an overtime win. Now, the Chiefs are 6-4 overall, and while this record isn't bad at all, it definitely could be better. They still have that cow manure producing department (is that even a real place?) of a defense, and if Kansas City doesn't get their act together on that side of the ball, it may hurt the Chiefs' playoff chances.
And that's a sentence I never thought I'd say. Not for a good long while, at least.
Packers Stake Their Claim As an NFC Powerhouse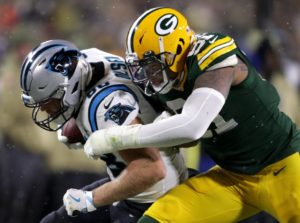 The Green Bay Packers are officially back, people.
And for all the Cowboys fans I know, that's not a good thing. Rodgers has seemed like he's made a living off of beating the Cowboys year after year. With their three-headed monster of Rodgers, star running-back Aaron Jones, and ultra-dynamic wideout Davante Adams running the offense, there's not much that can stop Green Bay. Granted, the score may not look like the Packers necessarily demolished the Panthers, but quarterback Cam- I mean, Kyle Allen, made more than a few bad throws, and even though superstar halfback Christian McCaffrey had an amazing game as he usually does, he didn't look quite as elite as he usually is against a stout Green Bay defensive front. If they can continue playing like this and getting wins, they'll be in play for a top-2 seed in the NFC.
The Vikings Are For Real, Too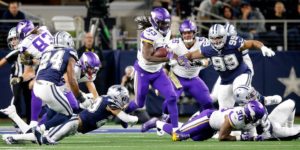 Don't forget about the Minnesota Vikings, guys. They're still there in the NFC North, too. And coming off a very impressive primetime win over the Dallas Cowboys (yes!), they're looking as sharp as they've ever been this year. Kirk Cousins has rebounded in a tremendous way from his slow start, and Dalvin Cook has just been doing Dalvin Cook things, particularly against Dallas. He continually bulldozed his way through the Cowboys' defensive front to get big chunk gains, turning into 97 rushing yards and a touchdown. With this win, the Vikes proved to me that they can win games against good teams, and I think if they string together more wins like this, they just might be able to make a deep run in the postseason.
San Francisco 49ers: Undefeated No More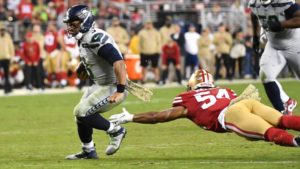 Yes. It has happened.
1972 Dolphins can go wild celebrating.
The Seattle Seahawks put an end to San Francisco's undefeated season with an extremely impressive 27-24 win in San Fran. To me, 49ers QB Jimmy Garoppolo proved that he was the main problem in their offense, and I'm not saying he's a bad quarterback (he's actually very good), but I didn't think he matched up to the amount of talent everywhere else for the Niners. He made several bad throws and had a less-than-impressive interception, and only got bailed out in overtime for another offensive possession when Russell Wilson threw a pick, and he wasn't even able to convert on that drive! I just think that Garoppolo needs to pick it up a bit in terms of consistency, and once he does that, then I think the 49ers will be complete and ready to go on a Super Bowl run this year.
That's all I've got for Week 10, but stay tuned to The Roundup for the next article in the NFL takeaways series!