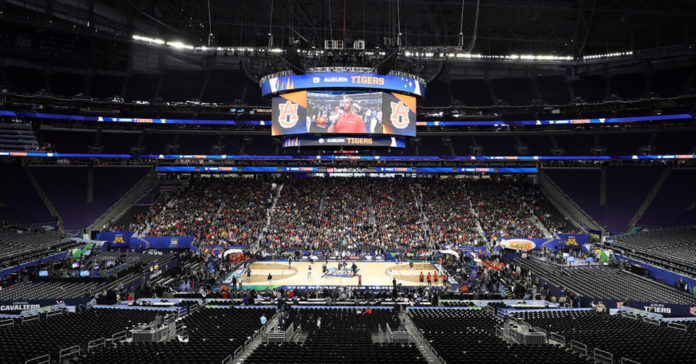 On December 18, 2019, Branson Hickman and E.J. Smith signed their letters of intent to play Division I football at SMU and Stanford, respectively. Soon, players of all sports will soon continue to compete at the next level of American athletics: college sports. Roughly 7% of high school athletes make it into college sports. Around 2% play at the NCAA Division I level. The "grind" never stops for players to find their next home. This arduous process raises the question: should they get paid for this?
A couple of weeks ago, the NCAA took its first steps to allow athletes to earn money off their own "image and likeness." This unexpected decision occurred following California's passage of the Fair Pay to Play Act that would allow college athletes to earn money off endorsements and other contracts. With this new NCAA policy two questions must be answered: Can they profit and earn deals/sponsorships for their hard work, and can the colleges directly give them money? In this article, I will be looking at some of the recent events regarding this debate, providing my own commentary in the process.
California Passes New Law against NCAA's Wishes
On September 30, 2019, California Governor Gavin Newsom signed into law a new resolution allowing athletes to hire agents to support their financial cause, get paid for their work, and not get paid for reaching sponsorship deal. Effective in 2023, the laws states athletes can still keep their financial aid scholarships and continue to play without repercussions, earning money in the process. Sweet deal, right? Well, not exactly.
Let's say an athlete plays football at Nick Saban's Alabama Crimson Tide. Their jerseys are sponsored by Nike, but the athlete strikes a deal with Adidas or Puma, wearing their cleats in the championship game against Clemson. Unfortunately, he will not be able to earn money for sponsoring different brands by wearing their cleats.
Article 12 in the NCAA Division I manual says that athletes cannot receive compensation for the promotion of their name through advertisements and endorsements. Furthermore, this law not only prohibits athletes from gaining money for autographs but also creating social media channels for money. As a result, the NCAA argues it is unconstitutional.
YouTuber Deestroying comes up as an interesting case in this debate. With over 2 million subscribers to his name, Donald de La Hayne was forced by the NCAA to stay a monetized YouTuber or continue playing football at UCF on an athletic scholarship. Despite all the hard work he has put in to achieve his prominence, he chose to give up his athletic scholarship to continue being a videographer. Despite how much money the NCAA makes off his name alone, he does not get to keep a single penny of it, which seems quite unfair. One of the main purposes of his channel is to depict the everyday life of a D1 football player to prospective recruits. In doing so, he gives his audience the information for themselves to make decisions for themselves, and yet the money he earned to get there now gets taken away. It seems like a bad move, NCAA.
Trey Johnson Files Lawsuit Against NCAA
Trey Johnson, a former Villanova football player, sued the NCAA for colleges not directly paying them after scholarship money. Filed on November 7, 2019, Johnson, a CFL player, wants them to be essentially treated like employees. He believes that student-athletes should be paid an hourly wage for their efforts, and he requests the NCAA to pay him his unpaid wages. Just like how students earn money for working at the library or sell concessions, Johnson argues that college athletes should be paid similarly. Moreover, his defendants are twenty-two D1 schools, which if the case goes in favor of him, could potentially turn the tables on the debate.
"Our case says everyone deserves to be paid in every sport," Paul McDonald said in a recent interview. "[The NCAA] could do this starting next fall if they put their mind to it. You would just fold student-athletes into the same system as other work-study students."
What do Jesuit students think of this dispute?
Recently, Mr. Vu's AP Statistics class had a final project where they were asked to accumulate data over issues that were important to them. Christopher Roy '20 decided to ask a sample size of 75 students whether college athletes should be paid. According to the data, 78% of his participants believed that college athletes should, while roughly 22% disagreed. While approximately 43 students did ultimately play a sport, a resounding 25 of the remaining 32 who did not play a sport agreed, while only 7 students disagreed. From this data, it seems to suggest that Jesuit students think that college students should get paid, but that's not always the case.
Enrique Marroquin '21 commented, "If we are talking about third parties paying college athletes, I believe they should be paid. Now, by the college itself, I disagree because they already gave them a scholarship to go there. Third parties allow the athlete to know that no matter what D1 college they go to, they can get paid money by ads and stuff. These college athletes mostly come out of harsh beginnings and some of them don't have enough money to support themselves."
Josh Ryanboldt '21 voiced that he isn't entirely sold on the idea: "It depends. If it's like these D1 schools like Stanford, Oregon, Florida, etc., then maybe. But there are so many colleges and players to keep up with. If you start paying your higher-performing players, then you have to figure out the situation with the others below the radar. In the case of D2 and D3 athletics, it is just too many to keep up with. All in all, no."
Conclusion
I think that college athletes should be allowed to earn money through advertisements, social media channels, autographs, etc. I don't see the main concern with it, and the ones who have worked to be in their position should be awarded, rather than the NCAA. For example, Katelyn Ohashi's viral perfect gymnastics routine at UCLA allowed the NCAA to gain money for HER performance, and she did not receive any of the money.
I'm not so sure that colleges should directly pay the athlete even after receiving a scholarship. I think that the scholarship and the ability to play at the school is compensation enough, and it's difficult to consider athletes as employees. Not only that, athletes typically get viewed differently in the college process, where their talent may outweigh their grades and test scores, although not at any school.
To learn more, I would also suggest looking at the cases of Dennis Smith Jr and Brian Bowen II.
Check back to The Roundup for more coverage of college athletics and the NCAA!