After all the wheeling and dealing that occurred in 2018's NBA free agency, I think it's safe to say that many people were convinced that 2018 was the craziest free agency period that anyone had ever seen. What they tended to forget is that players like Kevin Durant, Kawhi Leonard, Kyrie Irving, and more were on the open market in 2019, and while most people assumed that some big move was inevitable, I don't think anyone, including myself, expected what actually happened during the free agency period. So, in case you've been grounded from your phone for the entire summer, here's what you missed out on. Prepare yourself, it's gonna be wild.
Kyrie and KD Team Up in Brooklyn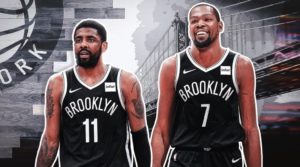 In late 2018, just after the 2018-19 season began, former Celtics star Kyrie Irving said to thousands of Celtics season ticket holders that if they would have him back, he would re-sign with the team in the summer.
Yeah, they had a nice little assumption going there.
First off, when Irving was asked a couple of months later about his impending free agency, he said to the reporters, "Ask me July 1st." Second off, the Celtics had tons of chemistry problems that they just couldn't seem to solve as the playoffs approached. Third, Irving himself proceeded to disappear in Boston's second-round series against the Bucks, as he averaged a mere 21.3 PPG and shot a lackluster 38% from the field. And the final straw was that on July 7, 2019, Irving agreed to sign a four-year deal with the Nets in free agency.
On the other hand, Kevin Durant was reported to have some issues with some of his teammates, and the November fight with Draymond Green all but confirmed these rumors. To make things worse for KD, he ruptured his Achilles in Game 5 of the NBA Finals against the Raptors, and the Warriors eventually went on to lose Game 6 and the series to the Raptors. And on the same day as Irving, July 7, everyone's assumptions came to fruition as Durant agreed to a four-year contract with Brooklyn to team up with Kyrie Irving.
AD (Finally) Lands in LA to Play Alongside LeBron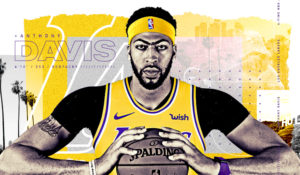 I don't think anyone was really surprised when Anthony Davis requested a trade from the Pelicans in January. I mean, do you know how bad the Pelicans are without him? Anyway, after a bunch of rumors about the Celtics and the Knicks and the Lakers trying to trade for him at the trade deadline, New Orleans finally agreed to trade AD to Los Angeles for Lonzo Ball, Brandon Ingram, Josh Hart, and three unprotected first-round picks. In my opinion, the Lakers gave up way too much for Davis. Yeah, you're getting a top-5 player in the league in Davis, but for the Pelicans, a young core oozing with potential and promise along with Zion Williamson and #8 pick Jaxson Hayes? I think New Orleans won this deal by far, and I also think LeBron and AD still will not be enough to win a championship, especially considering all the other changes in the Western Conference this year. Oh, yeah, speaking of which…
The Brodie and James Harden Reunite in Houston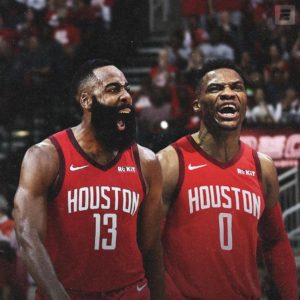 I think we need to face something that has been staring us NBA fans in the face for some time now: Russell Westbrook is past his prime. Even though he's still a pretty good player, he clearly isn't the human wrecking ball he was in 2016-17. However, he was traded to the Houston Rockets last month for Chris Paul and a 2024 and a 2026 first-round pick, reuniting him with former Thunder teammate James Harden. Although there will be some difficulty deciding who gets to take the last shot, and the fact that coach Mike D'Antoni will likely be forced to abandon his iso-heavy offense, I think we can agree that Westbrook is better than an aging and injury-prone point guard, that floor general being Chris Paul. So my opinion is that the Rockets ultimately win this deal.
D-Loading Teams Up with Steph, Dray, and Potentially Klay in the Bay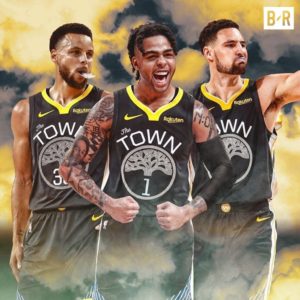 We really all expected Nets floor general D'Angelo Russell to end up somewhere else now that Kyrie Irving and Kevin Durant were on board in Brooklyn. What we didn't expect, however, is where exactly he would end up. Yes, Russell was sent to Golden State in a sign-and-trade for Kevin Durant, and even though he isn't necessarily the best fit in the Warriors' motion-heavy style of play, that doesn't mean he'll be a liability in that regard. Russell can put the ball in the basket, no doubt, and that will more than likely serve the Dubs well as they wait for Klay Thompson's return from rehabbing a torn ACL. Don't expect the Warriors to be the dominant force they were two years ago, and even three, but don't count them out with Stephen Curry, Draymond, and D-Lo. They'll certainly make some noise once more in the West.
Jimmy Buckets Gets to Live His Best Life in Miami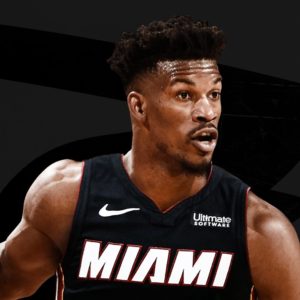 When the Philadelphia 76ers chose to re-sign Tobias Harris to a 5yr/$170M contract, Jimmy Butler rumors started flying around all over the place. And, lo and behold, we got ourselves a Jimmy Buckets deal. He was sent to the Heat as part of a sign-and-trade for Josh Richardson. For the Heat, they get a guy who will most likely be happy being "the man" on his team, as he's the guy who will get the ball when the game's on the line for Miami. For Philadelphia, Josh Richardson is full of promise, and he's already a sniper from three-point range. Even though Richardson is younger and has more time to break out of his shell than Butler does, Jimmy is just the better overall player. In my opinion, the Heat win this trade.
Out with Kyrie, In with Kemba in Boston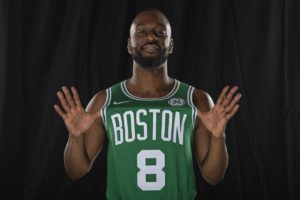 Don't worry, Celtics fans. Not all hope was lost when your franchise star departed for the Nets in free agency. The C's pulled off a sign-and-trade for former Hornets star Kemba Walker, sending- wait, what?
Terry Rozier?
I mean, do I need to even say anything about the outcome of this trade? Walker is an established star in his own right, and is destined to most likely lead Boston back to the playoffs along with the young core of Jayson Tatum, Jaylen Brown, and more. But for Charlotte, Terry Rozier is an average backup point guard who will be forced to play heavy minutes for a terrible Hornets team. Sorry Hornets fans, but I really don't want to talk about what your team's gonna be like in 2019-2020. Celtics win this deal by a long shot.
Well, I mean, I believe I've covered everything! Could there be anything else? I don't recall, could there be any other huge changes that altered the landscape of the league and transformed a team that was at the bottom of the playoffs to a potential title contender? Hmm, I really don't think so – wait. You don't mean…?
Kawhi and PG-13 Team Up in Los Angeles, but Not the Lakers…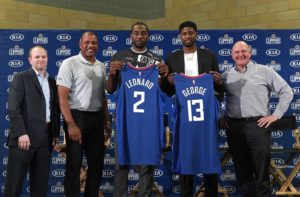 After days of everyone waiting, begging Kawhi Leonard to make his free agency decision, at 1:00 AM Dallas time, I was woken up by a flash of light coming from the top of my phone. It was a notification, of course, and the headline said:
Kawhi Reportedly Picks Clippers
Kawhi Leonard has completely altered the landscape of the NBA in his decision to sign with the Los Angeles Clippers. But wait! Don't go away, there's more news…the Clippers also traded for Paul George! The two best defensive players in the entire NBA on the same team? That will be nothing short of a nightmare for opposing offenses. In return, the Thunder received a massive haul of first-round picks, standout floor general Shai Gilgeous-Alexander, and sharpshooter Danilo Gallinari. So OKC is completely stacked for the future. Even though the Thunder got a couple million (I know, not really) first-round picks and some intriguing young pieces, the Clippers got Kawhi Leonard and Paul George! Is there really any way to beat that kind of a result in one free agency period? In my opinion, Clippers are the winners of this one.
That's it for the Roundup, I hope you were able to keep up with all the craziness! Stay tuned for more NBA and sports news, and watch the 2019-2020 season opener on October 22nd!