The coronavirus pandemic has put an unexpected hurdle in every major sports league's way, as they try to come back and start and/or resume their seasons in some form or fashion. After what seemed like an eternity, we can finally say it with 100% confidence and accuracy: baseball is back. The negotiations between the MLB and the MLBPA finally ended months of bickering going back and forth about what kind of season would be best for the league. But, I finally have some sports news for you guys, and in this article I detail how I think the Rangers will do in this shortened season playing in their brand-new ballpark that happens to look like the world's biggest Home Depot. Anyway, let's get into it, because there's finally sports to talk about again!
Key Signings and Additions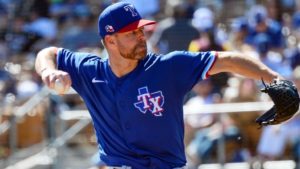 Joey Gallo. Joey Gallo. And some more Joey Gallo.
Of course, it's not all about Joey Gallo. While he is the home run hitter extraordinaire for the Rangers and arguably their best player, the most notable overall addition was the deal that brought former CY Young winner Corey Kluber from the Indians to Texas. Kluber will give the Rangers another outstanding pitcher that can line up on the mound late in games and successfully close them out. Combine that with one of the best one-two pitching punches in baseball in Mike Minor and Lance Lynn, and another recently-signed veteran pitcher Kyle Gibson, and the Rangers seem to have the pitching aspect of the game locked up.
Of course, their bats could use some help as well, and former New York Met Todd Frazier's signing addressed this need. Frazier will give the Rangers a solid bat that is completely capable of blasting balls deep into the stands but also ripping solid base hits out into the open field, and those can be tricky for opposing outfielders to track down. The signing of catcher Robinson Chirinos, a former Ranger, will help as well. We all know what he is capable of as we saw him play with Texas from 2013 to 2018 when he signed with the cheate—I mean, Astros. All those signings are definitely key for Texas in their journey towards a playoff berth for the first time since 2016, but I'm afraid to say that it isn't all sunshine and roses for the Rangers.
Negatives (a.k.a Nomar Mazara's Exit From Town)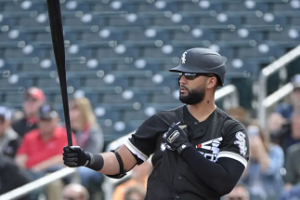 The one massive negative that I personally took away from the Rangers' offseason was the deal that sent solid veteran outfielder —and some would argue fan favorite— Nomar Mazars to the White Sox. Now, I don't really understand why we got rid of Mazara, to be quite honest. I thought he was one of our most important rotation players for the past couple of seasons. He was a very consistent hitter, batting in a combined 143 RBI in 2018 and 2019 and launching an unforgettably impressive 505-foot homer in 2019 on none other than his current team, the Chicago White Sox. He even hit a single against the Angels in 2016 as his first career Major League Baseball hit. And he's only 25 years old! I just felt like he had so much more to offer the Rangers as a versatile outfielder, and I don't really see how this trade will help in the short term. We're trying to chase a playoff spot this year, right? Or am I missing something? Sure, I know we did get promising prospect Steele Walker from Chicago, but I feel like he's more of a long-term thing. I'm not saying he's a bad player, but I just feel like we should've kept Mazara for at least one more season.
The Final Prediction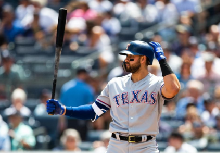 I'm going to be honest here. I think this team can reach the postseason this year. However, in this dramatically shortened 60-game season, they obviously need several things break their way. It'll help if a team like the Athletics or the Rays have a bad season, and then maybe they can sneak in as a Wild Card team. This team is, in my opinion, young, hungry, and looking to strike now, and I think that the Rangers' youthfulness and athleticism along with versatility in hitting and pitching will take other teams, particularly contenders in the AL, by surprise. Maybe I'm being a little generous with my prediction, but I think it's possible for this team. I really like where we're heading in the future. It looks bright for Texas from here on out.
Final Record Prediction: 34-26 (#5 seed in AL)
That's all for this article, but stay tuned to The Roundup for more MLB and sports news!