The title of this article might be somewhat confusing at first, so let me clear everything up for you right now: I am going to analyze each Western Conference NBA team, determining whether or not they will make the playoffs this season and where they will stand in that playoff picture in my opinion. I'm going to do an article covering the Eastern Conference, too, but that'll come in a little while. Today, though, it's all about the wild, wild West. Trust me, with everything that's been happening in this crazy offseason, the Western Conference will truly be wild for the first time in a long time.
Southwest Division
Dallas Mavericks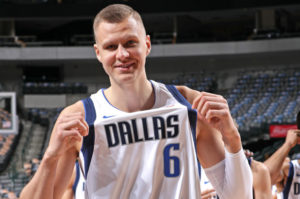 I'll start with our hometown team, the Dallas Mavericks. This team is looking very, very exciting heading into this season. A fully healthy Kristaps Porzingis will make his Mavs debut this season, and we can only wait and see what kind of monstrous stats and plays he brings to the offense.
Luka Doncic, everyone's favorite European star, looked incredible in his first season and, I think, is a safe bet to make his first ever All-Star team in 2020. Along with loads of young potential in players such as Jalen Brunson, Dorian Finney-Smith, Tim Hardaway Jr., Dwight Powell, Maxi Kleber, and newcomer Delon Wright, this Mavs team looks like they'll be back in the postseason once again after three seasons of being absent.
Record Prediction: 45-37, #7 seed in West
Houston Rockets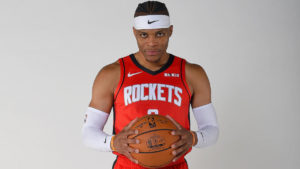 The Rockets had a season filled with ups and downs last season, and ultimately fell short of their NBA Finals dreams, losing to who else but the Golden State Warriors in six games in the second round of the playoffs. However, with Russell Westbrook now on the squad, and the Warriors clearly not the juggernaut they once were, I believe the time is now for the Rockets to come out of the West.
With Harden doing his usual thing and Westbrook bringing new aggressiveness to the offensive scheme, I think Houston is primed for a huge year in 2020, and will beat out the other contenders for the top spot in the Western Conference.
Record Prediction: 53-29, #1 seed in West
Memphis Grizzlies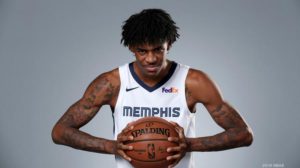 Yeah, okay. Say what you want about the Grizz, but there's a new era starting to take shape here in Memphis. The Grit n' Grind era is coming to a close, and now the Ja Morant era is beginning here.
The Grizzlies selected the Murray State superstar with the second overall pick in the 2019 NBA Draft, signifying a new direction with their franchise. With youngsters such as Morant, former lottery pick Josh Jackson, Dillon Brooks, Jaren Jackson Jr., and Brandon Clarke, Memphis will probably eek out some tough wins, but this season's gonna be a long one for the Grizzlies.
Record Prediction: 24-58, miss playoffs
New Orleans Pelicans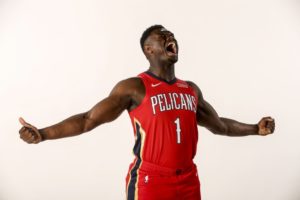 If the Pelicans were capable of holding a Guinness World Record, it would be for the world's quickest rebuild, as they have one of the brightest young cores in the entire league. Zion is going to be "the man" in the Big Easy from the get-go, with a great supporting cast in guys like Lonzo Ball, Brandon Ingram, Josh Hart, J.J. Redick and Derrick Favors. A lot of people, both fans and professional analysts, are betting on New Orleans to sneak into the playoffs just one season removed from trading Anthony Davis. I'm with those people betting on the Pelicans, as I think this season will be a good one down on the Bayou.
Record Prediction: 43-39, #9 seed in West, miss playoffs
San Antonio Spurs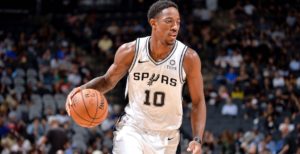 I like to believe that the Spurs are the New England Patriots of the NBA, even though they haven't won championships as consistently as the Pats have won Super Bowls. San Antonio has a very solid combination of veterans and youngsters, and this characteristic helps balance the overall chemistry of the team in my opinion. However, the Spurs are simply not the dominant force that they used to be, and I only see this team as a low-seeded playoff team in 2020.
Record Prediction: 45-37, #6 seed in West
Northwest Division
Oklahoma City Thunder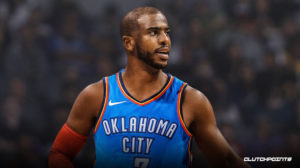 Yikes.
That's the one sufficient word I can find to describe this team. I mean, yeah, they have some nice young talent, and they have a proven veteran leader in Chris Paul, but no one really knows if CP3 even wants to play for the Thunder! In my opinion, it doesn't really look like Paul wants to spend his next three seasons in OKC, and it's obvious that they've looked to trade him but no dice seemed to roll the right combination. The Thunder are clearly in a rebuilding stage after dealing away Paul George and Triple-Double Man (Russell Westbrook), and there's not much doubt that it's gonna be a long season in Oklahoma City.
Record Prediction: 21-61, miss playoffs
Minnesota Timberwolves
The one reason I think the Minnesota Timberwolves will fall short of the postseason this year is the fact that they missed out on restricted free agent D'Angelo Russell, who is now a Golden State Warrior. Yes, Karl-Anthony Towns will keep doing KAT things, but the rest of this team is just too inconsistent. Andrew Wiggins is the epitome of said term, and Robert Covington and Dario Saric are good players, but they are somewhat unproven.
No. 6 overall pick Jarrett Culver looks promising, but again, he is completely unproven on an NBA basketball court. If the Jimmy Butler saga didn't go the way it did and Towns had just put the Xbox controller down more often, the Wolves would be winning more consistently.
Record Prediction: 35-47, miss playoffs
Denver Nuggets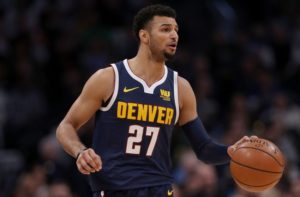 The time is now for the Denver Nuggets.
If Denver wants to seriously contend for an NBA championship in the reorganized Western Conference, they need to act with a sense of urgency. Luckily, though, they have a ton of young talent to that. Nikola Jokic is one of the most underrated players in the entire league, and might be the best center in the NBA (sorry, Joel Embiid).
Point guard Jamal Murray, who is one of my favorite players, took a massive leap in a bunch of statistical categories, and looks like a future superstar. Gary Harris is another underrated stud, and he can lock his man down on the defensive end. Overall, this team looks young and hungry, and without the Warriors in the picture any longer, now is Denver's time to strike in the West.
Record Prediction: 54-28, #2 seed in West
Portland Trail Blazers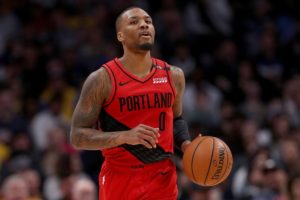 After last year's disappointing exit at the hands of the Golden State Warriors (let's be real here, did they have much of a chance?), Portland was looking to make some changes in order to be better equipped to handle the West's best teams.
First, they traded Mo Harkless and Meyers Leonard to the Heat in exchange for a somewhat disgruntled Hassan Whiteside. Secondly, though, they did lose Enes Kanter to the Celtics in free agency, and that's a bit of a downer for them. But, when Jusuf Nurkic returns from his leg injury later this year, the Blazers will be at full strength again, and with no Warriors (see how one move can change the NBA landscape so much?) they'll be ready to contend for a top spot in the West yet again.
Record Prediction: 52-30, #3 seed in West
Utah Jazz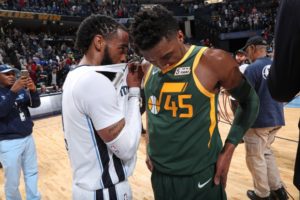 The Jazz's most important move of this offseason was trading for former Grizzlies star floor general Mike Conley. With this deal, Conley will undoubtedly add a whole new dimension to the Jazz's gameplan that they have not really experienced before, and I believe their win total will go up as well.
With stars in Conley, Donovan Mitchell, and Rudy Gobert, and with established role players such as new addition Bojan Bogdanovic, Dante Exum, Ed Davis, Royce O'Neale, and Emmanuel Mudiay, I think the Jazz are set to both earn a top-five spot in the Western Conference and make a deep run into the postseason this year.
Record Prediction: 49-33, #5 seed in West
Pacific Division
Los Angeles Clippers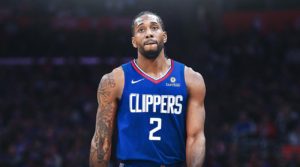 Ah, everyone's favorite.
Wait, did I say that about the Mavs? Darn…
Everyone's favorite in Los Angeles, that is. Y'know, probably. Anyway, the LA Clippers made the most noise in NBA free agency this offseason by a long shot, signing free agent Kawhi Leonard to a 3-year, $103M deal and trading for former Thunder superstar Paul George, otherwise known as PG-13.
They also re-signed defensive bulldog Patrick Beverley to a 3-year, $40 million contract, and added Tyronn Lue to Doc Rivers' coaching staff. Overnight, this team went from an average playoff team to a legitimate NBA title contender. And even though their roster isn't the absolute (like, 2017 Warriors-type) best, they'll still make a deep run in the playoffs, that's for sure.
Record Prediction: 51-31, #4 seed in West
Los Angeles Lakers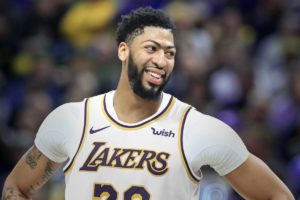 The Los Angeles Lakers finally got another superstar player to pair with LeBron James this summer, as they acquired former Pelicans star Anthony Davis in exchange for basically their entire young core. But that clearly doesn't matter to them, as they now have a top-five player and arguably the best player in the NBA on the same team. However, the big blow for Los Angeles this offseason was missing out on securing the services of Kawhi Leonard, who got a deal with the Clippers. Regardless, though, LA should compete for a playoff spot regardless, even with the recent injuries to players like DeMarcus Cousins.
Wait, was Boogie even that good? Yeah, no. He wasn't even close.
Record Prediction: 48-34, #6 seed in West
Phoenix Suns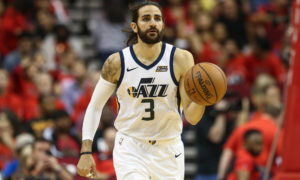 The Suns finally acquired a decent point guard after that position being a complete afterthought for several seasons.
Unfortunately, that point guard's name is Ricky Rubio.
Rubio isn't a very capable shooter from either three-point range or from the mid-range, but he is a great passer, which will complement Devin Booker's style of play. He'll be able to set up Booker with passes that dissect the defense and Booker will be able to create his own shot. Along with youngsters such as Dario Saric, Deandre Ayton, Kelly Oubre Jr., and incoming rookie Cameron Johnson, the Suns' future is looking a little brighter with each passing season.
Record Prediction: 23-59, miss playoffs
Golden State Warriors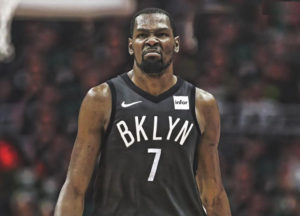 The Dubs' biggest loss of the offseason was the departure of Kevin Durant (like, no kidding, right?). Put that in with the fact that Klay Thompson is expected to miss this upcoming season because he's rehabbing his torn ACL, and the Warriors aren't going to be nearly as dominant as they were last season.
However, that doesn't mean all hope is lost.
Stephen Curry's scoring and assist numbers are probably going to skyrocket with no KD and no Thompson, and he will be asked to carry a massive chunk of the offensive load for Golden State. I can't really rely on Draymond Green much anymore, because he couldn't shut down anybody in the NBA Finals, demonstrated by the Raptors' Pascal Siakam in Game 1. The Dubs won't be getting dubs (get it? No? I'll leave…) as much as they did in the last three seasons, but with a guy like Steph Curry on your squad, you should never be counted out.
Record Prediction: 44-38, #8 seed in West
Sacramento Kings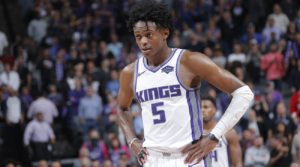 The Kings were a huge surprise both for me and for many NBA scouts and analysts. Last season, Sacramento came thiiiiiiis close to sneaking into the playoffs with the #8 seed,  yet they fell just short. De'Aaron Fox took his "bust" label and smashed it into the ground last year, Buddy Hield enjoyed a big breakout, Bogdan Bogdanovic became one of their primary scoring weapons, and Marvin Bagley III played like a beast after the All-Star Break.
However, despite Sacramento enjoying a huge improvement from last year, the Western Conference has gotten much more competitive (if that's even possible) and the Kings just…haven't.
Record Prediction: 38-44, miss playoffs
That's all I've got for this article, but stay tuned to The Roundup for part 2, featuring the Eastern Conference!