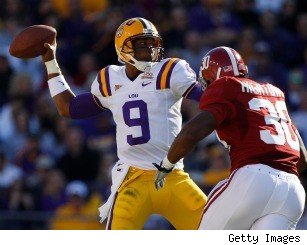 Number one versus number two. Undefeated, bitter rivals. Division, conference, and national title implications on the line. There's a reason that this Saturday's matchup between top-ranked Louisiana State University and second-ranked University of Alabama is being billed the "Game of the Century," a title specially reserved for regular season games between the two top ranked teams in college football.
The most recent instance of a No. 1 vs. No. 2 was in 2006 in a game that pitted the second-ranked Michigan Wolverines against the top-ranked Ohio State Buckeyes in Columbus, Ohio. The thrilling matchup saw the Buckeyes prevail, 42-39, in a game that really did live up to the hype. Both teams dazzled fans with a plethora of offensive fireworks and big plays from stars like Ted Ginn, Jr., Troy Smith, Braylon Edwards and Chad Henne.
People looking for this type of game on Saturday, however, will likely be disappointed; this matchup has all the makings of a knockdown, drag-out dogfight. But there are benefits to these kinds of games: like a pitcher's duel in baseball, good defensive battles demonstrate a team's true toughness.
On offense, LSU employs a two-quarterback system, rotating between pocket-passing Jarrett Lee and scrambler Jordan Jefferson. While both have shown flashes of solid quarterback play, the Tigers' offensive stability comes from the split backfield of bruisers Spencer Ware and Michael Ford, who have combined for 953 yards rushing and 12 touchdowns so far. At wideout, the Tigers have 6'4" junior Reuben Randle (averaging 19.3 yards per catch) and 5'11" freshman Odell Beckham.
For the Crimson Tide, quarterback A.J. McCarron has rebounded after a tough start to the season. He's completing 67% of his passes with 10 touchdowns and only three interceptions. With the help of wide receiver Marquise Maze, Alabama has created some big-play ability in their passing game; but their best offensive asset, without a doubt, is All-American running back and Heisman candidate Trent Richardson, a junior with 989 rushing yards on the season, tallying 6.6 yards per carry and an SEC-leading 17 rushing touchdowns.
Defensively, the units for both teams have been completely dominant, especially in scoring defense. Alabama has been allowing an astoundingly low 6.9 points per game, while the Tigers have allowed a respectable 11.7 points per game, especially impressive considering the tougher competition that LSU has faced.
For LSU, the player to watch is sophomore defensive back Tyrann Mathieu, affectionately referred to by fans and analysts as "The Honey Badger," a reference that explains the All-American's tenacious style of play.
The true battle will be LSU's defensive front seven versus Alabama's offensive line and rushing attack. If LSU can stifle Richardson, the Tigers will walk away from the game with a relatively easy track to the SEC title and BCS Championship Game. But if Alabama can establish a solid running game, they have a very realistic chance of winning their second conference and national title in three years.
While Las Vegas odds makers have predicted a five-point margin of victory for the Crimson Tide, I predict LSU to not only cover the spread, but to win a close game on the road at Bryant-Denny Stadium, 20-13.
In such a close matchup, we can only be sure of one thing–regardless of who wins; there will be one heck of a tailgate in Tuscaloosa, Alabama, on Saturday.