The final match, Chelsea vs Man City, reaches 0-0 on extended time, a penalty shootout awaiting to decide the winner. 3-3 on penalties, calmly Raheem Sterling walks up to the penalty spot to take what should be the winning shot. He lines up slightly left two yards behind the soccer ball, with his left foot forward angled towards the ball and planting his right foot behind. The referee to blows his whistle, and he starts jogging towards the ball, looking directly at it. Planting his left foot to the right of the ball, he leans over the ball and strikes it with the inside of his right foot. The ball immediately leaves the ground, flying towards the top right corner inside the net. The ball hits the bottom of the top crossbar and bounces inside the goal, and the team runs in to celebrate with Sterling.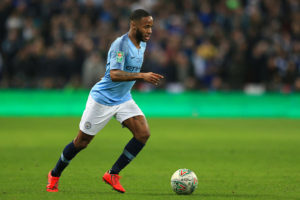 Last Sunday evening, Man City walks away from the Wembley Stadium proudly raising the Carabao Cup over their heads, defeating Chelsea 3-4 in a penalty shootout. Their journey was not easy, having to win multiple previous arduous games to reach the final, and then having to beat Chelsea, an elite team Premier League team. Here's Man City's Carabao Cup journey, AKA their road to glory:
Manchester City vs Oxford United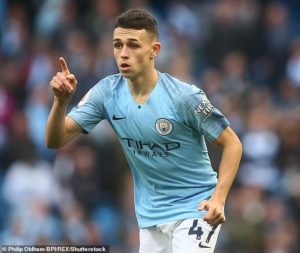 Now, I know what you're thinking, "Oxford who?!?", and I'd have to agree here. Personally, I didn't even know Oxford United was even a soccer team before they played Man City, but Oxford United FC plays in League One (no, not the French League 1), the third tier of English soccer. Therefore, as excepted, Man City easily managed to score 3 goals against them, keeping a clean sheet for themselves (0 goals conceded), while starting mostly their bench. Gabriel Jesus, Riyad Mahrez, and Phil Foden (the young lad), all scored, and the team's performance was outstanding. City had 63% possession, 18 shots, 8 on goal, with 11 corners, while not allowing a single shot on target from the other team. City's win allowed them to pass the 3rd round and was off to the Round of 16.
Manchester City vs Fulham
Now City had some type of competition. Passing to the Round of 16, City faced Fulham, a very low standing Premier League team. City, believing their bench could take on Fulham, do not start some of their best players to avoid any serious injuries against low opponents that could threaten their Premier League race against Liverpool. City, as expected, managed to get a 2-0 win over Fulham, who luckily narrowly to escape what could have been a humiliating defeat, as City, unfortunately, had 3 shots off the post, and would have made the score 5-0 had the shots gone in. As usual, City controlled the game with 64% possession, similarly with 18 shots, 8 on goal, and 10 corner kicks. City held the opposition to only 2 shots, both on target, and the goalkeeper managed to keep a clean sheet for himself and proceed to the quarter-finals.
Manchester City vs Leicester
City reached the quarter-finals, and now they had a good opponent, facing Leicester City, the 2015-2016 Premier League winners. This game was not as easy as the other previous ones. Kevin De Bruyne managed to give City the lead in the first 14 minutes of the game, however, City was unable to score for the rest of the game, and Leicester managed to equalize the score in the 73rd minute. After the second half was over, a penalty shootout would decide who the would pass forward to the semi-finals. Unfortunately for Leicester, 3 of their players missed their shots, and so with only one miss from City, they managed to leave victorious with a 3-1 win on penalties, proceeding to the semi-finals.
Manchester City vs Burton Albion
Again, I know what you're thinking, "wait, so it's the semi-final and Man City is facing Burton who?!?", and I would also have to agree with you too, as before this game I also didn't know who they were, or what league they played in. Allow me to explain, Burton Albion FC is a soccer team who play in League One, the third tier of English soccer, who currently ranks 11th in their league. "Wait, so Man City is facing a mid-ranked team in the THIRD tier of English soccer?" Yes, yes they are, and as you probably expect, the score was not pretty. Man City showed no mercy to the third tier English soccer team, scoring 9, yeah you heard me, N-I-N-E goals in only the first game (teams play two games, home and away, once they reach the semi-finals of the Carabao Cup).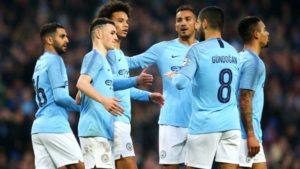 Gabriel Jesus, the Brazilian youngster, got himself a nifty 4 goals, and Kevin De Bruyne, Riyad Mahrez, Kyle Walker, Olexandr Zinchenko, and Phil Foden (the young lad) all scored one each. In this ugly game (for Burton Albion), City had 73% possession, 21 shots, 15 on goal, and N-I-N-E goals, allowing only 2 shots on goal from Burton Albion managing to get a clean sheet. In the second game, Man City, up 9-0 on aggregate, again started most of their bench, knowing that they had basically already moved on to the finals, and still manage to have 70% possession, 10 shots, 5 on goal, only allowing 1 shot on goal from their opponent, and managed to come away with a clean sheet.
Manchester City vs Chelsea
Here's where the real challenge came. Chelsea, the 2016-2017 Premier League winners, faced off against Man City, the defending Premier League champions. This game was not as exciting at first, scoring 0 goals all the way through extended time, and finally reaching a penalty shootout. However, even though City did not score at all in the game, they did have 62% possession, with 9 shots, 3 on goal, while Chelsea only had 38% possession, 6 shots, 1 on goal. Clearly shown by the stats, City controlled most of the game and deserved to win the cup. Towards the end of the game, Chelsea's manager, Maurizio Sarri, tried to sub out Kepa Arrizabalaga, his keeper, however, Kepa refused to be taken out of the game, disregarding his manager's orders, and Sarri lost his cool. Chelsea missed 2 penalties, while City scored all but one. Ilkay Gundogan, Sergio Aguero, Bernardo Silva, and finally Raheem Sterling, all brought home the Carabao Cup trophy they had long worked for and were finally able to proudly raise the glorious Carabao Cup their heads, showing it off to their fans and the rest of the world.