The month of March is now long over, and now we are left to sob into our couch pillows and cover our eyes from watching the Rangers magically morph into the 2017 Browns this spring. Okay, okay, sure, they've won a few games, but this article is about anything but baseball. Many people across the country will now turn their heads toward the upcoming NBA Draft, and I will do the same, eagerly waiting for the arrival of Zion Williamson to the Mavericks (kidding, that probably won't happen). Today, I'm here to tell you all at Jesuit my takes on the draft, my projected picks, who picks where, and who picks who. Anyway, let's turn off that horrible Rangers baseball and let our brains soak in all the information of the NBA Draft!
#1 Overall Pick (New Orleans Pelicans): Zion Williamson, PF, Duke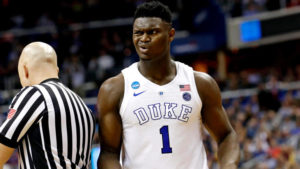 Duh. Do I even need to say anything about this one? Zion has dominated the college basketball world from the second he stepped on the hardwood, and that often doesn't happen with simply an average player. But Zion, of course, is no average player. Over the course of the college basketball season and the tournament, he has averaged 22.9 points, 8.9 rebounds, and has shot 68 percent from the field in his time at Duke. Since the Pelicans now hold the #1 overall pick, they should make the obvious choice and take him. He may be the key to change Anthony Davis' mind about staying in the Big Easy…
#2 Overall Pick (Memphis Grizzlies): Ja Morant, PG, Murray State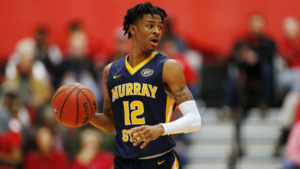 This may not be true, but I think some people are questioning why I put Ja Morant above R.J. Barrett. Before you criticize me, just hear me out. While Barrett certainly made a name for himself on a Duke team that was Zion-mania, Morant absolutely balled out and carried Murray State to the NCAA Tournament. Over the course of the season, he averaged 24.5 points, 5.7 rebounds, and ten assists per game, to go along with a sensational triple-double statline in the Round of 64 game against Marquette. Since Mike Conley is getting old, the Grizzlies should look to draft their point guard of the future in Morant.
#3 Overall Pick (New York Knicks): R.J. Barrett, SG, Duke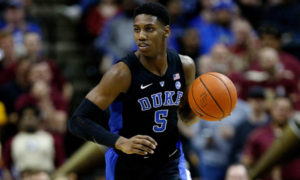 Even though the Knicks missed out on Zion, the guy who's drawn comparisons to James Harden is a nice consolation prize. Like I mentioned in my Ja Morant section, R.J. Barrett did manage to make a name for himself and carve out a role on a Duke team that featured him and, oh, just one of the most dominant players in the history of college basketball in Zion Williamson. Barrett, however, managed to average 22.6 points and 7.6 rebounds per game with the Blue Devils, and even though Zion is off the board in this mock draft, I think New York should take Barrett to pair him with whatever superstar free agents they sign this offseason.
#4 Overall Pick (Los Angeles Lakers): Jarrett Culver, SG, Texas Tech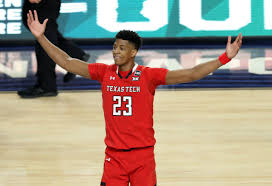 After the Texas Tech Red Raiders came oh-so-close to winning a national championship, their star guard Jarrett Culver declared for the NBA Draft. Even though he had a shaky Final Four statline against both Michigan State and Virginia, there is no denying that Culver still can be a star in the big league. Over the course of the season, Culver averaged 18.5 points, 6.4 rebounds, and 3.7 assists per game for the Red Raiders. This potential scenario will be interesting for LA, as it will pair Culver with LeBron James and his weird, but also kind of cool, supporting cast.
#5 Overall Pick (Cleveland Cavaliers): DeAndre Hunter, SG, Virginia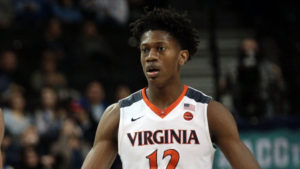 Fresh off a national championship with Virginia, DeAndre Hunter has his sights set on the NBA Draft. Hunter was stellar and arguably the best player on the Cavaliers' championship team, averaging 15.2 points and 5.1 rebounds per contest for Virginia. Now that the Cavs possess the #5 overall pick, a consistent shooting guard is one of their primary needs that they must address. If Hunter is still on the draft board, which he is in this mock scenario, I think Cleveland should select him over North Carolina's Coby White, as they already have their point guard of the future in Collin Sexton.
#6 Overall Pick (Phoenix Suns): Coby White, PG, North Carolina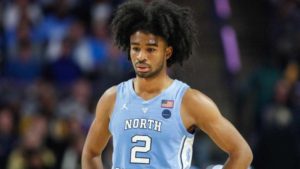 Besides the awesome hairdo he has, Coby White at times carried the North Carolina Tar Heels and looked like someone you could build your team around. Even though his team's season was brought to a bitter end by the red-hot Auburn Tigers, there is no denying that White was a special talent in college basketball. Since the Suns landed the #6 pick and if they have the chance to take a point guard, which just so happens to be likely their weakest link, I think this should be a no-brainer for Phoenix, and I believe they should take White in the top 10.
#7 Overall Pick (Chicago Bulls): Darius Garland, PG, Vanderbilt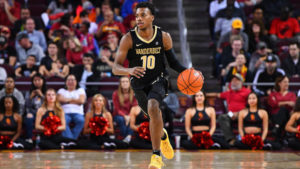 Even though the Vanderbilt Commodores didn't make the NCAA Tournament and didn't really make much noise in the SEC this season, a bright spot that stuck out for them was sophomore guard Darius Garland. Over the course of the season, he averaged 16.2 points and 3.8 rebounds per game for the Commodores. Since the Bulls have the #7 pick, point guard is one of their biggest needs. Even though the best floor general in the draft is off the board, the second-best point guard could be nice consolation prize.
#8 Overall Pick (Atlanta Hawks): Cameron Reddish, SF, Duke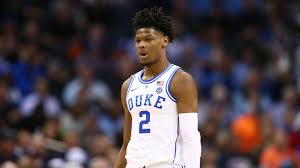 Cam Reddish. Where do I start with him? At times, he looked nearly unstoppable at Duke, but other games he looked like he was completely lost on the basketball court. His inconsistency will more than likely scare some teams off, but if you're the Hawks with that #8 overall pick, I think you should take Reddish, as he will add a defensive and scoring boost to a young and energetic Hawks team already bursting wide open with talent and potential.
#9 Overall Pick: (Washington Wizards): Nassir Little, SF, North Carolina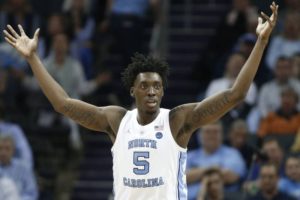 Personally, I would really like this pick if it took place, as I believe that Nassir Little and the Washington Wizards could be a perfect fit. Although he was somewhat inconsistent in his time with the Tar Heels, I'd like to believe that was partially due to the number of minutes he was given by coach Roy Williams. Anyway, since the Wizards have this pick, and if they have the opportunity to select Little, I think they should do it, because I think Little can become an asset in his rookie year and provide some hope to an injury-riddled and derailed Wizards squad.
#10 Overall Pick (Atlanta Hawks): Rui Hachimura, PF, Gonzaga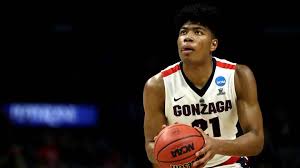 Some of my fellow Jesuit classmates might be disagreeing with the fact that I slotted Nassir Little above Rui Hachmura in this draft. However, while Hachimura was certainly amazing and at times carried Gonzaga to several statement wins, I believe there are some flaws in his game that must be addressed. One of these is his three-point shooting. Hachimura is not good from beyond the arc, as he shot a mere 31.6% from the three-point line for his college career. However, since the Hawks got lucky and now possess the #10 overall pick, I think selecting Hachimura would be the best possible thing for them here, as he would provide yet another young piece for an Atlanta team that is young, energetic, and looking to prove themselves in the Eastern Conference.
That's all I've got for my 2019 NBA Mock Draft. Stay tuned to The Roundup for more NBA draft and sports news!