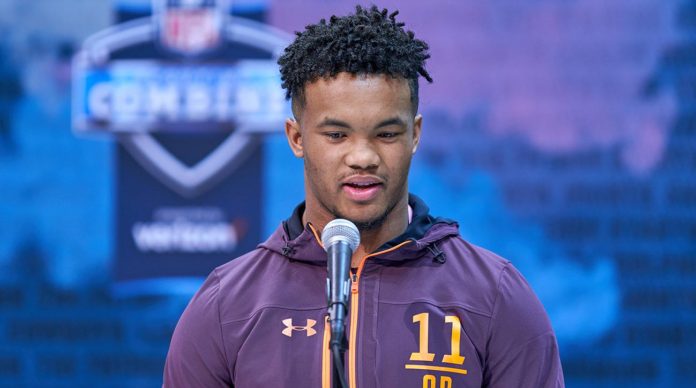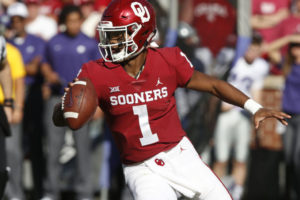 As the 2019 NFL Draft draws nearer, the question on both casual fans and professional scouts' minds alike is: will Oklahoma quarterback Kyler Murray be the #1 overall pick? This inquiry has been on everyone's mind since the end of the College Football Playoffs, and while it remained somewhat dormant in people's brains, it came up again and spread like a wildfire after both the NFL Scouting Combine and Oklahoma's Pro Day.
Murray, of course, had a very, very strong performance in both of these events, and scouts were enamored with his speed for the quarterback position and his throwing ability. However, while Murray has loads of potential and the tools to succeed in the NFL, we must ask ourselves: is Kyler Murray worthy of being the #1 overall pick in the 2019 NFL Draft?
Positives: His Speed for a QB is Unreal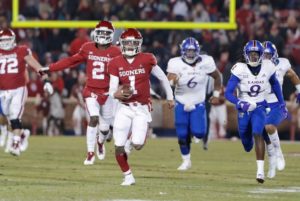 As I mentioned earlier in the introduction, Kyler's speed for a quarterback is not just above-average or even good. It's great. Part of the reason why he won the Heisman Trophy this season is that when he was forced out of the pocket, he could make plays with his legs with enormous consistency. When he ran into the open field, he was able to make big plays and rack up positive rushing yards nearly every time he scrambled.
Specifically in the College Football Playoff game against Alabama, Murray was frequently able to get outside the pocket and dodge past a somewhat weak Alabama defense. Because the Sooners don't run the ball that much, they're a big passing team, constantly giving Kyler the opportunity to either chuck it downfield in a receiver's direction or give his legs some work and take off in the open field to pick up positive yards for his team.
Positives: Great Combine "Performance"
Many, many scouts and fans alike were doubtful that Kyler Murray could be the #1 pick because of his physical attributes (more on that in a minute). However, that all changed after his performance in the NFL Scouting Combine. Several so-called "red flags" were resolved during the combine in Indy, but not in the way you might expect.
Many scouts are saying Kyler won the combine this year…without even throwing a football. Murray's physical attributes were measured and publicized on the day of the combine, and his official height came in at 5'10" 1/8. Five-foot-ten-and-one-eighth, for those who couldn't quite understand that.
Lots of scouts thought that because Murray was so short, he couldn't and wouldn't be able to succeed in the NFL. Some scouts envisioned that Murray was as short as five-foot-eight, but when his actual height was measured, it was a sigh of relief for both the scouts who were in love with Kyler himself.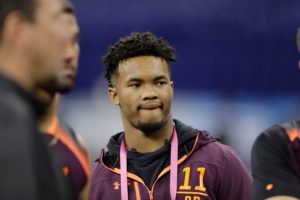 Positives: Pro Day Performance
Although he announced that he wouldn't throw at the NFL Combine, Kyler did announce that he would throw at Oklahoma's Pro Day. Scouts for all 32 NFL teams were there to watch Kyler throw, and nearly all of them gave him and his performance positive reviews.
In fact, Murray reportedly got an "A+" grade from one evaluator, and many others gave him positive reviews. This feedback will all but boost his draft stock, and it is looking more and more likely that he will fall into the Cardinals' laps at #1 overall. However, there are still a few issues that might make teams hesitant…
Negatives: He's Still Really Short for a QB
Regardless of what went down at the Combine and OU's pro day, there is no doubt that Murray is still really short for a potential NFL quarterback. Currently, the shortest quarterback in the NFL right now is Seattle Seahawks' quarterback Russell Wilson, who stands at 5'11. Murray would be the shortest quarterback in the league as of right now when he is drafted.
The shortest quarterback in NFL history, Doug Flutie, was even shorter than Murray, at five-foot-nine. Scouts doubt that Kyler could be a star in the NFL, as while Flutie was a good quarterback in the early 2000s, he was never really considered a star. The big problem for Murray is that his height may be holding him back from what he could become: a superstar quarterback in the big leagues. However, even though I'm no NFL draft scout, I still think that Kyler Murray can become a star on the next level despite his height.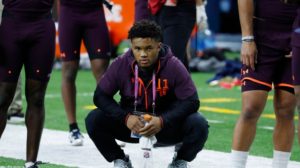 Negatives: Off-The-Field Skepticism
On the talk show The Herd with host Colin Cowherd, Murray was brought in and asked about whether he would choose football or baseball, as Murray was drafted with the ninth overall pick in this year's MLB Draft by the Oakland Athletics. Murray then delivered one of the most awkward responses to the question I have ever heard. I'm not trying to go against Kyler Murray or anything, but really anyone could figure out that it was just…awkward.
Things didn't get better for Murray at the combine, as while his stock rose with the official measurements of his height and weight were revealed, an analyst named Charley Casserly came along and completely crushed Kyler Murray. In his response to the exchange between Murray and Cowherd, he called it "the worst report I've ever heard" and he criticized his leadership and film study habits.
Again, as much as I like Kyler Murray, this will probably go against him when the draft arrives in April. This may make general managers and coaches hesitant to draft him because they don't want to take the risk on if Kyler can be professional and can put in the work necessary to become a starting-caliber quarterback and even a star.
The Final Verdict
I have looked over every positive and every negative regarding Kyler Murray and both his on-field and off-field skills and traits, and my final answer is yes, Kyler Murray is worthy of the #1 overall pick in this year's NFL Draft.
Even though the negatives such as the height and the awkward exchange on The Herd may make some teams hesitant to draft him and even scare some teams off completely, I feel like the positives will be too great and too impactful to overlook, and I firmly believe that Kyler Murray will fall into the Arizona Cardinals' hands at number one overall.
Stay tuned to The Roundup for more NFL Draft and sports news!