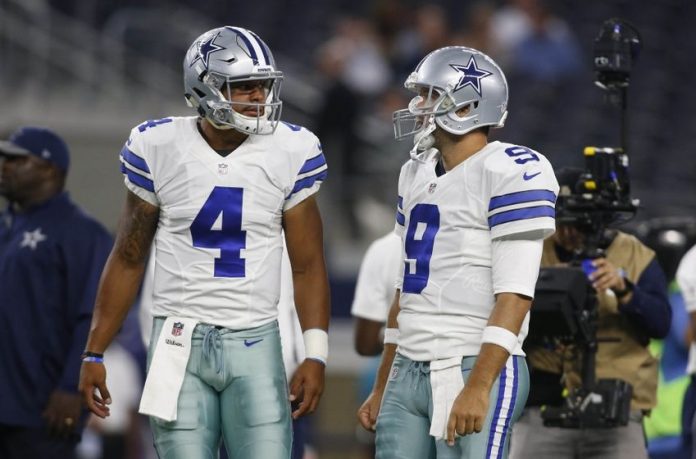 ---
As the Dallas Cowboys jump to a 2-1 start, many have taken to the argument of who is a better quarterback, Tony Romo or Dak Prescott. Dak, a fourth round draft pick, has proven himself to be a solid replacement for the battle-tested Tony Romo while he recovers from a back injury. The question remains; is it time for Romo to hang up his cleats right now and hand the quarterback job over to Prescott?
Chris Selvidge '19 strongly feels that Prescott needs to take over. "Tony Romo gets hurt every season. He hasn't played a whole season," Selvidge stated, elaborating on Romo's recent history of missing numerous games due to his easily-sustained injuries. "Dak, on the other hand, hasn't shown signs of being injury prone and has shown signs of being able to control the offense," Selvidge further bolstering his opinion on how Dak is more reliable than Tony all while providing the leadership that any good team needs.
Ms. Progar of the Theology department shared the same opinion as Selvidge stating, "I dislike the fact that Tony Romo constantly gets hurt, and a leader needs to be on the field."
While age has caught up to Tony Romo, one must remember that just only two seasons ago, Romo guided the Cowboys to an impressive showing in the NFC Divisional Round against the Green Bay Packers and was elected to the All Pro Second-Team.
However, we have seen quarterbacks' careers decline drastically due to injuries. Robert Griffin, former quarterback of the Washington Redskins had an impressive rookie season in 2012, winning the Rookie of the Year Award, but saw increasingly worse play during later seasons in part due to sustained injuries.
Maybe the answer to the argument is to give Dak a little more time. Three games isn't much, but as we view Prescott's performance going forward, the answer may become clearer.