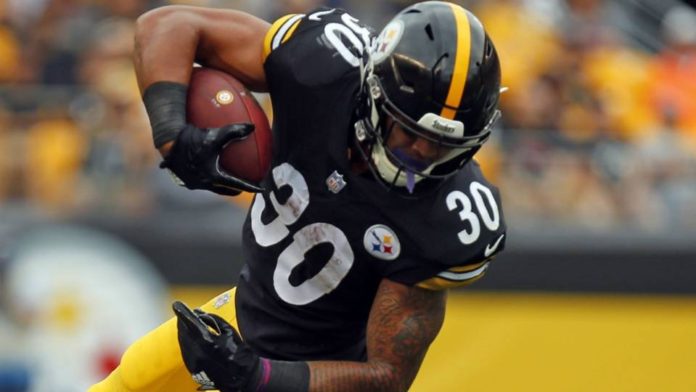 For many players, week one of the NFL started with a bang; high yardage games, touchdowns, broken tackles, interceptions, and highlight reel plays. These players proved that they are not all hype, and they have got what it takes to be great players this season. For other players, week one was full of dropped balls, missed throws, fumbles, interceptions, injuries, blown coverages, and just all around bad performances.
Patrick Mahomes
The Chief's rookie quarterback Patrick Mahomes had a fantastic game, completing 15 of his 27 pass attempts for 256 yards and 4 touchdowns on top of 21 yards rushing. Part of what made him so good this week is wide receiver Tyreek Hill. Hill is notorious for being one of the most dangerous deep pass threats in the NFL, as he is one of the fastest players in the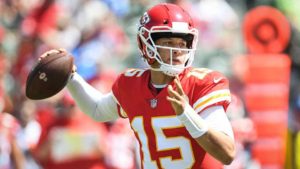 league. Patrick Mahomes is not afraid to throw deep, and he has the arm to do so, which makes him the perfect fit in this Chiefs offense. He was able to complete 7 of 8 passes to Tyreek Hill for 169 yards and 2 of his 4 touchdowns. Tyreek Hill also had a 91 yard punt return touchdown to start the scoring. One of the things that convinced me that Mahomes is the real deal is the fact that this is his first game in the NFL and he was able to not only throw for 256 yards and 4 touchdowns, but also throw no interceptions. He proved that he could be calm in the pocket and wait for the right pass, which indicates further good performances in the future.
James Conner
Another rookie who had a breakout week was the Steeler's running back James Conner. Conner rushed for 135 yards on 31 attempts. He also caught 5 passes for 57 yards. James Conner is filling in for the Steeler's elite running back Le'veon Bell, who is currently holding out on his contract. Handing the ball to a rookie backup running back 31 times shows that the Steelers trust Conner. Conner's time to shine is not yet coming to an end, as it looks like Le'veon Bell will sit out week 2 as well. This provides Conner another opportunity to make a name for himself against a weak Chiefs run defense at home in Pittsburgh. If Conner is still available in your league (which he probably isn't), I strongly advise that you add him to your roster. If he has already been snagged by someone else, do not trade your first or second round picks to get him. When Le'veon Bell returns, he will still have his starting position as RB1, which will severely damage Conner's fantasy value.
Zach Ertz
While many players had a shaky start to the 2018 season, that does not mean that they will have poor performances all season. A great example of this is Zach Ertz. The Eagles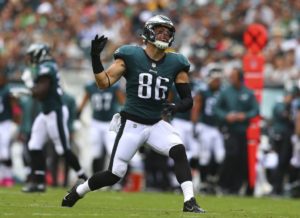 tight end had a very underwhelming game this week, producing only 5 catches for 48 yards. We are all used to seeing Zach Ertz have big games, so when people saw this, they were rightfully concerned. Despite only having 5 catches, he was targeted 10 times. He had multiple drops which were somewhat due to his heavy coverage, and the fact that Nick Foles struggled to complete over 50 percent of his passes definitely had something to do with Ertz' lack in productivity.
Injuries
For some, week 1 brought season ending injuries. If you have Delanie Walker or Greg Olsen on your team, you were probably upset when you found out that they received season ending injuries in the first game. Losing a crucial player like Olsen and Walker could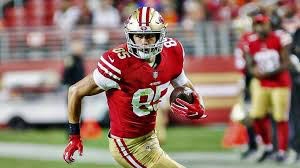 put a major restriction on your team's success, but luckily, available in over 30% of leagues is the tight end George Kittle. George Kittle was heavily slept on in the draft, and in week 1, he caught 5 passes for 90 yards against the Vikings' strong defense. Not only did he already put up great numbers, but Kittle also dropped a tough over the shoulder catch on what would have been an 80 yard touchdown pass. Kittle was one of Garoppolo's favorite targets in the 49ers week 1 matchup, and that will not change during this season. He ran a route in 28 of 35 pass plays, which showed that he will continue to have an impact as a receiving tight end throughout the rest of the season.
Not Mad Just Disapointed
One of the most disappointing performances came from Raiders receiver Amari Cooper. Prior to week 1, I had Amari Cooper down as a player that I thought would have a great season. While Amari Cooper only had a combined total of 18 yards, many things were not in his favor this week. First off, he was facing one of the best secondaries in the league, the Rams. Next, head coach Jon Gruden said that he was open deep multiple times on Monday, but quarterback Derek Carr failed to take advantage of the situation. Finally, the most important reason explaining Amari Cooper's awful week 1 was the Raider's game plan. Gruden knew that the Rams have a very tough secondary, so to counter that, he stated that the Raider's game plan was designed take advantage of Jared Cook and Jalen Richard's matchups against the Rams' inexperience linebacker core. While I do believe Cooper will bounce back eventually, he does have another tough matchup against the Broncos' secondary in week 2. For anyone who owns Amari Cooper, or for that matter any player who had a disappointing week 1, do not panic and trade him for less than his value. It is nearly impossible to judge a player based off of their outcome from one game.
Reflection
The main thing to take away from week 1 is remember to not panic. Don't make outrageous trades to get a player who had one good game. Similarly, don't drop a player after one bad game. Give it time, and wait a few games and see if it was a fluke or not.
Good luck and go Cowboys!