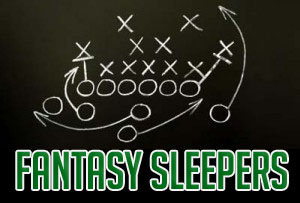 Hello, fantasy football lovers. If you read my preview article that was published after week 6 and drafted my "perfect" team, then you would have 1 ok running back and 1 ok receiver while the rest of your team would be injured. But put that aside, because today, I'm talking about sleepers, who worked out and who didn't.
Amari Cooper
Obviously if you drafted Amari Cooper as a WR2, then you are a happy person after a good first half of the season. With Cooper on his side, Derek Carr has shown that if he actually has someone to throw to, then he can be a good quarterback! Granted, he wasn't a bad quarterback last year, but since the Raiders started off 0-8, no one paid any attention to him. Now he has a dangerous receiver with great hands, an NFL body type, and footwork that could literally break the ankles of just about any corner in the NFL. And when he's averaging 10 points a week, he is must start at WR every Sunday.
Todd Gurley
After missing the first two games and only carrying the ball six times in week three, Gurley showed everyone that he's a monster by putting up big numbers in weeks four and five. The Rams have just about no passing game because of an inconsistent QB and poor receivers. This means that if they are smart, the Rams are going to keep shoving the ball into Gurley's chest the whole game, similar to what the Vikings and Chiefs (Pre-Injured Charles) do to their running backs. They will run the ball the whole game and only throw the ball if need be. Even the best of defenses wear down and when they do, the downhill running backs of these types of teams absolutely steamroll them. If you waited on Gurley, congrats, you got a stud.
Devonta Freeman
My gem, Devonta Freeman. I could honestly write a love song or some type of Ode to Devonta, but I'll abstain from making a fool out of myself. I drafted Freeman and boy am I glad that I did. Like most people, I saw that Tevin Coleman was getting just about all the carries after the first game and I was upset, thinking that I'd just wait for a few games until I dropped Freeman to see if the starting job was really locked up. And then it happened, I started Freeman when the played the Cowboys week three and it led me to a 167 point week in a standard league. Very close to dropping a 40 burger, Freeman rushed for over 100 yards and had 3 TDs, and he hasn't slowed down yet. In his games after week two, he is averaging 31 FPPG and 173 YPG. He's like Demarco from last year but better because he can catch the ball too. Not only do they throw it to him out of the backfield, but they also line him up in the slot and throw him the ball as well. The guy can do it all. He is the love child of Demarco Murray and Matt Forte. That's the best way I can end this paragraph.
Melvin Gordon
I really liked Melvin Gordon before the season started. The past tense "liked" being the key word here. I figured that with his explosiveness and a Chargers O-Line that is finally healthy and had some new additions like Orlando Franklin coming from the Broncos in free agency, that he would be a really good running back. And I don't just mean from a fantasy aspect but for his team as well. Unfortunately, with the Chargers' line getting hurt again, Melvin Gordon has struggled like just about every San Diego back has since LT. He's fumble prone and he just isn't getting the yards that the Chargers need on first and second down, leading Rivers to have to throw very often. And when Rivers gets going with the passing game, Mike McCoy tends to let him throw. I've watched drives where they will score and only run the ball once, and it was with Danny Woodhead in the backfield. Gordon honestly wasn't even a sleeper in the draft. He was just supposed to be good. But alas, he's been awful, so I have to deal with drafting him in both of my leagues…
Jarvis Landry:
The speedy receiver out of LSU has proven himself as a big option for the fins. Averaging over 6 catches per game and around 12 fantasy points, Landry can do it all. He's recorded passing yards, rushing yards, return yards, and receiving yards in one game which is pretty darn amazing. The only other player in the NFL that might be able to pull that off being Antonio Brown. On a team that was supposed to have Kenny stills as the number 1 wideout, Landry has burst on the scene as Dan Cambell's Mr. Versatile, dominating Tannehill's attention downfield and on short throws. Landry has proven himself as a WR start in any format.
Devin Funchess:
He was supposed to be this and he was supposed to be that. I listened to the hype about the Carolina Panthers' draft pick out of Michigan and I dropped him after two weeks. I liked him in college and I thought he had NFL upside, but so far the most catches he's had in a game has been 2. He's getting about three targets a game, but honestly Cam Newton's throws haven't been perfect. I know Cam is a great fantasy QB, but really he's having the worst year of his career. Posting a QBR of just 78, Cam is off to a poor start. If it wasn't for his athleticism that causes him to make great plays and get rushing yards and rushing touchdowns, I don't think he would be a starter on anyone's team. Funchess had great potential because Ace Boogie had actually been a pretty good passer in past years, but because Cam can't throw a tight ball, Funchess owners suffered. A longer Ted Ginn Jr. has become the number 1 option for the Panthers throwing game.
Whether you crunch the numbers, or you go with your gut, I hope you got at least one sleeper right this year. Finding more than one is usually the formula that is needed to win games and have a shot at your league championship. So don't fall asleep on sleepers and good luck with the rest of the season.