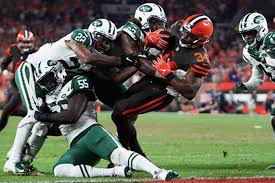 Starting last week, the fantasy football community has been buzzing over many points of interest. Although new injuries occurred in week 7, the main concern is many previous injuries have been worse than expected. This leaves some teams scrambling to fill holes in their roster.
As the trade deadline slowly approaches, teams are beginning to figure out what they must do in order to improve their lineups. Throughout the past couple of days, there have been many big-time trades. However, just two of these will have a major fantasy impact. In this article, my goal is to help you understand these trades and injuries, improve your fantasy lineup, and increase your football IQ.
Chubb to the Jags and Hyde's new role
The major story from last week was Carlos Hyde being traded to the Jaguars for a 5th round pick. This trade happened last week shortly after I finished my article, so we already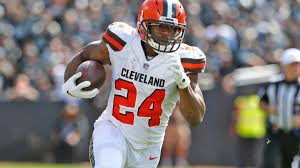 saw how the Browns' side of the trade played out.
As most of us expected, rookie, Nick Chubb was their obvious choice to fill in Hyde's role. This trade was most likely made to get Chubb more plays, which we saw on Sunday. Chubb is a bruising-back like Hyde, but his speed and open-field running skills give him another set of weapons. He carried the ball 18 times for 80 yards and a touchdown last week, averaging slightly over 4.4 yards per carry (around 1 yard per carry more than Hyde).
This performance was extremely promising for anyone who was able to secure Chubb from the waivers. He showed that he can run powerfully, yet skillfully. He's the go-to guy on the goal line, and just about everywhere else in the Cleveland backfield. If he is somehow still available in your league, I would highly recommend picking him up. He should continue to be a great RB2 for the rest of the season.
The Jaguars' side of the trade left fantasy players wondering what will happen in the Jags' backfield. Why did they trade for Hyde if Fournette will only miss two more weeks (one of which is their bye)? Is Fournette's injury worse than everyone thought it was? What happens to T.J. Yeldon now that Hyde is there? Will the three running backs form a committee? These questions remain unanswered as of right now.
Numerous possibilities remain regarding Fournette's return (hopefully) in week 9. Hyde was inactive in week 7 because he needed time to get adjusted to the offense and learn the team's playbook. However, now that Hyde has had over a week to do this, I think he will be the Jags go-to-guy on the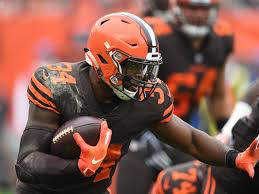 ground. While T.J. Yeldon has been decent in Fournette's absence, he has been inefficient on the ground. Hyde is a big back, capable of using his large stature to have success running up the middle.
Hyde is also seeing a massive improvement in his offensive line. Cleveland ranks 28th in yards before first contact, and Jacksonville ranks 9th. Because of this, the Jaguars o-line adds a whole extra yard per carry to Hyde's average, which would give him a solid 4.4 yards per carry.
The next interesting aspect of this trade is why they needed to trade for him. They would only have one more week without Fournette, which begs the question, is there more to the fournette injury than we know? Fournette is a feature back and he thrives on volume, so having a committee would completely contrast his play style. The only reasons the Jaguars would need Hyde is they need a safety net for Fournette or his injury is worse than expected.
Amari to the 'Boys
Finally, the Cowboys have the WR1 that we have so desperately needed. Amari Cooper entered the league in 2015 as the fourth pick in the draft. He started his career with back to back 1,000+ yard seasons but saw a major decline in the 2017 season. This lack of production in 2017 was heavily due to Michael Crabtree, who significantly dug into Cooper's targets. Cooper simply wasn't heavily targeted and was no longer a focal point in the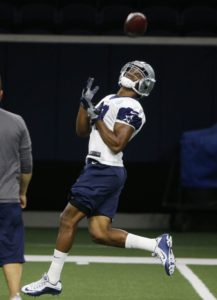 offense.
That trend has continued this year. While Crabtree is no longer with the Raiders, Cooper's targets and receptions have depleted from his first two seasons. Apparently, Cooper was unhappy in Oakland and the team chemistry wasn't there. Entering the Cowboys' receiver core that lacks a star player, Amari Cooper should add a much-needed boost to the offense.
Even though Cooper has struggled, he hasn't lost any of his talent. He has just been misused in a terrible Oakland offense. Similarly, Dak Prescott has struggled this season too, but despite common opinion, it's not all his fault. Dak has had his fair share of mistakes and turnovers, but he also lacks options to pass to. To be 'open', technically there must be at least 3 yards between the receiver and the defender. Dallas' receivers rank dead last in average separation when targeted. This might be due to Dak holding the ball for too long, but most of the time none of the receivers are open.
Amari Cooper will be the focal point in the receiver core, giving Dak a reliable option and Cooper plenty of volume. This should not only increase Cooper's fantasy value, but also Dak's, as he will finally have a WR1 who is capable of getting separation and making big plays.
An offense without Mike McCoy
Cardinals fans, along with David Johnson (and other Cardinal players) fantasy owners, rejoiced when the Cardinals fired their offensive coordinator, Mike McCoy. The Cardinals' offense has been completely atrocious this season and McCoy made no attempts to change that.
Mike McCoy has criminally misused their star running back, David Johnson. While Johnson missed the 2017 season due to a wrist injury, he has been a complete disappointment this season to fantasy owners. Johnson had a record-breaking season in 2016, having 15 straight games with over 100 yards from scrimmage (tied for NFL record) along with over 2,000 total yards in the season.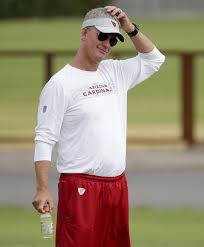 Even though he only played in one game last season, a wrist injury doesn't make you aworse runner.
Being a David Johnson owner this season, I've had my share of frustrations. Mike McCoy has continuously run David Johnson up the middle with a terrible offensive line, giving him virtually no chance to make a play. He has seen almost no runs to the outside (which is where he thrives). He has also seen a massive decrease in designed pass plays (he had 800+ receiving yards in 2016). While the Cardinals' offense is much worse now than it was in 2016, Johnson's has been limited by Mike McCoy.
Byron Leftwich, the previous quarterback coach, is taking over as the OC in Arizona. This should help Josh Rosen, considering the amount of time the two spent working together. This should also help the receivers, Larry Fitzgerald and Christian Kirk. Because they have one of the best running backs in the league, the focus will be getting Johnson the ball more creatively and effectively. I'm not saying the Cardinals' offense will instantly improve – they still have a terrible offense. However, given that Leftwich makes the necessary changes, players should see a large improvement in play-calling and overall efficiency in Arizona.
Tre'quan Smith
The Saints placed wide receiver, Ted Ginn, on the injured reserve. Cameron Meredith was expected to fill in Ted Ginn's role, but on Sunday, rookie receiver, Tre'quan Smith, was undisputed WR2 in New Orleans. He grossly out-snapped Meredith, playing 50 snaps while Meredith only played 17. He also had a hefty 24% target rate on each of his routes. The Saints' offense has been and continues to be one of the most efficient offenses in moving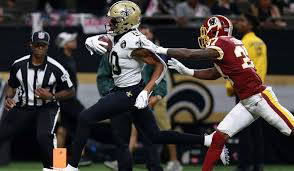 the ball and scoring.
Tre'quan Smith had his breakout performance in week 5 before the Saints' bye week. He caught 3 passes for 111 yards and 2 touchdowns. He exhibited his speed on his deep routes and proved that he is a versatile threat as a receiver. In week 7, he saw a heavy increase in routes run, snaps played, and targets. While he only had 3 receptions for 44 yards, he had a tough matchup against a difficult Ravens' secondary. Each week Smith's role is growing and growing, and as we have seen from other rookies, sometimes it's a slow start that leads to a breakout season.
A key point to focus on this week is analyzing how players' values change based on these recent activities. If you have Amari Cooper, hold on to him, because his value can basically go nowhere but up. Hold onto your Cardinals players too, as they are in a similar situation. The future is really unknown in many of these situations. No one knows what Hyde's role will be, how much Amari will improve the Cowboys' offense, how long Fournette will stay injured, or if Tre'quan Smith will break out in the second half of the season. There are many risks associated with these situations, but the reward has the potential to win you a championship.
Good luck and go Cowboys!