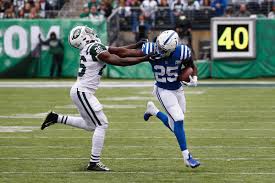 In week 6, many players stepped up and showed they can be very strong and involved in their team. They either filled roles that many expected, or surprised us by outperforming their expectations. However, many players under performed last week, and for some this adds to a trend of under performing. Injury provided many players the opportunity to take on a bigger work load, while other players are simply watching their playing time vanish before their eyes.
The Le'Veon Bell Fiasco
Are you a frustrated owner of star running back Le'Veon Bell? If you are, you're probably pretty confused as to why he has not yet reported to the Steelers. Bell has been holding out on his contract since week 1 and hasn't played a game yet this season. He led everyone to believe that he would be reporting to the Steelers during the Steelers bye in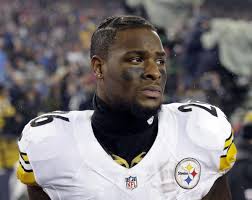 week 7, but that didn't happen.
Bell has missed his weekly paycheck of $855,000 each of the last six weeks. However, since their is no game this week, he wouldn't have received that check anyways.
So even though he didn't report this week, that doesn't mean he won't be playing in week 8. He has to play at least 6 games in order to become a free agent at the end of the season and sign a new contract with the Steelers. Bell also used his twitter to like ESPN's timeline of when he would return to football (weeks 7-8).
Another issue upon his return is James Conner. Conner has been an outstanding replacement during Bell's absence, rushing for 453 and 7 touchdowns along with 257 receiving yards. When Bell was suspended in 2015, Deangelo Williams put up amazing stats as a starter. As soon as Bell returned, however, Bell resumed his role as RB1 and received 95% of the carries.
I'm not saying this will happen to Conner, but the Steelers always have and always will utilize their best options regardless of past complications.
The Return of Kearse
Jets starting receiver Quincy Enunwa is expected to miss at least 3 weeks due to a recent ankle injury. Last season when the Jets were without Enunwa, Jermaine Kearse lead the team in routes run, targets, and receptions in the slot.
When Enunwa left the game with an ankle injury in week 6, Jermaine Kearse instantly took advantage of that opportunity. He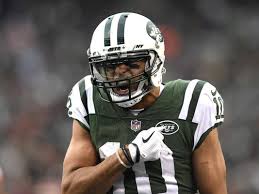 caught 9 passes for 94 yards. He showed that he can pick up where he left off as a primary Jets receiver and that he will most likely receive a high amount of targets while Enunwa remains injured.
Kearse is available in most leagues and is a great option to snag for your team to play during your receivers' bye weeks. Considering Enunwa will most likely be out for at least 3 weeks, Kearse should be able to produce solid numbers while Enunwa remains injured.
Jets play Minnesota, Chicago, and Miami, in the next three weeks. These defenses, while very strong, have below average slot coverage, making Kearse even more appealing in these match ups.
Marlon Mack
Throughout this season, the Colts backfield has been something that I have avoided as best as I can. They have four running backs who have been operating as a committee while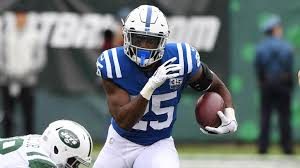 the Colts spread the touches around.
However, when Marlon Mack returned to the Colts after recovering from his injury, he emerged as their starting running back, and rightfully so. Mack showed off his play making ability, as he had 93 yards from scrimmage on 13 touches. Mack heavily out touched and produced every running back on the Colts offense, and the Colts utilized him throughout the game as a solid starting running back.
Considering Mack is available in most leagues and should maintain a similar level of production throughout the season, I would consider picking him up.
The Bears' Backfield
Jordan Howard has been, and was supposed to be the Bears high volume, starting running back. He started off the season on 20 total touches for 107 total yards. While this seems like a very solid performance, he has only seen a decrease in production since week 1.
This is heavily due to the Bears increased usage of Tarik Cohen. Cohen came into the season as the Bears all-purpose/versatile runner. He is quick and is a very dangerous receiving option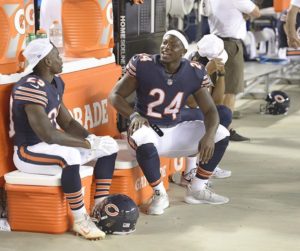 in the backfield. However, his solid performances and Howard's lack there of has led to a heavily increased workload for Tarik Cohen.
In the past two games, Cohen has turned 32 touches into 295 yards and 2 touchdowns. Because of this, Howard's usage has seen a massive drop off, seeing only 25 touches for 95 yards, none of which came from receptions. Cohen has taken all receiving opportunity from Howard, and has even started to impact his rushing touches.
Considering Jordan Howard only has two games with over 10 fantasy points and has only decreased in production this season, he has been nothing short of a bust so far this season. On the other end, Cohen has only improved.
While it is highly unlikely that Cohen continues to be as productive as he has been in the last two games, he is definitely a player I want on my team and in my starting lineup.
Check back with The Roundup again next week for the next installment in this weekly fantasy series!