In the NFL, every coach's dream when they go to sleep at night is to 1) win a Super Bowl, and 2) have the perfect team to get there. While there are some pretty darn good teams out there in the NFL, these teams obviously have at least one glaring hole in their roster, and some teams just need A LOT of help altogether. In this article, I'm looking at each AFC team's biggest need to address this offseason.
 Buffalo Bills: Offensive Line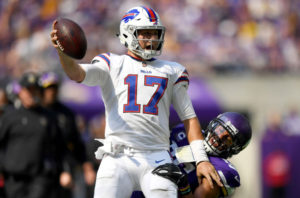 Last season, the Bills drafted their quarterback of the future in Josh Allen. Allen had an up-and-down rookie season, but the main problem for Buffalo's young signal-caller was that he had to run for his life a lot. The signings of Mitch Morse and Spencer Long were great, as their presence will provide some much-needed help to Buffalo's front seven. Overall, with the signings of several other wide receiver weapons, the Bills will do a better job of both protecting Josh Allen and giving him some consistent wideouts to throw to.
New York Jets: Defensive Help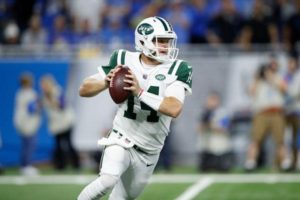 New York has a very solid offense, consisting of young quarterback Sam Darnold, receivers Robby Anderson and Jermaine Kearse, and newly signed All-Pro running back Le'Veon Bell. However, the defensive side of the ball for New York needs some work. Although NY's defense wasn't awful, it wasn't good, either. The bad news for the Jets is that most of the big-name defensive free agents (Jadeveon Clowney, Demarcus Lawrence, Earl Thomas III) have already found new homes, but all hope is not lost for Gang Green. Starting-caliber players such as Ndamukong Suh are still out there, and if they get a few more upgrades on D, then the Jets may be able to make some serious noise in the AFC this year.
New England Patriots: Tom Brady's Heir Apparent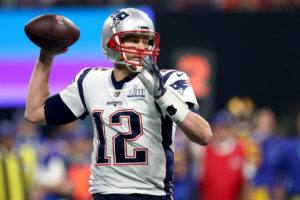 Tom Brady continues to blow our minds across the country at 41 years old. He embarrassed the Chargers' defense in the AFC Divisional Round, he schooled the Chiefs' D in the AFC Championship, and he didn't let the Rams' amazing defensive front get to him nearly at all in Super Bowl LIII. However, Tom is 41 and he will turn 42 in the coming months. That means, Pats fans, that it's time to start searching for Tom Brady's heir apparent. I believe New England should use their 32nd overall pick in this year's NFL Draft on a quarterback, such as Duke's Daniel Jones. If I was the Patriots, I wouldn't look for a quarterback in free agency, as Nick Foles will likely land in Jacksonville and Teddy Bridgewater will most likely look for a starting job, and he wouldn't get that in New England. I think that even though Brady is still legendary, it's coming time for the Patriots to think of a Plan B.
Miami Dolphins: A Fresh Start at QB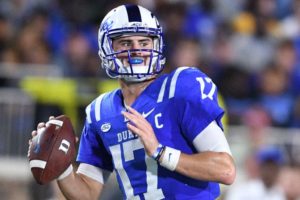 The Dolphins are planning to move on from current starter Ryan Tannehill, as multiple sources have stated. This did happen, as Miami traded Tannehill to the Titans last week. Even though Miami has more than just a quarterback hole in its roster, they now desperately need to get a new man under center. The signing of Ryan "FitzMagic" Fitzpatrick is good, but Fitzpatrick is aging and he is crazy inconsistent. Personally, I believe that Miami should target a quarterback in this year's draft with their #13 pick, maybe taking someone like Ohio State's Dwayne Haskins (if he's still available) or Missouri's Drew Lock. I'm just saying that by the time the 2019 season starts, there needs to be a new face under center in Miami.
Baltimore Ravens: Receiver Help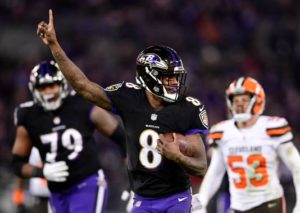 While Ravens' rookie quarterback Lamar Jackson had a fantastic start to the season after he replaced then-starting QB Joe Flacco, he often had to either run the ball with running back Alex Collins or use his legs to scramble. The Ravens need some serious depth at wide receiver, with Michael Crabtree being really their only above-average wideout. With him gone, I feel like Baltimore should target a wide receiver in the draft with their first-round pick, someone like Ole Miss's D.K. Metcalf. Who knows, maybe he could have a rookie season like the Falcons' Calvin Ridley had!
Cleveland Browns: More Protection for Baker Mayfield Up Front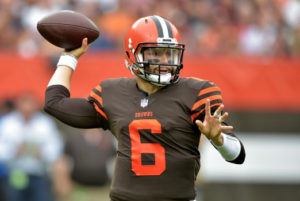 Even though the Browns have finally found their quarterback of the future in Baker Mayfield, they desperately need some better protection for him in the form of a good offensive line. Much like the Bills, I feel like Cleveland needs a better offensive line as the one final piece for a playoff roster. If they grab a big-name free agent or pick up a lineman in the draft, a much improved offensive line will give the Browns a clear shot at the playoffs for the first time in quite a while.
Pittsburgh Steelers: A Receiver to Complement JuJu Smith-Schuster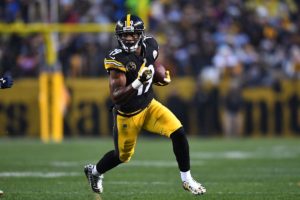 Antonio Brown is officially out of Pittsburgh. After his trade request was subject to a ton of speculation for a while, AB was finally traded to the Bil- I mean, Raiders for a third and a fifth-round pick. This means that JuJu Smith-Schuster will become the undisputed number one receiver for the Steelers. The bad news for Pittsburgh is that most of the high-profile, big-name wide receivers have signed with either a brand-new team or re-signed with their old teams. Since most of the wideouts are off the market, the Steelers should aim for a receiver in this year's draft with their first-round pick.
Cincinnati Bengals: A Brand-New Signal-Caller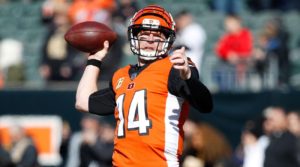 Anyone who watched the Bengals this year figured out that Andy Dalton is not the solution at quarterback. Dalton was inconsistent throwing the football, and he just didn't have a lot of talented receivers to throw to, with star A.J. Green hampered for most of the year by a foot injury. The bad news for Cincy is that there's no Nick Foles, and Teddy Bridgewater ended up re-signing with the Saints after looking at some other offers. Since Dwayne Haskins likely won't fall that far in the draft to them, I think the Bengals' best bet is Missouri's Drew Lock. However, if Dalton is still the man under center in 2019 for the Bengals, it's bound to be another year of missing the playoffs.
Tennessee Titans: Explore Other Options at QB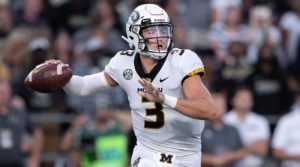 Marcus Mariota has not been the franchise star the Titans thought he might be when they selected him with the second overall pick in the 2015 NFL Draft. Mariota hasn't necessarily been terrible, but he definitely hasn't been an above-average quarterback for the majority of his career. The trade for former Dolphin Ryan Tannehill was good, as it adds some QB depth and provides a backup in case Mariota gets injured. However, I think the Titans should look to draft a quarterback like Missouri's Drew Lock or see if they can steal Duke's Daniel Jones off the board early. I think the Titans should explore taking a different direction than Mariota at quarterback.
Houston Texans: Improve the Offensive Line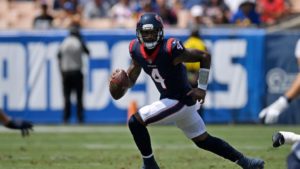 It's no secret that Texans quarterback Deshaun Watson is a very superb young signal-caller. However, his offensive line was another definition of terrible. The Texans desperately need to upgrade their front seven if they want to make a deep run in the AFC. Part of the reason that they lost so badly against the Colts in the Wild Card Round this season is that Indy's defensive front completely obliterated Houston's offensive front. The Texans need to go after some big name free agents this offseason, and if they come up empty, it will be a big, big problem.
Indianapolis Colts: Building Their Defense Around Darius Leonard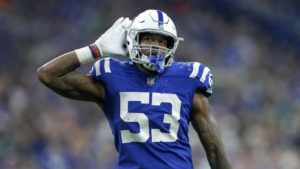 Reigning Defensive Rookie of the Year Darius Leonard had an awesome rookie season, and I won't be surprised if he really goes off in his second season. However, I think Indy needs to really build their defense around him. The Colts have a young and developing offense, led by the reigning Comeback Player of the Year in Andrew Luck. However, if Indy wants to not lose miserably to the Chiefs or the Patriots in the Divisional Round, they need some upgrades on the defensive side of the ball, and those upgrades will need to revolve around Darius Leonard.
Jacksonville Jaguars: Get A New Quarterback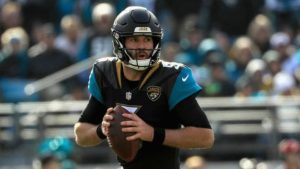 Let's just get this out of the way right now: Blake Bortles sucks. The Jags desperately need an upgrade at the game's most important position. In one season, Jacksonville went from legit Super Bowl contenders to a huge disappointment and last in the AFC South with a 5-11 finish. Most of this has to go against Blake Bortles. Bortles absolutely sucked in the second half of the season, and he was even benched a few times for Cody freakin' Kessler. Luckily for the Jaguars, they appear to have a much better solution at the game's most important position with the signing of the most sought-after quarterback in this year's entire free agent class in Nick Foles. Now, the Jags have themselves a solution at quarterback that doesn't throw at least two picks a game.
Los Angeles Chargers: A Bit More Protection for Philip Rivers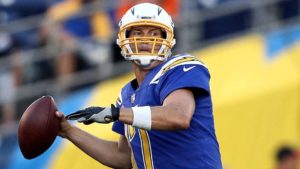 The LA Chargers had a really good team last season, with quarterback Philip Rivers playing the best football of his career, and wide receiver Keenan Allen and running back Melvin Gordon playing consistently well like they do every year. Plus, they had a very nice surprise breakout year from receiver Mike Williams, who emerged from out of nowhere to provide a high-energy spark for LA's offense. However, the offensive line, while it wasn't bad, it could certainly use some improvement. If the Chargers get some more protection for Rivers, then it ought to be another playoff season for Los Angeles.
Oakland Raiders: Use the #4 Overall Pick Wisely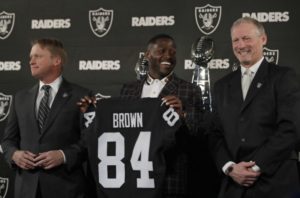 In Jon Gruden's first year back with the Oakland Raiders, everything that could go wrong, well, did go wrong. The Raiders were literally a living dumpster fire in nearly every fashion, but this offseason, they took a massive leap with the trade for Antonio Brown and the signing of former Pats offensive lineman Trent Brown. Now, Oakland needs to look toward the draft, and just use their #4 overall pick on the whichever player falls into their laps with the most talent and potential.
Denver Broncos: Decide on An Option at Quarterback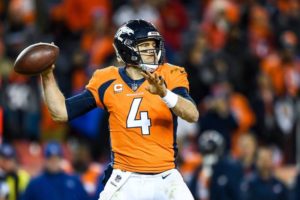 Joe Flacco or Case Keenum? That's the question some Broncos fans ought to be asking themselves, as Denver just traded for Flacco in exchange for a fourth-round pick. Reports have said that Keenum will now be on the move because of the trade, and this indeed did happen, with Keenum being shipped to the Redskins to become their brand-new starting quarterback. I think that the Broncos' best move at this point is to see if Joe Flacco can lead the offense and help Denver improve on last year's 6-10 performance.
Kansas City Chiefs: Serious Upgrades on Defense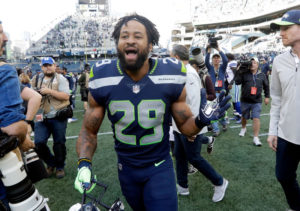 The Kansas City Chiefs offense was spectacular, led by quarterback Patrick Mahomes and speedy wide receiver Tyreek Hill. The defense, however, was a much different story. The Chiefs' defense ultimately cost them a trip to Super Bowl LIII, as they couldn't stop Tom Brady and the Patriots as they drove down the field on the very first drive of overtime in the AFC Championship Game and scored. If KC wants to avoid another playoff exit, they need some big upgrades on the defensive side of the ball. The trade involving breakout edge-rusher Dee Ford to the 49ers and the release of linebacker Justin Houston were a bit puzzling, as was the release of safety Eric Berry, but Kansas City got a huge pickup in the secondary with the signing of Tyrann Mathieu. If the Chiefs can get a few more upgrades on defense, such as possibly signing defensive lineman Ndamukong Suh, they can now become serious Super Bowl contenders.
That's all I've got for the 16 AFC teams. Stay tuned to The Roundup for more NFL and sports news!
Featured Image Photo credit to: theringer.com