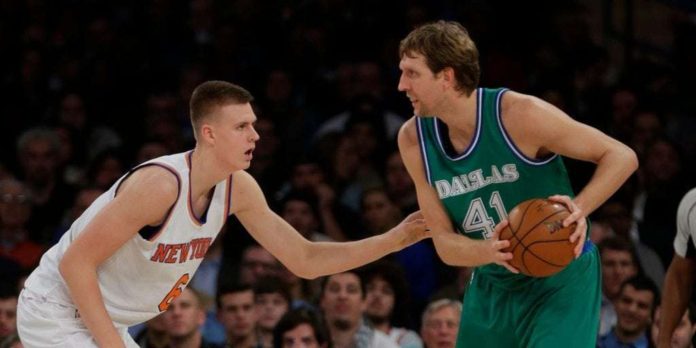 Thursday, January 31st. It's the last period of the day, and most students are slogging through to the end of the day, just wanting it to be over. Today though, things are different, as excitement fills the halls during passing period. In the B hallway, chants of "The Mavs are back" and "Finals Bound" echo about the hallway, as word gets out about the Dallas Mavericks' latest move; two future first round picks, Wesley Matthews, Dennis Smith Jr., and DeAndre Jordan for Courtney Lee, Tim Hardaway Jr., Trey Burke, and none other than the Latvian wonder himself; Kristaps Porzingis.
How it Went Down
Around 1 PM, Dallas time, a frustrated Porzingis had a meeting with Knicks' management in order to talk about the direction the franchise was heading. Apparently, the meeting didn't go well as Kristaps didn't like the losing spiral New York was in, and whatever the management said wasn't very convincing. Within half an hour, reports of Porzingis being on the trade block were out, as the exasperated PF had left the Knicks with the impression that he wanted to be traded. Within a few minutes, Woj dropped the news that the Mavs had pulled the trigger, and Porzingis and company would now be Dallas Mavericks.
Good or Bad Trade?
I'm personally going to lean towards good, as I feel that in terms of net gain, the Mavs have the better end of the stick. First off, the Mavericks are losing DeAndre Jordan, who has been having a pretty solid season this year, averaging nearly 14 rebounds per game. His defensive presence and his inside the paint offensive prowess isn't easily replaced, but 7'3 Porzingis can do the same as him and even more with his ability to shoot from the three.
Wesley Matthews, while at times an inconsistent volume shooter, is a decent role player that was needed in a starting spot this year. In Hardaway Jr., you're getting a very similar player except for the fact that he's several years younger and has a more diverse game.
Dennis Smith Jr. was traded as well, and I'll admit it hurts a bit to see DSJ go, but it's probably for the best, this way he's going to the Knicks where he'll have a more central and ball-dominant role – resulting with receiving more players that fit into the Carlisle type of offense. This also allows Jalen Brunson more minutes to develop his game, and the role players of Courtney Lee and Trey Burke will provide extra depth on the Mavs' bench. The Mavs also traded away two first round picks, but chances are with those two picks, you probably aren't getting a player of Porzingis' caliber.
Negatives
As great as it is to see Kristaps come to Dallas, he's also only signed for the rest of the year and then will become a restricted free agent. If he signs the qualifying offer, which it seems like he is going to, then the Mavs have one year with him before he becomes an unrestricted free agent. Basically what this comes down to is if the Mavs don't show promise or seem to be on an upward peak after the 2019-2020 season, Porzingis is gone.
Overview
With a good young corp in Jalen Brunson, Maxi Kleber, Luka Doncic, and maybe even in some of the current or new bench players in the rotation, Kristaps should have good reason to stay, but that's now really a problem right now, that's for next summer. The only important thing right now is that the Dallas Mavericks are back, and ready to take on the West once their lineup starts meshing and coming together.
#MFFL
Check back to the Roundup for more Mavericks and other sports news!