Starting the season out 3-0, the Cowboys were playing some very solid football as they breezed through all their first opponents. However, after finally playing a more respectable team, the boys took their first lost of the year in a tight, defensive battle.
Limited Offense
The Cowboys faced a solid Saints' defense, which mostly prevented any big plays from the Cowboys' offense that have been so prevalent these past few games. Dak looked uncomfortable the whole game, as his pass protections were a little dicey. Even when he had time, he couldn't find his open receivers. In addition to this, the Cowboys couldn't really get the run game going, as the Saints held Zeke to a minimal impact on the game.  If Michael Gallup was playing, his presence definitely would have contributed to the overall team performance. However, Dak has plenty of other weapons, and there really isn't much of an excuse for the offense's performance this past Sunday. This game seemed like a Kellen Moore "Welcome to the League" game. This is the first time he's coordinated against a team that actually has a pulse, and perhaps nerves or maybe just the more in depth strategy required for a tougher match up was a challenge for him. At any rate, as the season progresses, Moore and Dak will start being able to deal with these tougher match-ups and I think this game really served as their wake-up call.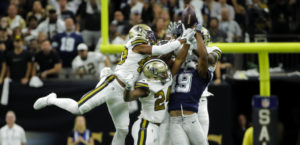 Continued Defensive Strength
The defense once again proved their greatness with a suffocating performance, allowing no touchdowns from a Saints' offense with plenty of weapons. In addition to this, Robert Quinn, who was received in a trade with the Dolphins, has proven himself to be quite the defensive end. He's currently the team's sack leader and seems to be in the backfield almost every play. Of course, this doesn't discount the performance of DeMarcus Lawrence, who certainly draws double teams that facilitate Quinn's success, but either way Quinn has had a very impressive first two games with the Cowboys. The defense also stepped up to even give the Cowboys a chance to win the game, with a Jaylon Smith sack on a 3rd down to force a punt, but unfortunately, the Cowboys were not able to convert that to a game winning touchdown.
Tyron Smith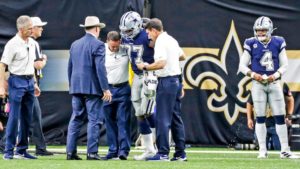 Unfortunately, as has been the case in years past, Tyron Smith sustained a sprained ankle in competition. While already ruled out for next week against the Packers, he might be back for Week 6. At any rate, Cameron Fleming is a capable replacement for Smith, but it's never good when your Pro-Bowl left tackle goes down with an ankle injury this early in the season. Even with Smith though, the offensive line didn't seem to have the best day. as Dak was under pressure the whole night, taking seven hits and a sack.
The Cowboys move on next week to a match up against a difficult team and quarterback. The Green Bay Packers and Aaron Rodgers. It will be another contested game, at least from an offensive standpoint, but Green Bay's defense is significantly less talented than the Saints, so hopefully the offense will generate a little more action on Sunday.
Check back to The Roundup for more Cowboys news!