It's not every game that you can throw 3 interceptions against a respectable team and still have a chance of winning. It's also odd to have 200 more total yards than the other team and still lose by double digits. It was a weird week for the Cowboys. They suffered their second defeat in a row in a 24-34 loss at home. Unfortunately, both the defense and offense were unresponsive until it was too late.
Defensive Breakdown
In past years, the fail-safe for the inconsistencies of the Cowboys' offense was their elite defense. The defense keeps them in games that otherwise would be out of reach. Unfortunately, this was not the case this week. Aaron Jones, an average running back, exploded for 4 touchdowns and 182 total yards this week. He torched the Cowboys defense in a career day. The run defense for the Cowboys was sub-par. Sloppy tackling and defensive play allowed some of the 3-5 yards plays from Jones to extend much longer than they should've. The lack of pass pressure enabled Rodgers to capitalize on his passing opportunities.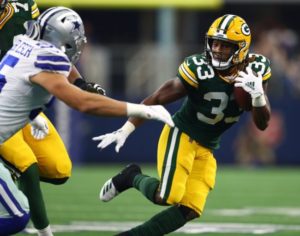 Offensive Struggles
On the other side of the ball, the Packers had no problem with pass pressure. They managed to sack Dak 3 times. They also got in the backfield nearly every play. This is the second game in a row where pass protection has been an issue for the Cowboys. The team needs to resolve this issue for any seasonal success The Cowboys offensive line wasn't able to do much in terms of run blocking, either. Zeke was not able to make many plays between the tackles as the running game was a non-factor. It's been the Cowboys' philosophy for years that a good running game opens up the passing game. As always when they fail to establish a run game, it makes the offense much less effective. The hurt offensive line didn't help matters. Za'Darius Smith dominated Tyron Smith's replacement, Cameron Fleming, all game long.
When there are problems with the offense, the first person to look at is the QB. Dak Prescott threw for an absurdly high 463 yards. Cooper and Gallup aided him with two long touchdown passes. However, they ended up throwing three interceptions. This was a miracle in and of itself because there were plenty of times when he probably should have been picked off. This season the offense started to include more passing in their game plan. It's concerning to see Dak make some very dicey throws. These throws ended in an insurmountable lead for the Packers. The team also seemed to be out of sync offensively with Amari Cooper dropping passes. Dak was over and under throwing receivers and, he was not taking advantage of his running ability that has served as a bailout for the Cowboys countless times.
In his postgame press conference, Prescott attributed the team's performance to over-confidence, and to a point,f I think that might be true. But the real problem I see is that after 3 easy games the Cowboys are finally starting to see the stronger side of their schedule, and are encountering adversity. The real test comes now for the Cowboys as if they can't battle this adversity and come out on top during the regular season, how can they be expected to have a prayer come playoff time?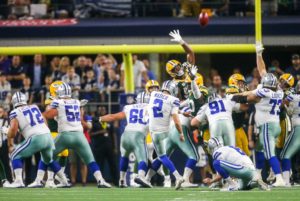 Not so Money Maher
On top of a poor offensive and defensive game, the special teams unit had a sloppy performance as well with careless penalties and undisciplined coverage. Their performance was headlined with two misses from Maher, one from 54 and the other from 33.
I'm not going to blame the game on Maher as some people seem to be doing because the team as a whole played poorly on many of the other 131 plays, but it's concerning to see a kicker that had some accuracy issues last season potentially start to have those problems again. A 33 yard kick, especially at the NFL level, should be an easy kick for any kicker, and while he wasn't the reason the Cowboys lost the game as some would like to think, it's definitely a kick he should've made that in the end ended the game before giving the offense a potential chance to tie the game.
Moving On
The Cowboys take on the Jets next week, a franchise without much hope right now, and should serve as a good recovery week for the Cowboys to get their season back on track.
Check back with The Roundup for more Cowboys and other news!