There is no doubt at all that the NCAA Tournament is now in full swing, having been several amazing and nail-biting games from the Round of 64 to the Elite Eight. From the Purdue-Tennessee haymaker in the Sweet 16, to UC Irvine's epic upset over #4 seeded Kansas State in the first round, to Duke falling at the hands of Michigan State in the Elite 8, there have definitely been some games to remember in the tourney this year. However, now we stand at four teams left in the Big Dance, and two games until the national championship is set. Today, I'll give my predictions on those matchups and break down each team and their preferred style of play.
#3 Texas Tech Red Raiders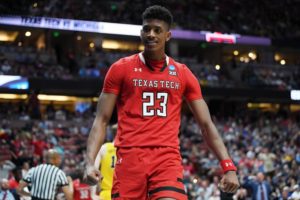 The Texas Tech Red Raiders punched their ticket to Minneapolis by using their balanced mix of efficient offense and absolutely lockdown defense to destroy Michigan in the Sweet 16 and beat Gonzaga in the Elite Eight last Saturday. Tech has two excellent defenders in transfers Matt Mooney and Tariq Owens, along with do-it-all star guard Jarrett Culver, who is also a likely top-five NBA draft pick.
The Red Raiders also have some excellent assets to turn to off the bench, such as three-point sniper Davide Moretti, guard Brandone Francis, and athletic center Norense Odiase. However, despite Texas Tech having a solid offense, as Moretti can burn teams from three and Jarrett Culver can get any shot he wants nearly anywhere on the court, the main story of Tech's season is defense. They only allowed Michigan to score sixteen points in the first half of the Sweet 16 game, and they limited Gonzaga to 69 points, only the third time Gonzaga was limited to below 70 points that season. The Red Raiders' defense won them those two games, and I think their stifling defense will be a massive challenge to Michigan State and whoever they match up against in the championship.
Final Four Prediction: Make It to Championship Game
#2 Michigan State Spartans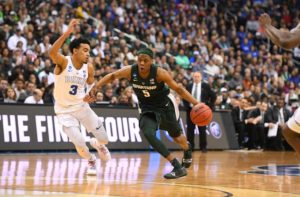 Some people may say that the Spartans got lucky that #1 seeded Duke completely screwed up a defensive play on the last play of the game in the Elite Eight to give Michigan State the win, but I don't think that was the case at all. I think that the Spartans simply outplayed Duke. They played smart, hard, and came out of the gates firing.
Michigan State has been consistently good all year, and they displayed what their excellent team chemistry can do to a team when they don't play defense to the best of their ability. Their roster consists of superstar guard Cassius Winston, flashy guard Matt McQuaid, forward Kenny Goins (who, by the way, nailed that clutch three-pointer that ultimately won Michigan State the game), his running mate Xavier Tillman, and consistent guard Joshua Langford. The Spartans can definitely do some damage with this lineup, no doubt, but with their opponent's fierce and incredible defense, I think this will put a little too much pressure under Michigan State. Sorry, Sparty. Not this time.
Final Four Prediction: Lose in Semifinal Round
#1 Virginia Cavaliers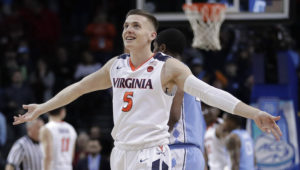 What a bounce-back year it has been for the Virginia Cavaliers' basketball team. After choking horrendously in the Round of 64 against #16-seeded UMBC last season (they lost by twenty), they've gone from being bounced in the first round to being Final Four-bound. However, no one said the road was going to be easy, and Virginia found that out. They went down as many as sixteen to 16-seeded Gardner-Webb in the first half of that game, but they came out red-hot in the second half.
In the end, they cruised past the Runnin' Bulldogs in the opening game, and they took care of #9 seed Oklahoma and #12 seed Oregon in the Round of 32 and the Sweet 16, respectively. Then, in the Elite Eight, it took overtime for them to put away #3-seeded Purdue despite a 42-point performance by the Boilermakers' star guard Carsen Edwards.
Now, they're in Minneapolis, on the quest for a national title. Their three-headed monster at guard includes sharpshooters Kyle Guy and Ty Jerome, as well as do-it-all star DeAndre Hunter. They also posses a key asset in forward Mamadi Diakite, who nailed the floater at the buzzer to send the Elite Eight game into overtime. He will definitely give them some help on both sides of the ball against a white-hot Auburn Tigers team that has dominated, really, from start to finish. It will be close for the Cavaliers, but I think they'll be able to fend off the Tigers in the semifinal round, and continue on into the national championship.
Final Four Prediction: Make It to Championship Game
#5 Auburn Tigers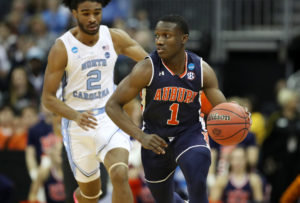 Talk about white-hot.
In the 2019 tournament, Auburn has dominated every team they've played against, and even though they had one close encounter with #12-seeded New Mexico State in the first round, they still got away, and then they really got on a roll. They then proceeded to take care of Washington in the Round of 32, and then went on to shockingly upset the #1-seeded North Carolina Tar Heels in the Sweet 16 (see what I mean by white-hot?)
After that, they strutted into the Elite Eight and proceeded to beat Kentucky by a score of 77-71. Their roster consists of some extremely talented players, despite the injury to their best one, Chuma Okeke. Still though, they boast guard Jared Harper and forward Anfernee McLemor, who both played a huge part in the win over Kentucky in the Elite Eight. Forward Danjel Purifoy also stepped up big-time with Chuma Okeke out of the lineup, as he provided a big scoring boost in the win over Kentucky. With this roster and this much talent, I think Auburn will keep it close with Virginia, but I believe it simply won't be enough.
Final Four Prediction: Lose in Semifinal Game
National Championship: Virginia vs Texas Tech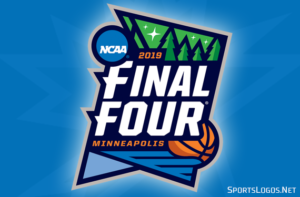 In this particular game, it's a stellar offense going up against a stifling defense. I think the Red Raiders will be able to pressure and get to Virginia's stars and force them into more than a few sloppy turnovers, but Guy, Jerome, and Hunter will be just a little too much for Texas Tech to handle, in my opinion. I predict while it will be a fun and entertaining game and both teams will fight as hard as they know how to, the Cavaliers of Virginia will cut down the nets in Minneapolis and celebrate a national championship, while Texas Tech will go home hanging their hat on their first-ever championship appearance.
Title Game Score Prediction: Virginia 73, Texas Tech 69
That's all I've got for my preview of the Final Four. Stay tuned to The Roundup for more NCAA tournament and basketball news!