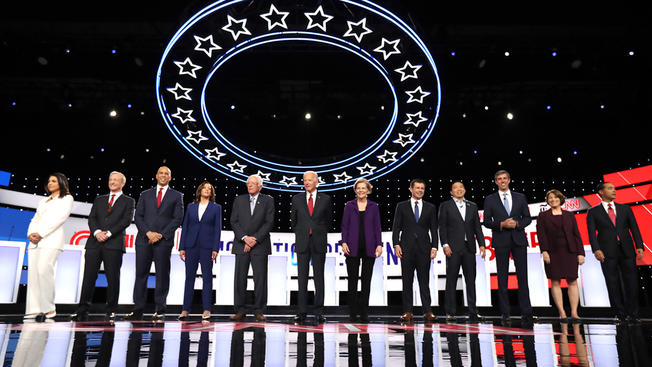 Three rounds and five nights of Democratic 2020 Presidential Primary Debates have come and gone, and still, a historic, record-setting 12 candidates appeared on-stage Tuesday, October 15th in Westerville, Ohio for the Fourth Democratic 2020 Presidential Primary Debate. 
Following an action-packed summer on the 2020 trail, two major political events have shaken the country: the US House of Representatives' formal impeachment inquiry into President Donald Trump over a new scandal with Ukraine and Trump's abrupt decision to withdraw all US troops from Syria. The 12 leading Democratic candidates had to address these new developments. Notable figures included former Vice President Joe Biden, whose son Hunter Biden is at the heart of the Trump-Ukraine scandal, Vermont Senator Bernie Sanders, who suffered a heart attack less than two weeks before the debate, and Massachusetts Senator Elizabeth Warren, who finds herself as the new front-runner in the 2020 race.
Winners
Pete Buttigieg: After three polite, mild-mannered, good-enough debate performances, the 37-year-old South Bend, Indiana mayor positioned himself at the Presidential stage's top tier on Tuesday, aggressively addressing Warren and presenting himself as a more moderate, center-left alternative to Biden. Teaming up with another moderate, Minnesota Senator Amy Klobuchar, Buttigieg relentlessly attacked Warren on her Medicare for All healthcare plan. He delivered perhaps the best answer of the night, as one of two veterans on-stage in response to the other, Hawaii Congresswoman Tulsi Gabbard, on the US' role in Syria. 
Amy Klobuchar: Much like with Buttigieg, the moderates won the night for the first time in a debate this primary season. The Minnesota senator stopped playing nice and attacked her Senate colleague Warren on her progressive plans for Medicare for All, a wealth tax, and more. Klobuchar also brought her trademark humor and rhetorical wit along with new urgency and clarity to her campaign. She turned in her best debate performance yet, but she still has yet to qualify for the November Debate. Also, she might be overshadowed by Buttigieg, especially in Iowa, where both candidates are staking their campaigns.
Joe Biden: While still yet to turn-in a truly stellar debate performance, the former Vice President brought more energy and force than in previous debates, bringing more passion and, at times, anger to his answers than previously. While still jumbling his words and going on hard-to-follow tangents, Biden performed better than the past three debates. This was in large part due to not having to fend off the fire Warren, the new front-runner, felt this time. 
Bernie Sanders: Less than two weeks after suffering a heart attack on the campaign trail and undergoing heart surgery, the 78-year-old Vermont Senator and 2016 Democratic Presidential Primary runner-up to Hillary Clinton met the expectations he needed to follow his health scare, looking lively and compelling in his responses. 
While still struggling to differentiate himself from his progressive counterpart and friend Elizabeth Warren, who has stolen some of Sanders' support, the self-proclaimed Democratic Socialist hit his usual points, but after two straight Presidential bids, those hits may be getting a little old. Sanders secured one piece of good news, however, during the debate. His campaign announced the endorsements of progressive freshmen Congresswomen Alexandria Ocasio-Cortez of New York and Ilhan Omar of Minnesota, both members of "The Squad." 
Elizabeth Warren: It's official. Elizabeth Warren is the new front-runner in the race to the White House for the Democrats. After being largely avoided by her competitors in the previous three debates, Warren was forced to fend off fire left and right throughout this debate, a sign Democrats now view her as the most likely nominee. Warren wasn't able to go on offense as much throughout the night as she was the last three debates, but she held off the attacks well, leaving relatively unscathed afterward. 
Andrew Yang: After campaigning on it for almost a year now, Yang's central idea of a Universal Basic Income (UBI) finally got the debate it deserved, even with two of his competitors, former US Housing and Urban Development Secretary Julián Castro and Hawaii Congresswoman Tulsi Gabbard, endorsing the idea. Yang may be a single-issue candidate in 2020, but he's gotten his single-issue far in this primary. 
Losers
Kamala Harris: After a brilliant, near-perfect performance at the first Debate in Miami, where has Kamala Harris been? The progressive California Senator, once one of the favorites to win the nomination, has plummeted in recent months and failed to turn in a performance Tuesday night to turn that around. While her discussion of women's reproductive rights, an issue long-awaited on the debate stage, received tremendous applause from mostly all Democrats, Harris' stance between the more center-left, moderate candidates like Biden and Buttigieg and the progressive flank of the party with Sanders and Warren once again left Harris on the outside looking in, a precarious position for a candidate looking to reassert themselves in the race. 
Cory Booker: The New Jersey Senator was largely praised for his first three debate performances, striking a healthy balance between the inspiration and optimism that made him a top name in Democratic Party politics and the aggressive arguments with Biden and others. However, Tuesday's debate in Ohio left much to be desired as Booker largely faded into the background and failed to stand out amongst the 11 other candidates in any way. 
Tulsi Gabbard: With President Trump's largely-criticized decision to withdraw all US support of the Kurds in Syria at the forefront of the debate, Gabbard, a military veteran, had a chance to stand out, but was taken to task by Buttigieg for her answer. Running on a platform of ending regime-change wars and US interventionist foreign policy, Gabbard has rightfully critiqued other Democrats on their support of US wars such as the Iraq War, but Gabbard's one chance was shown up by Buttigieg while also failing to land a hit after multiple attacks on Warren. 
Beto O'Rourke: Following a passionate, strong third Debate performance in Houston last month, the former Texas Congressman looked lost again on-stage. He again failed to stand out and differentiate his candidacy from any of the other 11 Democrats. While O'Rourke, who shot onto the national scene as a star after his near-upset of Texas Senator Ted Cruz in the 2018 Midterms, gave a good answer against Buttigieg on a mandatory assault weapon buyback, he was largely overshadowed for much of the debate. 
Julián Castro: After being the most aggressive attack dog in previous debates, Castro way overcorrected in Ohio. He  failed to get much speaking time and struggled to draw any contrasts with his rivals, despite being the most progressive, policy-oriented candidate on stage. Castro will also need a surge in momentum in the next month, as he is yet to qualify for the November debate. 
Tom Steyer: The Democratic primary electorate got their introduction to California businessman and impeachment activist Tom Steyer on Tuesday night. The progressive hedge-fund manager performed well in his first debate but failed to stand out amongst the 11 others. The excellent news for Steyer is that he left most voters with a good impression going forward and has qualified for the November debate. This gives him another chance to convince progressives that a non-politician businessman is the right alternative to the liberal Senators Warren and Sanders.
The Fifth Democratic 2020 Presidential Primary Debate will take place on Wednesday, November 20th in Atlanta, Georgia. MSNBC and the Washington Post will serve as the hosts.
Check back to The Roundup for more on US Politics and the 2020 Presidential Election!