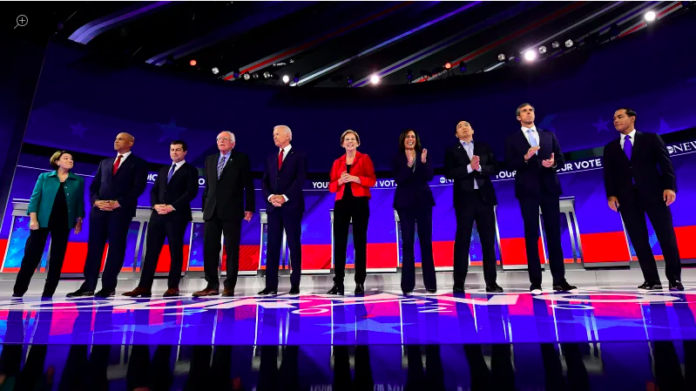 As the race for the 2020 Democratic nomination ramps up, optimistic Democrats continued to push their ideas in the third Democratic debate. With the Iowa Caucus on the horizon, candidates continue to set themselves apart, hoping to take on Donald Trump in the general election.
On the evening of September 12, ten Democratic hopefuls flocked to Texas Southern University in Houston, Texas for the third Democratic primary debate. To qualify for the debate, candidates had to meet donor and polling requirements. The candidates who qualified were Former Vice President Joe Biden, Vermont Senator Bernie Sanders, Massachusetts Senator Elizabeth Warren, California Senator Kamala Harris, Southbend Mayor Pete Buttigieg, Former Texas Congressman Robert Francis "Beto" O'Rourke, Former HUD Secretary Julián Castro, Minnesota Senator Amy Klobuchar, businessman Andrew Yang, and New Jersey Senator Corey Booker. The ABC broadcast, lasting a grueling three hours, allowed the candidates to voice their opinions on (most of) the hot button issues affecting Americans.
The Issues
From healthcare to foreign policy, the candidates tried to persuade voters to conform to their perspectives. While the strategies ranged from somewhat progressive to very radical, the overall goals were pretty concurrent.
Healthcare
All of the candidates voiced their support for universal healthcare; however, the progressiveness of the plans varied. While Biden, Klobuchar, and Buttigieg upheld private insurance, Sanders said he would abolish private insurance. Warren avoided the question regarding private insurance when asked.
Compared to other issues, the candidates proposed a wide array of options. While Sanders fell back on Medicare for All, candidates such as Buttigieg offered "Medicare for All who want it," giving people an option to buy into the public option. Other candidates like Biden simply wanted to expand on Obamacare.
Racism
A topic not emphasized in the first two debates, racial issues were embraced by all the candidates who agreed on two things: racism is alive and well in the United States, and Trump has a level of liability. O'Rourke and Booker explained how racism, past and present, is eroding American values.
The candidates also focused on issues like criminal justice reform which disproportionately hurt African Americans. For example, Biden advocated for releasing non-violent drug offenders, many of whom are African Americans.
But again, everyone emphasized how they think Trump allows racist sentiments to grow in America.
Gun Control
In the wake of the shootings in El Paso and Odessa, Texas, and Dayton, Ohio, gun control has become a prime issue for voters.
Having one of the more radical stances on the issue, O'Rourke reiterated his government buyback program for assault weapons. All of the candidates shared the common goal, however, of taking down the National Rifle Association (NRA) and passing universal background checks. Klobuchar even went as far to call out Senate Majority Leader Mitch McConnell (R-KY) for his inaction of gun reform.
Immigration
From expanding legal immigration numbers to reforming asylum laws, all of the candidates seemed to agree more on this issue.
However, Biden and Castro shared heated words in regards to the Obama Administrations failures with undocumented immigration and deportations. Castro and O'Rourke also touched on how the president's demeanor has spawned an anti-immigrant sentiment in the nation.
Foreign Policy
Criticism of Trump's trade war was a central theme for the Democratic candidates, pointing out how Trump has acted recklessly. Buttigieg and Klobuchar highlighted how Trump has alienated our allies whom we should prop up. Booker noted Trump has turned America isolationist and is abandoning our allies.
All of the candidates also voiced their affirmation of bringing troops home from Afghanistan. Yang spoke about stoping "endless war." Buttigieg, the only veteran on stage, also claimed our presence in the Middle East is unnecessary.
In terms of involvement with Latin American nations, all of the candidates appeared to support interventionist policies. Castro proposed what he called a 21st Century Marshall Plan in Latin America to stabilize the area.
Education
All of the candidates endorsed ideas to increase funding and quality for public education. Yang voiced support for charter schools, whereas Castro did not.
Warren also re-emphasized her radical position on forgiving student debt and creating universal childcare and pre-kindergarten. Sanders had similar proposals.
Booker, Biden, and Buttigieg all proposed raises for public school teachers as well.
What Wasn't Included
Even with the lengthy run time, many people, including certain candidates, voiced concern over issues not covered. For instance, O'Rourke questioned via Twitter after the debate on why reproductive rights were not featured at any point during the debate. The inclusion of questions about becoming vegan but not questions about women's issues also upset some people.
There was also no reference to the domestic economy and the current record unemployment statistics.
Common Themes
While policy differed a lot amongst the candidates, there were some commonalities throughout the debate. Rather than reflecting individual ideas, these commonalities shed light on general themes emerging within the Democratic party as a whole.
Attempt at Unity
Many have voiced concern about the division amongst the candidates within the Democratic party. From the ultra-progressive proposals by Warren, Sanders, and Harris to the moderate perspectives of Biden, many worry the dichotomy brewing within the party will guarantee Trump four more years in office.
Provided this context, many of the candidates tried to address the issue of disunity within the party. For instance, Klobuchar, in her opening statement, presented herself as the moderate between the far-left progressive wing of the party and the more traditional centrists' sector of Democrats. Similarly, Booker repeatedly made remarks regarding the "common values" between the candidates on issues like universal healthcare. He also criticized the "woke" purity tests within the party which he concluded would help Trump's re-election chances. Even Buttigieg reflected on the unity after 9/11 to promote the same idea.
The calls for common cause amongst the candidates reveal their acknowledgment that ferociously tearing each other to shreds will only help Trump win re-election.
Immaturity
If you watched the debate, at times, it might have been confusing on whether you were watching the actual debate or the Saturday Night Live parody. From personal attacks to jokes which were not received well, the night was full of immature acts.
Castro's repeated attack on Biden regarding not being able to remember a past statement received harsh criticism with many saying Castro went too far and looked unpresidential.
Yang also suffered harsh criticism after making a joke about how he knows a lot of doctors because he is Asian. This joke backfired with many people perceiving it as extending a stereotype.
Unanswered Questions
When asked a difficult question, more often than not the candidates dodged the bullet. For instance, Warren refused to answer whether or not she would eliminate private insurance.
Biden also did not directly acknowledge the mistakes made during the Obama Administration in terms of immigration policy. Even Castro noticed this avoidance, calling out Biden's ignoring of the errors made by the Obama Administration.
The repeated dodging of questions or imprecise answering of questions spotlighted the flaws in the progressive plans of the candidates.
Winners and Losers
Winners
Joe Biden – Really the only true winner, Biden was more articulate and passionate in his responses to questions than in previous debates. He also went on offense more to call out issues with other candidates such as the high cost on Sanders's healthcare plan. Overall, he performed very well despite being targeted more than any other candidate.
Beto O'Rourke – Following the tragedy in his home town of El Paso, O'Rourke was praised by most of the candidates on stage for his resilience in the face of hardship. His calls for radical gun control also resonated with much of the crowd and home audiences. Contrary to his previously weak performances, O'Rourke proved to be a more dominant character this time around.
Losers
Bernie Sanders – From not answering questions regarding his healthcare plan's finances to remaining relatively quiet throughout the night, Sanders did not have a great night. Surprisingly, the famous self-proclaimed "democratic socialist" lacked the passion seen in past debates.
Julián Castro – While most of his arguments aligned with liberal voters, his personal attack on Biden hurt his reputation, framing him as immature and unpresidential. Due to his lack of big ideas during the debate, his failed attack on Biden damaged his popularity.
Elizabeth Warren – Even though she has been polling well, Warren remained relatively quiet throughout the night. She simply reiterated the ideas she laid out during the last two debates and added nothing of note. While she did not do "bad," she did not perform at a high level on stage.