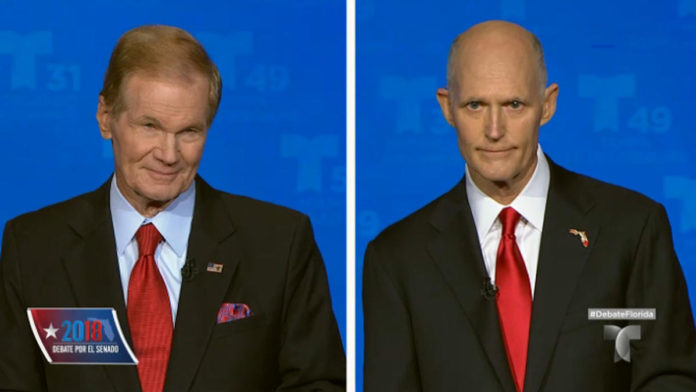 In the most expensive senate race in the history of America up to this point, incumbent Florida Senator  Democrat Bill Nelson faces off with former governor, Republican Rick Scott. 181 million dollars and counting has been spent by both sides, and the next closest race in terms of money spent is in our state of Texas, where Beto O'Rourke and Ted Cruz have spent a paltry 117 million so far. Either candidate could win the race, as the polls are within the margin of error, and Donald Trump narrowly carried Florida in 2016. With a slim lead in the Senate and dim House prospects, the Republicans look to Scott to give them a bigger mandate in the upper house.
Florida has been one of the most important states politically this century as it has a large population and either party can win in it. The state determined the victor of the 2000 election between Bush and Gore, and has had both a Republican and Democrat senator for the majority of the past two decades. The race for governor has also been heated this year, with Democrat Andrew Gillum holding a slim lead over Republican Ron DeSantis. This has drawn the interest of both President Trump and former President Obama, who have gone down to Florida to campaign.
Rick Scott has run under the banner of Trump's' policies, but has some key policy differences. Perhaps most strikingly, he is for DACA, even though he is for increased border security. With immigration being the most important issue for a significant amount of voters this cycle, it is a shrewd political move by Scott to run on a more dovish immigration policy compared to most Republican candidates in a Southern state. On the economy however, the former Florida governor takes a far more right wing approach, as he passed bills cutting taxes by ten billion dollars during his tenure, and he supported the repeal of Obamacare. On the more personal side of politics, he has used his navy service often, using it to bolster his credibility. His tenure as governor has been extremely popular, with his approval rating sitting at 58% at the beginning of this year. This makes the close race somewhat surprising, as Mr. Scott is well liked by his constituents.
The reason the race is so close is due to his opponent, 3 term senator Bill Nelson, who has represented Florida for 18 years. Mr. Nelson is a moderate Democrat, as he supports some gun restrictions, progressive taxation, is opposed to strict immigration measures, and is pro choice. However, he is opposed to increased federal spending generally. He is also extremely popular in Florida, with a 25% net approval rating. His former army reserve status has proved to be useful against an opponent with a military background, since he does not appear to be just another career politician. The current senator keeps a relatively low profile in the upper house, partially because he does not appear to hold presidential aspirations, which has made it difficult for Scott to pin Nelson as a rabid Democrat. This is because Mr. Nelson votes with Mr. Trump the majority of the time, and votes with Republicans roughly 15% more often than an average Democrat Senator.
With opinion polls showing no clear lead on either side, it appears that both candidates might pull out a crucial victory on Tuesday. Mr. Nelson's own campaign site has stressed the importance of a win for himself, as his site quotes Politco to say that "if Rick Scott wins in Florida, Democrats have ZERO chance of taking back control of the Senate." For his part, Scott has raised oogles of cash to unseat Nelson.
Sources:
https://www.realclearpolitics.com/epolls/2018/senate/fl/florida_senate_scott_vs_nelson-6246.html
https://www.yahoo.com/news/midterms-2018-campaign-trail-where-233714425.html
https://www.270towin.com/states/Florida
https://www.foxnews.com/politics/obama-trump-make-final-midterm-push-in-florida
https://rickscottforflorida.com
https://morningconsult.com/2018/02/01/governor-rankings-jan-2018/
https://morningconsult.com/2018/01/23/senator-rankings-jan-2018/
https://www.usatoday.com/story/news/politics/elections/2018/10/11/sen-bill-nelson-d-fla-has-backed-donald-trump-more-often-than-not/1535732002/