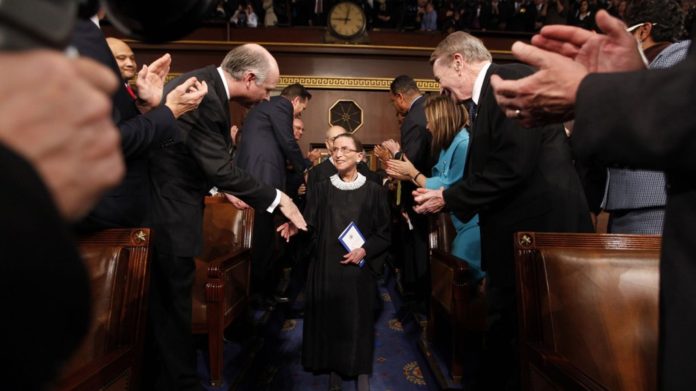 Justice Ruth Bader Ginsburg was an extraordinary woman known to be "as hard as nails." In her 80s, Ginsburg became a legal, cultural and feminist icon. She died Friday at her home in Washington, D.C., surrounded by family at 87 years old. The Supreme Court announced her death, saying the cause was complications from metastatic pancreas cancer.
President Bill Clinton appointed Ginsburg in 1993. She served as the most senior member of the court's liberal wing, consistently delivering progressive votes on the most divisive social issues of the day, including abortion rights, same-sex marriage, voting rights, immigration, health care and affirmative action.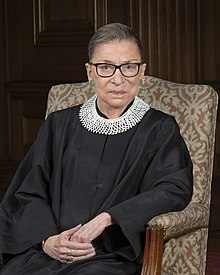 Her death (less than seven weeks before Election Day) opens up a political fight over the future of the court. Addressing the liberal justice's death, Senate Majority Leader Mitch McConnell said Friday evening, "President Trump's nominee will receive a vote on the floor of the United States Senate." (Credit: NPR).
However, just days before her death, Ginsburg dictated this statement to her granddaughter Clara Spera: "My most fervent wish is that I will not be replaced until a new president is installed."
President Trump commented on her impact: "She led an amazing life. What else can you say?" President Trump said Friday evening upon hearing about her death. "She was an amazing woman whether you agree or not she was an amazing woman who led an amazing life."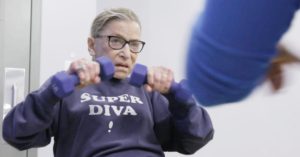 In addition, Vice President Joe Biden praised Ginsburg as a "giant in the legal profession" and a "beloved figure," saying in brief on-camera remarks Friday evening that people "should focus on the loss of the justice and her enduring legacy."
Interview with Dr. Tracy McFarland, Monday, September 21, 2020.
I asked Dr. McFarland, Social Studies and Debate Coach, the following questions regarding RBG and the upcoming events in our government:
What is the effect of RBG's death not only on the Democratic Party but also on the SCOTUS as a whole?
"This question about the effect on the party is interesting because although RBG was appointed by a Democratic president, over the course of history, justices have not been directly associated with parties; while there is an alignment between politics and interpretations of the law, justices have historically not been directly tied to their party.  By this I mean that the effect on the party is indirect – rather than the party losing a leader, like the passing of John Lewis.
Her death will matter in the sense that the term now starts (on October 5th – always the first Monday in October) with only 8 justices. Justices will continue to hear cases – and it's possible for a 4-4 decision to be rendered. If that happens, the most recent lower court decision stands. If the Senate moves quickly, and hypocritically given standards set in 2016 by the same GOP majority, to confirm a new justice before the election or during the lame duck session, then it's possible that they will have a full court for most of the term. The Democrats, correctly, are pointing to the lack of hearings in 2016 when Scalia died and Obama nominated Garland – the Senate could have held hearing and then voted against Garland. But they didn't hold hearings. However, procedural rules in the Senate do not provide the Dems a lot of options for even stalling the process.
If GOP is successful at confirming a nominee (likely Amy Coney Barrett) the replacement of RBG will be a replacement on the progressive side of the court. Barrett has publicly said she should invalidate the ACA – and the court hears a case on that the week after the election if she is confirmed before the election. So, an appointment like her would alter the balance of the constitutional interpretation of the law.
If Dems win in November, they could in Jan 2021 alter the size of the court to compensate for 2 picks that they view should have been made by Democrats."
In you opinion, what are RBG's most notable moments and things she has advocated for?
"It is not hyperbole to say that RBG's influence on issues related to gender and employment law may not have an equal. RBG long legal career helped ensure women could receive insurance from their employers, could own property without a husband, equal pay, etc.  A really good podcast I would recommend on this is More Than Perfect episode called "Sex Appeal" which lays some of this out. While this is sometimes cast as something that benefits women, in reality, men benefit from these decisions as well – being on health insurance for example of their wife because it was a better plan.
She also demonstrated the ability to engage in difficult intellectual debates and understand that people were still people. One of my favorite stories about her is that she and Scalia would have weekly dinners – this may not seem notable but they could not have been more diametrically opposed in their view of the constitution. And yet, they could separate their constitutional and legal differences from their personal view. given the current political rhetoric, this is an important lesson from her life."
Click here for an article from Scalia's son on this topic.
How can this being so close to the general presidential election have a significant or even controversial impact in the eyes of some?
"If the GOP goes back on the test that they put out in Feb of 2016 – that a pending election should determine who gets to fill the vacancy – then it could cost them electorally in November.  GOP incumbents in CO, ME, IA, AZ – even Lindsay Graham – will have to calculate that their GOP base who will vote for them is more important that independent/suburban voters who may vote against them on the handling of this.  So far, some have fully embraced doing it (AZ) and some are at least saying not before the  election (ME). Again, much of the controversy stems from the very public 2016 assertions by some of the same GOP about why the election allows the voters to decide the direction of the court."
I would like to conclude this article by highlighting her perseverance and showcasing one of her most impactful sayings.
Ginsburg suffered two bouts of cancer in 1999 and 2009 and received a stent implant in her heart but never missed a day of oral arguments. "I would just like people to think of me as a judge who did the best she could with whatever limited talent I had," Ginsburg said at an event at the University of California Hastings College of Law in 2011, "to keep our country true to what makes it a great nation and to make things a little better than they might have been if I hadn't been there."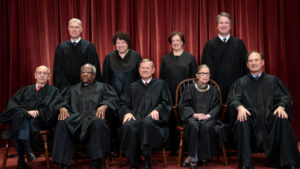 Though only 5'1″, she was still a giant amongst men. For more coverage on government and political updates stay tuned to The Roundup!