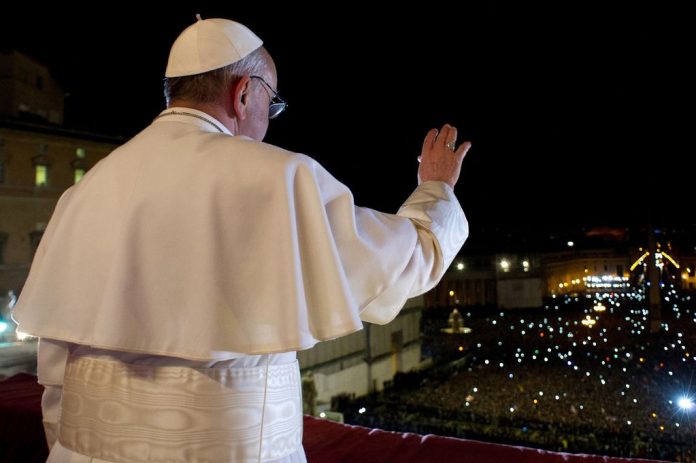 As thousands stood in St. Peter's Square last week, waiting anxiously to see the smoke rise from the great chimney of the Sistine Chapel, millions across the world prayed that the papal conclave would select the best man to be the Catholic Church's new leader. At 7:41 PM Central European Time (1:41 PM Central Time), white smoke billowed out into the dark, rainy sky, signaling the end of the conclave after just two days, and more importantly, signaling the successful election of the next pope.
After seeing the thick, white smoke, thousands of people streamed toward St. Peter's with cameras and umbrellas in hand as Argentinian Cardinal Jorge Mario Bergoglio, 76, stepped out onto the balcony overlooking the square. Bergoglio waved his hand at the people beaming with joy and excitement, giving many Catholics everywhere feelings of happiness and relief.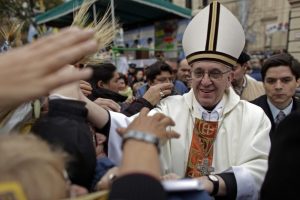 Bergoglio became the 266th pope of the Roman Catholic Church as he selected the name "Francis" after St. Francis of Assisi, thus making him the only pope to ever select Francis. Pope Francis I not only made history with his name selection, but also with his nationality. Pope Francis I is the first non-European pope in more than a millennium, the first pope from the Americas, and the first pope from the Southern Hemisphere. Pope Francis I's other monumental mark on history is that he is the first Jesuit to ever be elected pope of the Catholic Church. Mrs. Crowder, Dallas Jesuit's Campus Ministry director, said that, "The election of a new Pope is exciting for every Catholic; even many non-Catholics feel compelled to watch for the white smoke. The fact that Pope Francis is the first Pope from the Americas and a Jesuit adds a new level of and interest especially for all of us connected to the Society of Jesus."
Mrs. Crowder continued to describe Pope Francis's impact on Jesuit as she said, "When asked how they felt about the new Pope being a Jesuit, the students responded that they were excited and interested to see if this caused a wave of people to want to know more about Jesuit and some of the unique attributes of a Jesuit education. Even graduates of Dallas Jesuit have been posting quotes and videos of Pope Francis on Facebook. They find his humble nature and simplicity inspiring as they continue to exercise the values they learned through their Jesuit education."
Pope Francis I was born in Buenos Aires, Argentina on December 17, 1936 to Italian parents. After high school, he attended the University of Buenos Aires where he earned a master's degree in chemistry. After discerning a call to the priesthood in 1958, Pope Francis I decided to enter the Society of Jesus (the Jesuits) as he studied in the seminary of Villa Devoto. While a Jesuit novice, Pope Francis I went on to attend the Philosophical and Theological Faculty of San Miguel where he earned a degree in philosophy, and then later received a doctorate in theology in Freiburg, Germany.
In December 1969, Pope Francis I was ordained a priest, and then he later began to serve as Jesuit provincial of Argentina in 1973. He later returned to his alma mater as he served as the rector at the Philosophical and Theological Faculty of San Miguel.
In June of 1992, Pope Francis I was elected Auxiliary Bishop of Buenos Aires, as well as Titular Bishop of Auca. Titular bishops, similar to auxiliary bishops, are not in charge of dioceses, but their responsibilities include assisting the head bishop. In 1998, after the archbishop of Buenos Aires, Cardinal Antonio Quarracino, passed away, Pope Francis I assumed the position of archbishop, and then just 3 short years later in 2001, Pope Francis I was named a cardinal by Pope John Paul II.
In 2005, Pope John Paul II passed away and the conclave searched for the new leader of the Catholic Church. Pope Francis I served in the papal conclave that took only one day to select a new pope. However, many do not know that Pope Francis I was supposedly the "runner-up" in votes behind Pope Benedict XVI. With such high popularity in 2005, it was no surprise that it took only two days to select Bergoglio as the new Bishop of Rome and pope of the Catholic Church last week.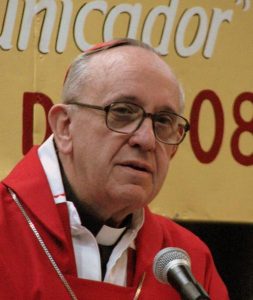 Many people across the world anticipate how Pope Francis I, being a Jesuit, will change the Catholic Church. The Society of Jesus, founded by St. Ignatius of Loyola, places an emphasis on missionary work and educating people around the world about their faith. Franciscans, founded by St. Francis of Assisi, place an emphasis on serving the poor and stretching out their hands to those in need. Pope Francis I will look to embody the characteristics of both the Franciscans and the Jesuits as he leads the Catholic Church for the rest his life. Fr. Edwin Leonard of St. Rita's Catholic Church in Dallas said that Pope Francis "is already a testament to those early Jesuit Missionaries that went to the indigenous peoples and lived amongst them in the manner they did being like Saint Paul said in Corinthians 9, 'all things to all people.'"
One coincidence at St. Rita's Catholic Church is that on the left side of the altar sits a statue of St. Ignatius of Loyola and on the right side, a statue of St. Francis of Assisi. Fr. Leonard pointed out in a homily that Pope Francis I will bring much joy to Catholics through his decision to follow both saints as he pursues an ever-strengthening relationship with Jesus Christ. Fr. Leise, S.J., one of Dallas Jesuit's theology teachers, explained that he believes Pope Francis I will have an interesting impact on the Church, seeing that he will follow both St. Ignatius and St. Francis: "I suspect he's going to bring a new, emphasized concern for topics like social justice. He might also provide a new look at what came out of Vatican II. Also, he will bring a strong concern for the poor in the world."
Some believed that Bergoglio would be elected pope, but others, however, were very shocked by his election. Fr. Leise, S.J. said, "I was surprised [Bergolgio] was elected. I truly had no idea who he was, what he was known for, and that he was even in the running. I wasn't expecting a Jesuit to be elected either." Fr. Leonard agreed, saying, "Yes, I was surprised, because outside of Vatican and ecclesial circles Cardinal Bergoglio was unknown to general public.  It was not like when Pope Benedict was elected; back then, it seemed everyone suspected it would be him.  Now we are all getting to know our new Holy Father as he continues to surprise us with his humility and radical witness of Christ's love for the poor and marginalized."
Although some did not expect Bergolgio, now Pope Francis I, to be elected, the graces of God will shine through the Church's newest leader. In order to help Pope Francis I, the Church encourages us to pray for him as he takes on his new responsibilities as pope. To see a prayer written specifically for Pope Francis I, click here. As the weeks, months, and then years pass by, we will see just how God shines through Pope Francis I.
Bibliography
"Pope Francis Biography." Bio.com. A&E Networks Television, n.d. Web. 20 Mar. 2013. http://www.biography.com/people/pope-francis-21152349
"Pope Francis." Mirror. N.p., n.d. Web. 26 Mar. 2013. <http://i3.mirror.co.uk/incoming/article1762389.ece/ALTERNATES/s1023/Pope%20Francis%20I-1762389.jpg>.