As we approach the old, stone building, we see the immense line of patrons all eagerly waiting to be admitted inside. Many of them have been waiting since 5:00 am, just to be the first ones in line. We wait for several hours, our anticipation building, before finally seeing the line start to shift forward. Once closer, we detect the smell of sweet Texas barbecue that's been in the smoker for the last eighteen hours. Our mouths water and our stomachs rumble as we can almost taste the juicy meat behind the counter. We order our meat by the pound and quickly sit down, knowing our destiny is upon us. The brisket glistens with juice while the sausage tightly presses against its casing. As soon as I take the first bite and feel the delectable brisket melt in my mouth, I know the wait was worth it.
Texas has a reputation for being the home of the Wild West; a dense history of bravery and independence, and a long list of accomplishments that make its residents proud to be called Texans. However, one area that makes up the heart and soul of Texas is often overlooked: it's food. Texas, the second largest state by area, is home to tens of thousands of restaurants, all of them claiming to be the best. Because of this, it can often be difficult to decipher which restaurant reigns supreme. Should you follow the hype? Or search for a hidden gem of your own? My hope in this article is to identify which restaurants are the best in the state and rank them according to personal experience.
10. Magnolia Café (Austin)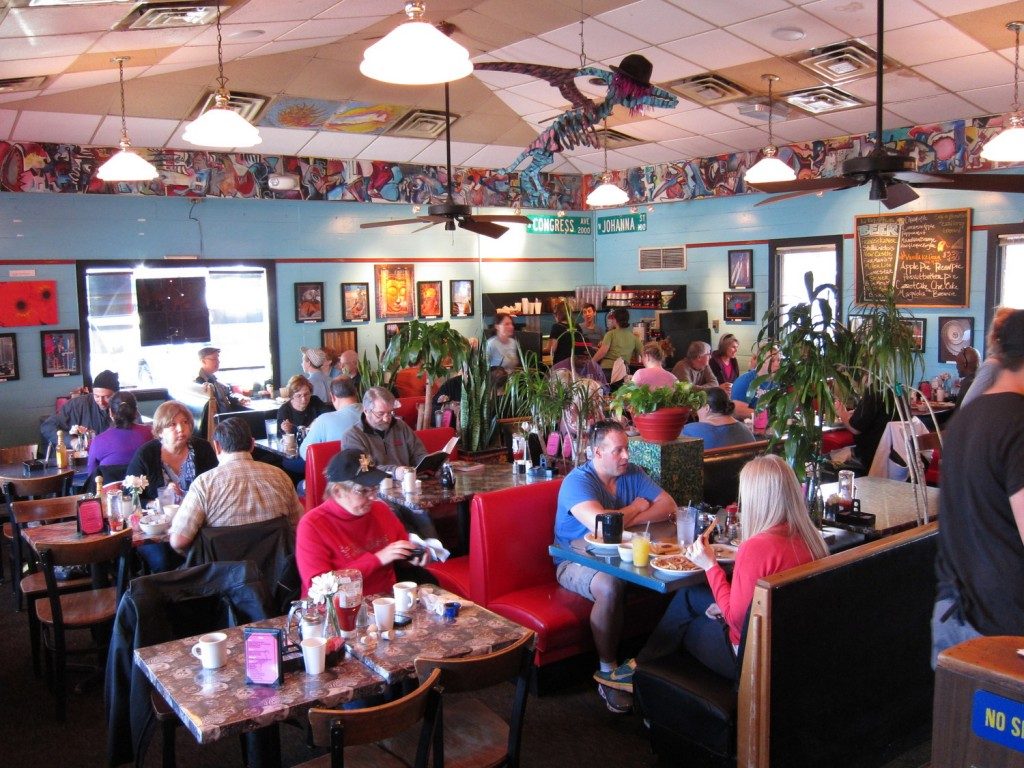 Magnolia Café is a medium-sized restaurant in Austin with two locations on S. Congress Avenue and Lake Austin Boulevard. Their motto, "Sorry We're Open," can be viewed from the neon sign outside the restaurant. Established in 1979 as The Omelletry West, Magnolia Café has been a local favorite for almost 40 years, serving breakfast, lunch, and dinner 24/7 to any patron who wants something to eat. Their menu contains a plethora of possibilities, mostly focusing on Tex-Mex, but also offering dishes like hummus and all-day breakfast. They are family friendly and even accommodate vegan and gluten-free pallets.
During my first visit, I decided to try their "Sorry We're Pancakes" despite it being around 9:00 pm. Service was fairly quick and I received my stack of homemade pancakes after about 15 minutes. I was extremely surprised by the size of the pancakes, as they struggled to fit on the plate. They were very warm and airy, and more than enough to fill me up.
Overall, while the food I had was very good, it didn't really blow me away. Next time I go, I'll definitely try a different item on the menu.
9. Terry Black's BBQ (Austin)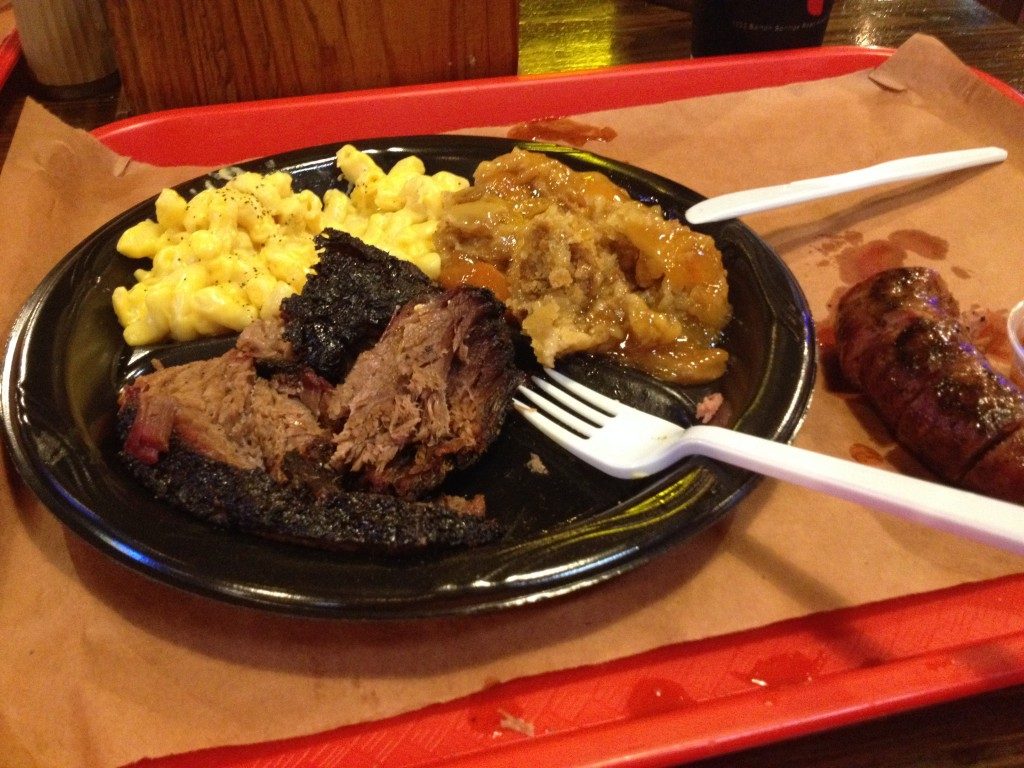 Terry Black's BBQ (not to be confused with Black's Barbecue) is a large restaurant in central Austin whose roots trace back to Lockhart, Texas. Mr. Terry Black was the inspiration for this restaurant, as he is responsible for decades of barbecue knowledge and tradition. According to their website, his twin sons Michael and Mark Black currently oversee the current operations of the restaurant and follow in their father's footsteps. While their history is fairly brief, they are a local hot spot in Austin and are regarded as one of the top barbecue restaurants in the city.
During my visit to Terry Black's, I went in for dinner around 7:30. One lesson I quickly learned in the world of barbecue was that there is only a finite amount of meat every day and they often run out. By the time I showed up to Terry Black's, both beef and pork ribs were sold out. I decided to try their brisket and sausage as I personally like them the best. I got a side of mac and cheese and an order of peach cobbler (also the mark of a good BBQ restaurant). I tried the brisket first, but I ultimately thought it was a little dry. The sausage, while flavorful, resulted in the same arid conclusion. When my hope for Terry Black's was almost gone, I bit into their peach cobbler. I was instantly hit with a wave of flavors, as I felt the soft peaches melt in my mouth and the crust crumble away into pure sweetness.
Reflecting on my visit, I think I came on a bad night for the meat, but their peach cobbler cannot be overlooked.
8. J's Casa Burger (Fort Worth)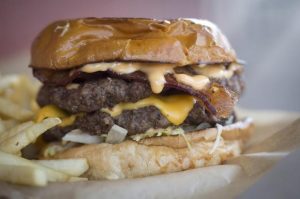 The next restaurant isn't really a restaurant at all, but it is a little closer to home. J's Casa Burger is fairly new in the food industry, in its location for only a few years, but nonetheless making waves from its great quality. It's actually located in an old stand-alone Church's Chicken, but still manages to attract a steady stream of customers every day. The owner, Jesus Gerardo Garcia, has some previous experience with restaurants in the past, and this one was a smash hit.
When I went, the first thing I noticed was the lack of seating; the only options they present are outdoor seating (which in the Texas heat isn't always the most comfortable) or sitting in your car (which isn't always the most spacious). I decided to choose the latter of the two and pulled up though the drive through. I was greeted by a friendly man who offered me a menu and advised me that everything was good. After some deliberation, I ordered a cheeseburger and a side of fries. While they grilled my burger, I was able to watch them through the window, giving me comfort knowing that my food was freshly made. When I took my first bite, I could taste the hot, warm patty and feel the crisp lettuce crunch in my mouth. The warm, lightly salted fries were extremely hot from being recently pulled from the fryer and turned out perfect: crispy on the outside while soft and delectable on the inside.
In conclusion, I thoroughly enjoyed J's Casa Burger, though drawbacks were the seating and the outdoor type of environment. Overall, J's Casa offered a tasty burger and great food.
7. Sam's BBQ (Austin)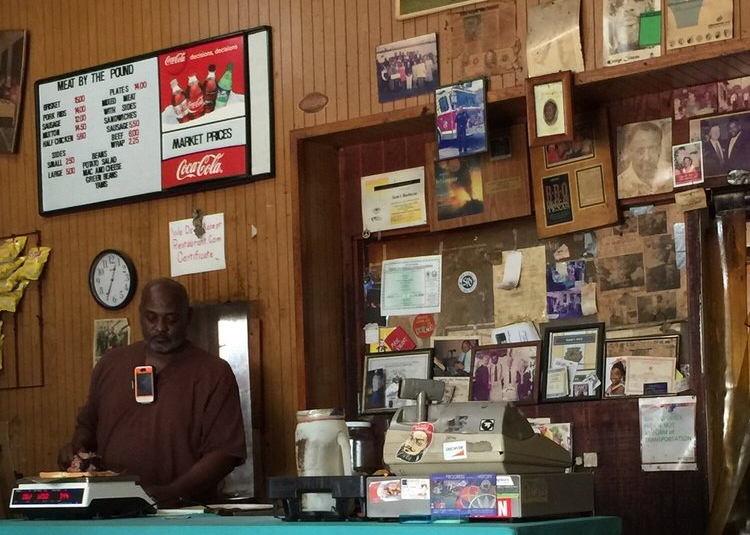 Sam's BBQ has been a family owned restaurant since the 1940's and is run by Brian Mays, who smokes the meat, takes orders, cuts meat on the counter, works the register, and sits and talks to his customers. He is very personable and willing to give you a tour of his smoke pit as well as display photos from movies he's been in. Similar to J's Casa Burger, Sam's is not actually in a restaurant space, but rather in a converted house. Mr. Mays and his family help bring the feeling of home into their establishment along with great food and friendly service.
As I walked up to the decrepit, wooden building, I was a little nervous before I went inside; Sam's is in a rougher part of town and the house looks like it's on the verge falling apart. Yet even before I saw the outside, the first thing I noticed was the smell of smoked ribs, brisket, sausage, and much more. I went inside and ordered my usual barbecue go-to meal: a brisket and sausage plate with a couple of sides. Mr. Mays plated the meal and served it on a light blue lunch tray. For drinks, Sam's doesn't have a soda fountain but instead a soda machine and mini water bottles, setting it apart from most traditional restaurants. While the outside of the building was rough and in need of major repair, the food could not have been more different. The brisket was moist and juicy and the sausage was filled with flavor. After dinner, I had a heavenly serving of peach cobbler which was a great end to a great meal.
Since this initial visit, I have been to Sam's several times and it is a must-see whenever I'm in Austin. Sam's BBQ is a great example of a classic adage: never judge a book by its cover.
6. Post Oak Smokehouse (Las Colinas)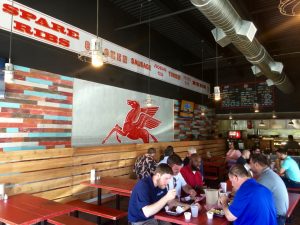 For those who don't want to take a day trip to Austin to try out some of the previous restaurants, Post Oak Smokehouse is for you. With one location as close as a 20 minute drive down Royal Lane, Post Oak is by far one of the closet and most impressive barbecue joints on the list. Unlike most standard methods of cooking, barbecue restaurants use indirect heat to prepare their meats. Cooking "low and slow," these pit masters have perfected the art of capturing the juicy and smoky flavors of each wood they use. As the name suggests, Post Oak Smokehouse's specialty is a type of wood known as Post Oak which is indigenous to central Texas. Eliodoro Aguilar, the owner and pit master of Post Oak, wanted to bring Austin-style barbecue to North Texas, and to many he certainly has.
My visit to Post Oak a few months ago originated from the common dilemma of deciding where to eat dinner. After a quick search on Yelp, a local barbecue joint caught my eye leading my family and I to make a trip over to Post Oak Smokehouse. The one thing I distinctly remember about Post Oak Smokehouse was how closely it resembled Austin barbecue. The brisket's outer layer, or the crust, was some of the best I ever had. Both the brisket and the sausage were full of flavor and smoked to perfection. As for the sides, I noted that the mac and cheese was good, but there wasn't anything special about it. However, their mashed potatoes and house-made gravy were a nice complement to the wonderfully prepared meat.
Looking back, I loved how Post Oak Smokehouse brought a taste of Austin into my backyard, making it an easy decision on whether to return or not.
5. Chop House Burgers (Arlington)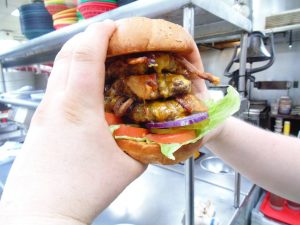 The next restaurant on this list is known for its big burgers and its even bigger reputation. Chop House Burgers is a mid-sized restaurant in Arlington known for its one of a kind "Chop House Burger." The reason this Burger is so unique comes from chef Kenny Mills, a man with an extensive cooking background who actually puts bits of chopped up brisket into his burgers. Chop House Burgers is wildly known as a hotspot not only in Arlington but around the world, attracting visitors from every state and several foreign countries. In fact, much of this fame comes from a Dinners, Drive-Ins and Dives episode in which Guy Fieri visited Chop House Burgers and commended Kenny Mills and his excellent food.
Like many before me, I had heard about the legacy of Chop House Burgers though Diners, Drive-Ins, and Dives and had to try it. Luckily, we got there at a good time and didn't have to wait through much of a line. We ordered, sat down at the table and were promptly served. The burger itself was absolutely massive compared to most fast food restaurants. Even a single patty burger was hard to hold due to its immense size and thickness. The brisket added a unique juicy and smoky flavor I had never experienced before in a burger. The fries were hot and fresh and paired excellently with the rest of the meal, making it an overall great experience.
In my opinion, I think that Chop House Burgers is a one of a kind concept bringing a brand-new flavor to the world of burgers.
4. Luke's Inside Out (Austin)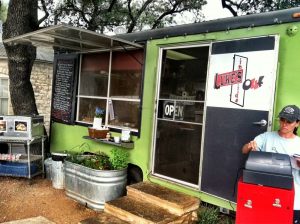 Austin is considered the live music capital of the world and is known for its great food and barbecue, but if you've ever driven around Austin, you will find a plethora of food trucks covering the city. One of these trucks is home to some of the best food not only in Austin but in Texas. Luke's Inside Out in Austin is a small food truck on South Lamar Boulevard next to Gibson Street Bar, which Luke's Inside Out uses for seating. Chef Luke Bibby brings a unique selection of French-inspired meals to South Austin with menu items such as "The Cow" and "The Burger." His food draws in patrons daily which earned Chef Bibby a spot on Diners, Drive-Ins and Dives with Guy Fieri and a reputation throughout Austin.
My visit to Luke's was short but quite memorable. I was in Austin for a quick down and back day trip and had heard about Luke's from multiple sources online as well as from my father, a fan of Guy Fieri's show. My first memory of the experience was that Luke's Inside Out was fairly difficult to find as it's somewhat hidden behind the Gibson Street Bar. Even after you find it, parking is extremely limited and will most likely include a short walk to actually get to the food truck. Once I arrived, I decided to get a burger and coleslaw which seemed like a safe option since it was my first time at Luke's. I sat outside on the Gibson Bar's patio while I waited about 15 minutes for my order. When I received my order, the first thing I noticed was the intoxicating smell of the food before me. The burger was literally straight off the grill (which was sitting only 30 feet away) and was dripping with juice and Luke's special "love sauce." My first bite was absolutely heavenly and before I knew it, the burger was gone within a few minutes.
The combination of flavors was extremely unique and so unlike most burgers I've had in the past at local chains. It was a thick, homemade burger bursting with flavor and literally made with "love." By far my favorite burger of all time making the 4 hour drive to Austin worth it.
3. La Barbecue (Austin)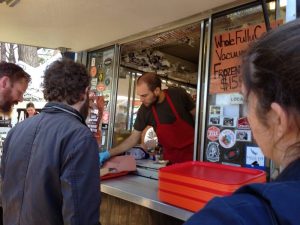 Based out of another food truck, La Barbecue is one of the best restaurants in Austin and in Texas. The word "La" isn't a definite article but instead an abbreviation for LeAnne Mueller. LeAnne, who split from her brother's unsuccessful barbecue business in 2011, hired Franklin's Barbecue pit master John Lewis to help make her business a major player in the Austin barbecue scene. Even though it has considerably less space to work with than its larger Austin counterparts, La Barbecue still matches up and even beats their competition in superior taste and popularity. It's semi-permanent location, which attracts patrons daily, is actually an outdoor "food park" designed for food trucks on Cesar Chavez Street on the East side of Austin.
Finding La Barbecue was a little harder than expected, but I knew my hard work would be rewarded. After some research, I found the location, parked around the corner, and took the short walk to get to the food truck. There was a short line but they were able to serve everyone in front of me very quickly. I ordered brisket and sausage with a couple sides and was promptly served at the window. I sat down at a table in the shade and decided to dig into my food. The brisket was extremely moist and flavorful and completely melted in my mouth while the sausage was very well done and tasted amazing. Similar to the brisket, I thought it was also very juicy and was smoked to perfection. While the meat was very good, I noticed that the potato salad and coleslaw were a little lacking. The one thing I didn't necessarily like about La Barbecue was the outdoors atmosphere. During a cooler time of the year it would've been fine, however that day it was extremely hot and the flies around me were resolved to reach my food.
Reflecting on my visit, I loved the quality of food I was served at La Barbecue. The meat was spectacular and I thought the sides were good as well. I personally think that La Barbecue is one of the best barbecue joints in Texas and a great place to visit during a trip to Austin.
2. The Czech Stop and Little Czech Bakery (West)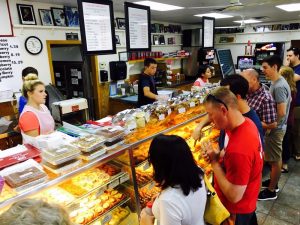 An hour and a half south of Dallas, the Czech Stop and Little Czech Bakery is in a town called West, Texas. The large building lies right off of I-35 on exit 353, making it a great stop if you go to Austin to see the other restaurants on this list. The bakery was established in 1983 and has never closed since it first opened. That's right, the Czech Stop is open 24/7 and 365 days a year, not even closing for major holidays. Even when the West fertilizer plant exploded in 2013, just 3 miles down the road from Czech Stop, the Czech Stop donated both food and water to the victims and first responders.
According to a poster in their store, the Czech Stop uses over 1,200 lbs. of cream cheese, 9,000 lbs. of flour, 750 gallons of milk, 2,400 lbs. of butter, 1,300 lbs. of sausage, 2,100 dozen eggs, and 2,500 lbs. of American cheese on a weekly basis to produce their baked goods. The bakery has gained both statewide and national recognition, being featured in magazines like Texas Monthly and even shown on ABC and The Oprah Winfrey Show.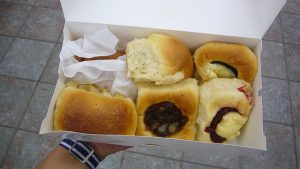 For me, it's hard to really remember the first time I went to Czech Stop. It's become such a tradition that my family and I stop through there every time we drive south on I-35. I've been there countless times, and every time there is a 20 minute line that circles the inside of the store. These one-of-a-kind kolaches are unlike anything I've ever had before and are made with traditional Czech recipes. Czech Stop offers a huge variety of kolaces and sweets: fruit kolaches, pepperoni, sausage with cheese, and even hamburger kolaches. They have cream horns, cupcakes, cookies, brownies and everything in between. In my opinion, they are by far the best in Texas.
Czech Stop was started by a family and is still family run, and due to their excellent food and service, Czech Stop and the Little Czech Bakery has become a part of my family traditions and a permanent mark on my childhood.
1. Franklin Barbecue (Austin)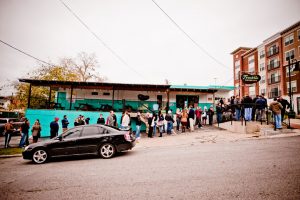 While many barbecue restaurants try to claim superiority and achieve the title of "The Best in Texas," one undisputed restaurant takes the prize: Franklin Barbecue. Starting from a food truck, owner and pit master Aaron Franklin brought his vision to brick and mortar and built a barbecue restaurant like none other. Austin's legacy of great food had already been thoroughly cemented when Franklin entered into the world of barbecue in 2009. Surrounded by barbecue at an early age, Franklin worked at his father's restaurant called Ben's Bar-Be-Que, although he had little exposure around the smoking of the meat. Franklin even worked under barbecue legend John Mueller, but he was a cashier at the register and was still deprived at his shot at the big leagues. Finally, in 2009, Aaron and his wife Stacy decided to change the game of barbecue forever.
Operating out of a small, aqua-painted food truck off of I-35, word of mouth began to spread like wildfire as more and more people tasted Franklin's brisket. As Franklin Barbecue gained more local attention, many people started to ask an important question: was this a new Austin trend or the beginning of something much bigger?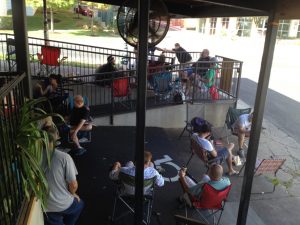 Aaron moved to his current location in an aqua-painted building on E. 11th Street, one year after starting his business. Currently, Franklin Barbecue serves around 200-300 people a day and sells out of meat before 1:00 pm. Hungry patrons start lining up as early as 6:00 am just to get a spot in line when doors open at 11:00. To make the wait more manageable, Franklin Barbecue provides complimentary folding chairs for its patrons who have to wait several hours in line. One possible explanation for the daily influx of customers could be its great reviews, specifically in the form of press. Newspapers and magazines such as Texas Monthly, GQ, The New York Times, and Bon Appetit (who named Franklin the best BBQ joint in the United States) all commend Aaron Franklin as a barbecue genius. For years, people have come from all over to have a taste of Franklin's legendary 'cue, and from how things are currently looking, they don't seem to be stopping anytime soon.
As for my own personal experience, its hard to say much more about Franklin Barbecue except to describe the awe-inspiring experience I had during my first time there. The one thing I can say is that Aaron Franklin ruined barbecue for me, and I mean that in the best of ways. Ever since I've been to Franklin Barbecue, I have never found another barbecue joint that came close to living up to it.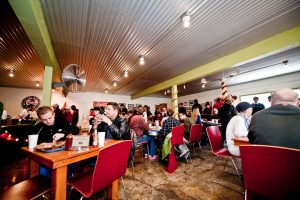 When we first showed up around 8:00 am, there were still a few parking spots available and the line didn't look too long. We grabbed a couple of chairs and spent the next three hours talking to people in line, listening to music, and eagerly waiting for our food. Around 11:00, the line started to shift forward and we started moving inside. Before we even reached the door, we could smell the aroma of the hot, smoky meat behind the counter making our mouths water and our stomachs rumble. The wait seemed like an eternity, and the line seemed like it was barely moving. Finally we reached the front of the line and stared at the beautiful brisket being cut by the pound, the juice running off the brisket and on to the counter. We ordered a pound of brisket, a pound of sausage, some coleslaw and potato salad and could not wait to dig in. When I first cut into the sausage, juice started squirting out of it and seeped out onto the butcher paper. I took a bite and was utterly speechless. The brisket was just as juicy and flavorful as the sausage and similarly left me in silence until my meal was completely finished. I still hold the opinion that Franklin Barbecue offered me the best brisket and sausage of my life, and that they are truly the best in Texas.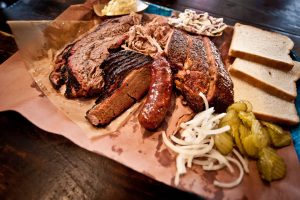 Overall, all the restaurants on this list were absolutely fantastic, and I don't believe you could go wrong at any one of these fine establishments. My thorough research in looking up the history of these restaurants and eating at each one of them has taught me so much. Each one of these chefs has truly put their heart and soul into their food. Many have overcome both personal and financial hardships in order to pursue their dream. Aaron Franklin admitted that his very first brisket was "awfully terrible," but over the years he kept working and eventually made a name for himself as the best barbecue in the state, and maybe even the country. Every day, there are more and more restaurants popping up all over Texas. You could visit a restaurant based off a recommendation, or you could do some research and try to find the next Franklin Barbecue. However there's only one way to know for sure which restaurant is the best in Texas: go and find out for yourself.