For over 40 years, Saturday Night Live has consistently produced a high-quality comedy show, creating around 20 episodes per year. Combining all aspects of show business from costume design, to make up, to set design, to filmmaking, it is truly impressive that SNL is able to pump out such well-refined content in such a short period of time.
With the conclusion of Season 44 on May 18th, I figured I would go back and take a look at the season and give it a comprehensive review. While it had its moments here and there, many times it was disappointing, and certain hosts really let me down. So, let's begin.
Quick disclaimer: while I'm not a professional reviewer, I do watch SNL on a very consistent basis, but don't think everything I say is the truth. It's just my opinion.
The Good
Digital Shorts/Music Videos
I have always thought that SNL does an amazing job with their comedy shorts, short films, music videos, and other pre-recorded media. This has been true for the past few years, and this year as well.
Some of my favorites this year include the Pete Davidson "Chad" videos, any videos that are created by or star Kyle Mooney and Beck Bennett, the Best Christmas Ever short with Matt Damon, the Rectix advertisement, and more.
What I like most about these is the great cinematography as well as the insane budget. All of the videos have a very high production value, which makes them really stand out during the show. I will link a playlist of some of my favorite digital shorts from this season:
Also, here are some of my favorites from the past few seasons:
Staying Up to Date with Modern Culture
While this is always a strength for SNL, this season, I noticed it a lot. Whether it was the R Kelley cold open with the great set design, or the Discover Card "Us" Parody video, SNL constantly incorporates elements from the world into its show (however, this can be bad when it comes to politics- very bad at times).
Game Shows
A tried and true sketch, game shows will always be funny with the right host and guests. For example, whenever Keenan Thompson is the game show moderator, there will generally be some funny moments.
Also, when Bill Hader came back to SNL as a host, he was the moderator of the game show "What's that Name" with John Mulaney and Cecily Strong, which was pretty funny as well.
Weekend Update
Each year Colin Jost and Michael Che have been the anchors on the Weekend Update, they seem to get funnier. They have great chemistry, and whenever they swap jokes like on the last episode or on the Christmas special, it is one of the best parts of the show.
Since their style of comedy is much different, it is always hilarious to see Colin Jost telling a joke that only Michael Che would say.
Generally, Weekend Update is pretty funny. I will say, it was much funnier when there were regular visitors like Stefon, Drunk Uncle, Anthony Crispino, or Riblet.
Also, I really liked it when John Mulaney came onto the Weekend Update because it brought a new dynamic to the segment. Hopefully he'll come on more in the upcoming seasons.
Past Cast Members
I always like to see past cast members on the show, and this season, people like Seth Meyers, John Mulaney, and Bill Hader were on the show in different ways, and they all had relatively good sketches.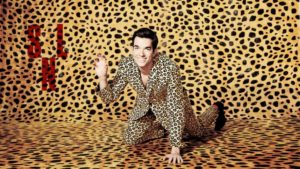 Seth Meyers hosted Episode 3, and while it was not the funniest episode of the season, it had its moments with the Beta Force video, the Traffic Stop sketch, and the Trees music video.
John Mulaney hosted Episode 14, who had a great opening monologue, was in a funny game show sketch alongside Bill Hader, had a great short film with Pete Davidson, and was in a funny advertisement for the Toilet Death Ejector.
The Bad
Misuse of Cast Member Talent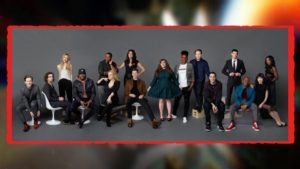 Since the SNL cast from the mid-2000s to about 2015 was arguably the best ever (in my opinion), when they all suddenly left, Lorne Michaels had gigantic shoes to fill. For that reason, there were a few seasons that just were flat out bad, and there were tons of cast members who were only on the show for one or two years. However, the cast has been slowly rebuilding, and now, there is a lot of amazing talent in people like Kate McKinnon and Mikey Day.
However, although there is a lot of talent available for SNL, it seems like that talent is not used very well. For instance, I think that Kyle Mooney and Beck Bennett are hilarious, but a lot of their sketches are "cut for time" and not shown on air because political sketches take up too much time.
That sketch is super ironic, because the whole premise is that a certain cast member is not being used on the show, yet the sketch was cut for time.
If you want to see all of the "cut for time" sketches, just go to Saturday Night Live's YouTube channel and you can see all of them.
Hosts that Aren't Funny
Since SNL is a comedy show, the sketches and the host should be funny. However, many hosts were not comedians, but rather drama actors who really made the show unwatchable at times.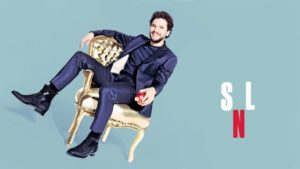 A good example of this was Kit Harrington. His episode was pretty bad in my opinion, and I think a lot of that has to do with the fact that he is not known for his comedy.
More examples were with Jason Momoa, Halsey, James McAvoy, and Claire Foy, all figures not really known for their humor.
Ruining Good Sketches
I feel like a lot of sketches have the potential to be hilarious, but many times, something really weird happens that just ends the whole sketch on a bad note. I'll use an example from the season finale: the game show sketch with Paul Rudd was pretty funny, but at the end, Paul Rudd made a weird comment and the sketch ended, which made it a lot less funny.
This seems to happen a lot on SNL, and I'm not really sure why.
The Ugly
Cold Opens
This is the part of the article where I'm going to rant a little bit. Ever since the election in 2016, there seems to have been a giant increase in political sketches. While there's seemingly nothing wrong with that, SNL has been able to make me hate the cold opens.
For example, the vast majority of the cold opens included either Alec Baldwin in his overdone Trump impression or Robert De Niro as Robert Muller. Sure, this might have been funny the first few times back in November of 2016, but it is just not funny anymore.
I'm not really sure who is approving this, but it seems like the producers of SNL feel like they have to make a cold open out of something political, even if it is insignificant.
Further, these cold openings are so long, and I found myself not even watching them if I saw Alec Baldwin in them. Many of them are at least 6 minutes long, which is way too long for the cold open in my opinion. For instance, the cold open from the season finale was so bad and cringy that I skipped it after the first few seconds.
I think the only truly funny cold opening was in the very first episode, where Matt Damon played Brett Kavanaugh. That was easily the best cold opening of the season, and one of the best cold openings I've seen from SNL in a while.
In order to make the cold opens "great again," a few things need to happen. First, Alec Baldwin has to stop being Trump. Next, the writers need to think of other current events to write cold openings over- the R. Kelly cold open was decent, but it was definitely a step-up from the other sketches. Last, there needs to be more variety within the inevitable political sketches. This means that during the political cold opens, there should be more characters like Melissa McCarthy's Sean Spicer or Bill Hader's Anthony Scaramucci, because those cold opens were genuinely funny.
Political Commentary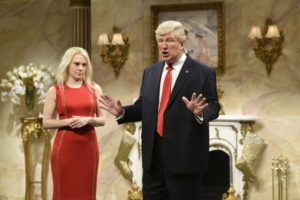 I've watched Saturday Night Live for a very long time, and it has always had a political aspect to it. However, in SNL's current state, it seems like many of the sketches are written just to stir emotion, and not really written for comedic purposes. I get it, Trump can be very easy to laugh at many times. But doing that week after week after week just is not funny. There are so many more topics to write about, so I still don't understand why the SNL writers default to Trump for their sketches.
Also, since SNL is technically a comedy show, I really do not think it should be mainly political.
However, it was hard to get through some episodes during this season because of how political everything was. Even the Weekend Update has become an outlet for people to express their political beliefs.
I also am not a fan of how left-slanted SNL has become. It has always been a more liberal show, but recently, it seems to just attack the right wing, and all the cast members go along with it. This really does not look good, and it shows how the sketches are all made just to stir up controversy. As YouTuber Drew Gooden said in a video, "comedy with an agenda is not funny because it's not meant to make people laugh; it's meant to make people agree."
So, there are my thoughts on this season of SNL. All in all, it wasn't the worst season from the past 5 years, but it was not the best. I am optimistic for next year, and hopefully the rumors about Kate McKinnon leaving are not true, because she is the most talented cast member they have.
So, in summary, I give this season a B- because of all the political commentary and lack of host charisma.
To end this article on a good note, I will include some of my favorite sketches from this year. I probably forgot many of them, so if you can think of more funny ones, feel free to let me know.
Top Sketches