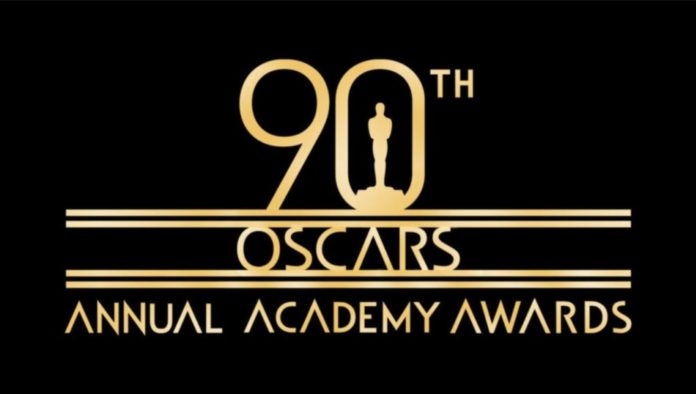 The Oscars turn 90 folks! Almost a century ago, the United States was going straight into the world's worst recession ever conceived and household items such as the microwave, the refrigerator, and the television were nonexistent American households.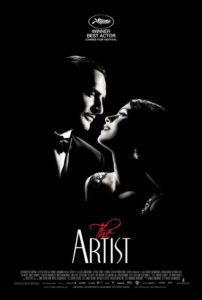 Movies have changed a lot in the last 90 years. In 1928, movies were projected using Nitrate film, an extremely flammable substance. Silent films were still king in Hollywood. Times have changed and movies have become better as technology has progressed.
2017 has seen a remarkable abundance of movies that have made many of us think, laugh, cry, and discuss certain issues that were forgotten about.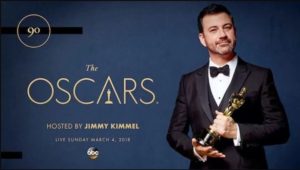 Many of you have not seen these films or ever heard about them but that's alright. My review and commentary on each film will hopefully encourage you to watch them and of course watch the Oscars on Mar. 4, hosted by Jimmy Kimmel.
If you have seen these movies please comment at the bottom of the article which movie will win the Best Picture!
BEST PICTURE NOMINEES
2017 had some of the best movies to offer in a long time at the movie theater. Many of these movies have made many headlines for their incredible screenplay and many of them have not been heard of at all. These are the nominees selected for Best Picture.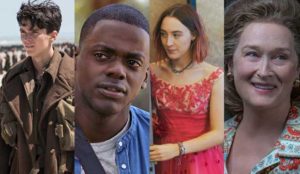 Three Billboards Outside Ebbing, Missouri
AKA: That one movie nominated that no one has ever heard of.
Although unknown to many, many critics and moviegoers alike enjoyed this movie. With a Rotten Tomato score of 93 % and an IMDB of 8.3 proves its immense success under the radar.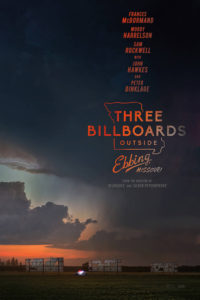 Directed by Martin McDonagh, the movie stars renowned actors and actresses such as Woody Harrelson, Peter Dinklage, and Frances McDormand. This drama/crime movie depicts an intense story that occurs in the fictional town of Ebbing Missouri.
IMDB sums up the movie as the story of "a mother [that] personally challenges the local authorities to solve her daughter's murder when they fail to catch the culprit." The three billboards challenge and create different rivalries that ultimately create chaos in the small town.
The story, both provocative and violent, has been praised for its unpredictability. The movie has so many moments that are quite ballsy like when the protagonist calls a police officer a "D**khead" or when she punches students for disrespecting her view of the police.
This movie is not for those who are easily shocked with crude and bleak humor and will surely surprise many with its twisted story-line.
The Post 
"The Post" is a great movie for all those who loved the 2016 Best Picture "Spotlight" and the 1976 classic "All the President's Men". The movie depicts investigative journalism at its finest and scored a Rotten Tomato of 88% and an IMDB of 7.4.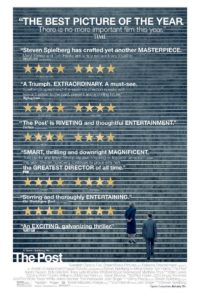 Directed by acclaimed film director Steven Spielberg, the movie stars Oscar-nominated actors Tom Hanks and Meryl Streep. This movie, based on real-life events, is the precursor to the Watergate Scandal and explains the controversial publication of the Pentagon Papers.
The story is about Katharine Graham who is the first female publisher of a major American newspaper — The Washington Post. With help from editor Ben Bradlee, Graham races to catch up with The New York Times to expose a massive cover-up of government secrets that spans three decades and four U.S. presidents. They must help bring long-buried truths to light.
This movie is extremely timely and relevant to today's conversation. The performances are stellar across the board.
The Shape of Water
"The Shape of Water" is a movie driven by its beautiful themes of friendship, love, and suffering. This movie has been nominated for an incredible 13 Oscars, the most nominations this year. It scored a Rotten Tomato of 92% and an IMDB of 7.9.
Directed by Mexican film director Guillermo del Toro, this movie has many ties with his also greatly acclaimed movie "Pan's Labyrinth" which is also a must-see.  The movie stars Sally Hawkins, Doug Jones, and Octavia Spencer.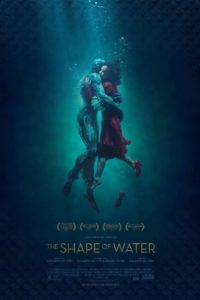 As IMDB puts it concisely, "At a top secret research facility in the 1960s, a lonely [mute] janitor forms a unique relationship with an amphibious creature that is being held in captivity." The story talks about this surprising and odd relationship between two characters who ultimately feel and bond together because of their social circumstances.
The movie has a startling message about how we fill the voids in our life and about being unfulfilled as people. It shows how even the most unexpected of relationships can form and that love is transcendent and universal.
Dunkirk
"Dunkirk" is the movie that many of you have probably already seen as it is directed by one of the best film directors of our time, Christopher Nolan. It scored an IMDB of 8.1 and a Rotten Tomato of 92%.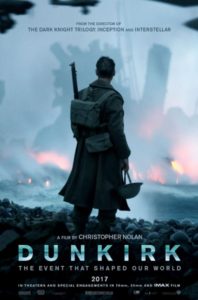 From the director of Inception, the Dark Knight, and Interstellar, Dunkirk does not meet the expectation of the movies Nolan made before but still is a memorable and incredible film to watch. The movie stars Harry Styles, Tom Hardy, and Cillian Murphy as leading roles.
The setting of this movie is historical and set in WWII. It is set "In 1940 with  Germany advancing into Northern France, trapping Allied troops on the beaches of Dunkirk. It is a movie about the race against time and the need to get the troops out of France before the Nazis arrive to kill them all."
This movie is in the moment and looks completely authentic and feels so incredibly real that it dives the audience into the beaches of France with the scared soldiers.
Lady Bird
Released on November 10, 2017, "Lady Bird" has been equally praised by audiences and movie critics alike. With a Rotten Tomato of 99 % and an IMDB of 7.9, "Lady Bird" proves its watch-ability with 5 Oscar nominations in total.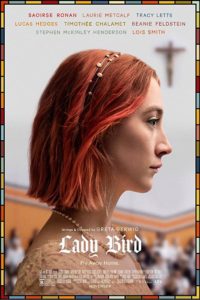 Directed by Greta Gerwig, known for "Jackie" and "20th-century woman," the movie stars Saoirse Ronan and Timothee Chalamet (nominated for Best Actor) for the leading roles.
Of the Comedy/Drama genre, "Lady Bird" is a film about "An outspoken teen [that] must navigate a loving but turbulent relationship with her strong-willed mother over the course of an eventful and poignant senior year of high school."
It's not the typical Coming of Age story as it is not an obvious romantic love story. It's a love story about mother and daughter and how the two of them are so drastically different.
It is a very well-acted movie and comes home for its realistic portrayal of how many of us live our lives with our parents and our sometimes awkward shift to becoming adults.
Get Out
The only Horror movie in the Best Picture category, "Get Out" has impressed movie critics and audiences alike because it is famed comedian Jordan Peele's debut in the movie production. It scored a Rotten Tomato of 99% and an IMDB of 7.7.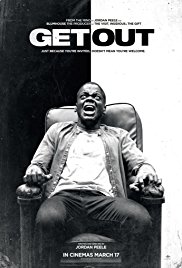 Jordan Peele, known for hilarious duo "Key and Peele", amazes everyone by his first movie, "Get Out". The movie stars Daniel Kaluuya, Allison Williams, and Catherine Keener.
Filled with twisted scenes and suspense throughout the movie, "Get Out" is a story that connects and points out the scary existence of many racial issues still occurring in this country between black and white people.
The story is about an inter-racial relationship between a black man and a white woman who are going to meet the girlfriend's parents. It is not till after that the ambiance leads to a horrible nightmare.
It is a good horror movie with many humorous scenes that help balance out the seriousness and comedy.
Call Me by Your Name
Call me by your name might just win the best picture for its incredibly real feeling of closeness to the audience and its incredible performances. The movie received an IMDB of 8.3 and a Rotten Tomato of 96 %.
For Italian film director Luca Guadagnino, this is the firs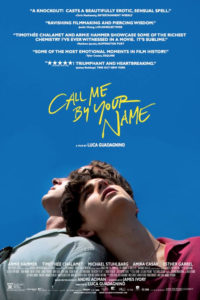 t time one of his movies has received so much praise and recognition worldwide. The movie stars Armie Hammer and Timothee Chalamet whose serious acting debut landed him with an Oscar nomination for Best Actor at just 22 years old.
The plot takes place in Northern Italy in 1983 and portrays the story of a seventeen-year-old Elio who begins a relationship with visiting Oliver, his father's research assistant, with whom he bonds over his emerging sexuality, their Jewish heritage, and the beguiling Italian landscape.
This coming of age story is so moving and beautiful as the dialogue between the two actors seems so real and close to daily life that many deem this movie as the best of 2017. This love that the two characters have for each other in the Italian summer shows how fast and beautiful an Italian summer can be.
Phantom Thread
Phantom Thread is also a movie that few people have actually heard of. It boasts great reviews with an IMDB of 8.3 and a Rotten Tomato of 92%.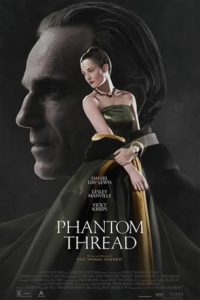 Made by American Paul Thomas Anderson, this movie features acclaimed actor Daniel Day-Lewis and Vicky Krieps as the two main protagonists of the story that unfolds in the post-WWII UK.
This story is about how Daniel Day-Lewis, a distinguished dressmaker from England, becomes more romantically involved with his muse played by Vicky Krieps. Eventually, problems brew as both their work and romantic relationships coincide and clash.
The movie is a very piercing look at the way an artist with a very straightforward narrow mentality has a difficult time accepting others into his life. Daniel Day-Lewis performs yet again an incredible character and does not disappoint in this movie.
Darkest Hour
If you want to know more about how Winston Churchill helped Britain in it's role in WWII, this movie is for you. "Darkest Hour" received an IMDB of 7.4 and a Rotten Tomato of 86%.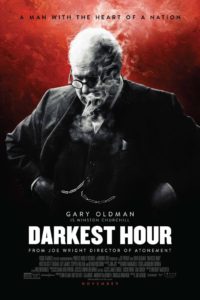 Directed by English film director Joe Wright, the movie stars talented Gary Oldman portraying Winston Churchill and Lily James.
As explained by IMDB, "Winston Churchill must face one of his most turbulent and defining trials: exploring a negotiated peace treaty with Nazi Germany, or standing firm to fight for the ideals, liberty, and freedom of a nation. As the unstoppable Nazi forces roll across Western Europe and the threat of invasion is imminent, and with an unprepared public, a skeptical King, and his own party plotting against him, Churchill must withstand his darkest hour, rally a nation, and attempt to change the course of world history."
This movie is interesting for all those who love history and are interested in WWII.
Credit attributed to:
 Washington Post Article: https://www.washingtonpost.com/news/arts-and-entertainment/wp/2018/01/23/oscar-nominations-2018-complete-coverage/?utm_term=.623a612bb0fa
Youtube Film Critic Chris Stuckmann: https://www.youtube.com/user/ChrisStuckmann
http://www.imdb.com/