Hulu? HBO? Amazon Instant? Any online instant streaming service pales in comparison to the mammoth Netflix. As of October, the company boasts an impressive 69,170,000 subscribers worldwide, 43 million in the US alone. Snagging nine Golden Globe nominations for original shows and films alone, Netflix proves time and time again their superiority in the competitive market.
Established in 1997 by Marc Randolph and Reed Hastings, the idea arrived after Hastings was forced to pay $40 in late fees for a copy of Apollo 13. It pioneered the flat fee rental concept, offering unlimited titles without due dates, shipping costs, or late fees. After the company delivered their billionth DVD in February of 2007, Netflix gradually transitioned towards the on-demand streaming concept which flagships their services today. One of their strongest assets is their extensive original content, released with both considerable speed and ingenuity. Instead of discussing the more established original shows like House of Cards or Orange Is The New Black, I will be focusing on the more recent content produced by the company in the last year.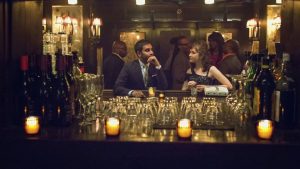 One of Netflix's strong suits is comedy, Aziz Ansari's newest show Masters of None a testament to their excellence in that genre. Cable television constantly struggles with discussing weighty intellectual topics and social issues. Masters of None excels in this area, blending main character Nev Shah's witty humor with difficult subjects like parenting, learning from parents and elders, social dating etiquette, racial and gender representation in media, and infidelity. Without the exaggerated persona of Tom Haverford, Ansari's true prowess as a comic and an actor transforms each scene into a masterpiece.
The website also broke ground with their first film release straight to the website Beasts of No Nation. The film stars Abraham Attah as Agu, an orphan who lives through a horrific civil war and becomes a child soldier. Portraying horrifying and desensitizing content, the viewpoint of an adolescent puts the viewer through a wide range of emotions. Star talent like supporting lead Idris Elba showcase Netflix's ability to garner big name actors and be taken seriously as a production company. The film's groundbreaking nature presents several difficulties, like how to equate essentially contrary media on awards shows. By releasing the film in theaters, this hybrid model allowed for both participation in the performance seasons and easy access to viewers at home. Netflix plans to continue building upon these theatrical successes, teasing the Crouching Tiger Hidden Dragon 2 and releasing the comedic Ridiculous 6 this week alone.
Finally, one of th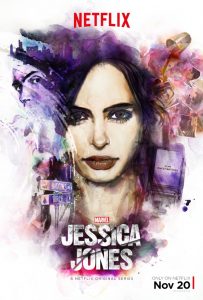 e company's strongest assets is their exclusive relationship with Marvel. Producing a TV show for online streaming overcomes a lot of sensitivity barriers and allows for greater creative liberties. Daredevil stars rookie defense attorney Matt Murdock, whose lack of sight only strengthens his capability to enforce justice. The show took a darker and more risqué look at the superhero genre, appealing to a much wider audience than the typical comic book reading demographic. Another Netflix original, Jessica Jones portrays superpowers in an entirely new way. Diverging from the ostentatious shows of strength the Avengers or X-Men display, Jones utilizes her super strength and flight as tools to inhibit crime. For the first time, a TV show focused on the life of a female superhero trapped in the perfect dichotomy, possessing unbelievable power yet weakened by her troubled past. Her love interest Luke Cage appears throughout the show, his unbreakable skin and super strength helping Jessica throughout countless dilemmas. In his own Netflix show, soon to be released, Luke Cage leaves the action packed Hell's Kitchen in favor of Harlem, where Cage sorts out his life as a fugitive of the law. The final show, Iron Fist, will put the company's choreographing skills to the test as chi wielder and master martial artist Daniel Rand uses his abilities to fight crime. All four heroes will join together for the ensemble show of the century entitled The Defenders, combining the powers of each superhero into an Avengers-esque power team.
If you're searching for a quality tv show or movie in Netflix's enormous catalog this winter break, the best place to start would be Marco Polo. A gripping and action-packed period drama, the show's depiction of Khanate politics with historically accurate race depiction, costumes, and setting went by largely unnoticed by most site users. With the unofficial date for Season 2 set in spring of 2016, what better time to check out this bloody and innovative series then when snuggled up with a cup of hot cocoa and family. However, if a lighthearted comedy sounds more appealing, my vote definitely goes to Masters of None. Unafraid to be honest about largely unspoken of issues, Ansari's consistent growth with each new show makes the ten episode series a must watch. Although many online streaming sites may offer similar features, Netflix's steady stream of groundbreaking film and television ensures the company will domineer for decades to come.