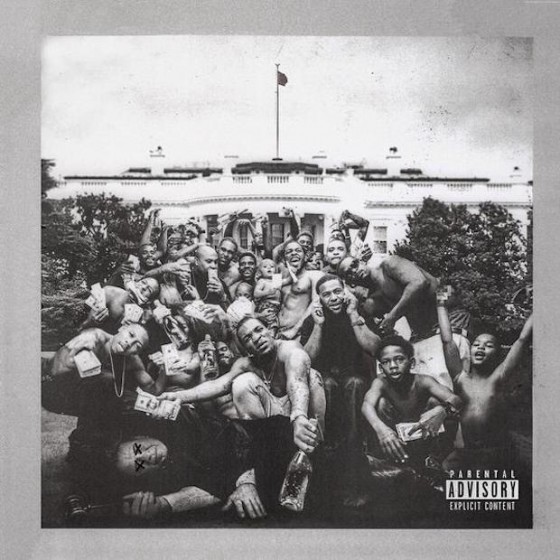 Kendrick Lamar
To Pimp A Butterfly Album Review
Top Dawg/Aftermath/Interscope Records
Released March 16th, 2015
Genre: Conscious Hip-Hop, Jazz Rap, Funk,
Rap has become a culture that has a very distinct divide between fans. There are fans of the genre that only like boom-bap style beats, thick New York accents and songs about fake MCs. Others want newer-sounding, more electronically affected music. Kendrick Lamar is one of those rappers that appeals to both of these groups of fans without necessarily catering to their aforementioned interests. He has both mainstream appeal and "old-head" appeal, due to his penchant for writing sometimes catchy songs, but almost always delivering a deep message. To Pimp A Butterfly is easily his most dense and complex effort yet.
Kendrick deals with more themes than a Charles Dickens novel and is more honest yet clever in his delivery than ever before. From the odd sample at the intro to "Wesley's Theory" to the unforgiving attack on gold-digging on "For Free" to the evisceration of ineffective political intervention on behalf of the American black man, he spits more than a resident of Rock Bottom from Spongebob. This isn't a concept album in the same way his last effort, good kid, m.a.a.d. city, was, but it's still topically focused throughout. This thematic aspect allows Kendrick free reign to experiment with flows and beats to change it up for the listener, still delivering harsh truths throughout.
To Pimp A Butterfly is a combination of a love story, a racially charged biography and drama. The love story comes through when Lamar describes his love for his craft, as well as his troubled relationship with "Lucy," a character that appears throughout this album that represents the evil in the world (Lucy = Lucifer.) Kendrick also goes IN on political issues, calling out bigots, especially politicians on the song "Hood Politics." He compares Democrats and Republicans to Crips and Bloods, which is a line that, I assure you, will be often quoted on Twitter for the next few months. He ties in the issue of race, saying politicians "give us guns and drugs, call us thugs," reminding everyone of one of the sources of struggle for black people in America. This paragraph isn't even scratching the surface of all the topics he covers, not to mention the depth to which he explores these topics.
Kendrick isn't the only one whose contributions make this project incredible: every single instrumental is amazing. It's always exciting to hear jazz and funk weaved into contemporary music in a way that is sometimes fresh, a la Thundercat's bass contributions on "Wesley's Theory," and sometimes just a great throwback, like "You Ain't Gotta Lie (Momma Said), a blatant throwback to Tupac-style beats. Remember Tupac until the end of this album. He's more important than one might realize. Rapsody's guest verse on "Complexion" is a perfect complement to Kendrick's purposeful lyrical bombs.
Another's review of this album can't describe the depth, the complexity, the finesse of this album. It's true that I've merely skimmed the surface of this album in this review, and that is intentional. To Pimp A Butterfly is also meant to generate discussion. So take amongst your friends about the themes, the social issues, the music, the flow, the concepts, or the story. Or talk about how it is to listen to a modern classic.
FAV TRACKS: ALL OF THEM
LEAST FAV TRACK: NONE OF THEM
SCORE: (9.5/10)