Last month, over seven years since the last entry in "Tha Carter" series by prolific rapper Lil Wayne and three years since his last studio project, the New Orleans native released "Tha Carter V." After a four-year legal battle with his former label, Wayne dropped the album to much hype. The release date even made the notoriously egotistical Kanye move the release back of his next album, Yahndi. Wayne had fans like boxer Floyd Mayweather promote the album, so the hype around the record reached astronomical levels before it's release.
Even with all that hype surrounding the release, Wayne delivered. With beats to vibe to and fresh features like Kendrick Lamar's guest spot on Mona Lisa, the album is a solid entry into the series. Wayne brings great beats with him on nearly every track, and, for the most part, brings solid flows and lyrical genius.
Overview
The album, at 20 songs long, can feel a bit endless at points, especially on the more basic tracks like Used 2. The middle third of the record is the best section with bangers like the previously noted Mona Lisa (my favorite track) and Hittas. This section has the most airtight features like the aforementioned Kendrick feature and Travis Scott's part on Let It Fly. The first third is somewhat of an ode to Wayne's mother, who lends her voice on the spoken track I Love You Dwayne, the record's most heartwarming track.
The final third of the album is a little confusing to me, however. Wayne switches up the story from being about his mom to about his life as a gangster. Then, it transitions into a set of eight songs about love and it just doesn't work. In that set, the low point is Perfect Strangers, a perplexing track that doesn't really gel with the rest of the records overarching narrative.
While the album isn't quite at the same level as Tha Carter III, it's still a great entry. At this point, I don't feel there is much Lil Wayne can do to detract from his legendary status as one of modern rap's biggest figures.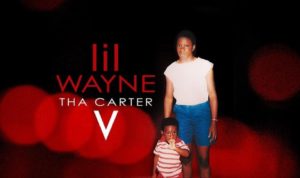 Final Stance
This album is definitely a must-listen. It's perfect for anyone who listened to the first four entries in the series, but also for any general rap fan. This record isn't one that's going to get a non-rap fan into the genre however. Lil Wayne's The Carter V is packed full of great beats, references to make you think (or laugh), and just overall greatness.
Must Listens: Mona Lisa, Hitttas, Let It Fly, Dope New Gospel
Skip: Perfect Strangers, Used 2, Mess
Best Lyrics:
"Man I heard the truth is hard to swallow, do you have cups?" on Hittas
"What's that you said? Watch your mouth Milli Vanilli // [She] ain't no angel, I treat her halo like a frisbee," on Mona Lisa
Score: 4 out of 5 microphones
You can listen to The Carter V here: