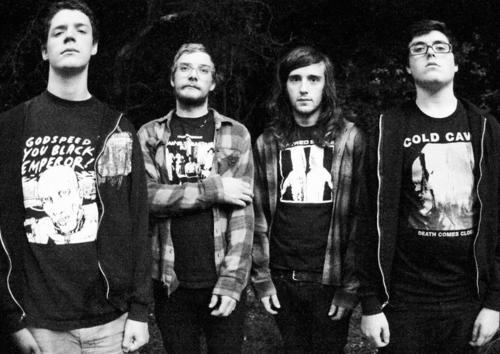 Above the checkered-walled unisex bathroom in Webster Hall in New York City, neon signs provided the sole source of light in a dark bar. The place looked abandoned, almost completely vacant and very gloomy. It's macabre tone weighed down on the eyelids of Dylan Walker, vocalist of Full of Hell, noisy patrons of "artsy grind core." The band closed out 2014 with a bang, releasing the well-received Full of Hell and Merzbow collaborative LP. Full of Hell shows no signs of slowing down, evident by the fact that it's January 2nd and they're playing at the largest venue they've played in the United States, opening for Bostonian legends American Nightmare.
"I've been listening to American Nightmare since I was a kid," the singer said. He also hinted at more 2015 plans, saying, "We're gonna tour a lot, release more records, go to new parts of the world."
After finishing a set that closed as bombastically as 2014, and witnessing his friends in Code Orange rip Webster Hall a new one, Dylan sunk into a seat next to my equally-tired cousin Brendan and me. The way we positioned ourselves was akin to a therapy session, Dylan staring at the ceiling, Brendan and I looking inquisitive.
"My mom and dad were into punk," Dylan revealed, "Bad Brains, Ramones, Sex Pistols…I kept digging into punk, and I had friends in my 
hometown [that were into it.] That's probably where I got into extreme music."
He delved deeper into his history with extreme genres: "I listened to a lot of bands on this label when I was a kid called Hydra Head Records. There were bands like Daughters, Godflesh and Discordance Axis…That label put out a lot of weird bands."
Hydra Head, as well as his hometown scene and other artists, influenced Dylan to eventually join Full Of Hell: "There was this band in my hometown I saw when I was like 12. It was a metal band that has this sound kinda like Cryptopsy. It was like a weird mix between slam and technicality… I didn't think that kids could make that kind of music. And then I was hooked on metal."
The extreme acts he later encountered due to his newly found obsession with metal especially inspired his musical journey. "Full Of Hell is a tribute name to an Entombed song," the vocalist told Brendan.
While the Entombed song focuses on being literally "full of hell," Walker's band takes a different philosophical approach. When asked by Brendan about the main motif in his music, Dylan replied that "through all the horrible images we use, the main thing is to respect life…just all life. I try to live my life with respect for the world." Full Of Hell has never been a band to shy away from complexity, so the dichotomy between the invasive and unsettling noises they produce and the peaceful undertone helps them to define themselves as a band.
Full Of Hell also differentiates itself through its musicality and live shows. The intensity is too otherworldly to warrant moshing for some crowds, and that's just fine with Dylan: "If I was watching a band like Full Of Hell I would want one gigantic aural experience. Maybe not like something I could pit to…but like a real artistic expression…if it's like a hardcore punk band, I wanna pit, I wanna feel whatever it is they're singing about."
Contributing to the experience as a concertgoer is part of the fun for Walker, possibly reminiscing over his pre-teen years at street punk shows: "It's fun to be a part of the show, that's the cool thing about punk. There's no divide between the band and the crowd. Nobody's above each other."
Dylan predicts that 2015 will be a big year for other bands besides his own. "Code Orange," the singer initially mentioned. "I think anyone can say that they'll do well. The Body will do really well," he said. He believes that extreme music's quality is going on an upward trend, with the future destined to provide more innovative bands. "People that complain about the internet ruining things are morons," the singer unabashedly declared, "there's more bands doing interesting things now than ever."
The therapy program is over. There were no problems to diagnose in the first place, but there was a story to be told. Full Of Hell/Merzbow is out now and is a must-listen.
[soundcloud url="https://api.soundcloud.com/tracks/167070841″ params="auto_play=false&hide_related=false&show_comments=true&show_user=true&show_reposts=false&visual=true" width="100%" height="450″ iframe="true" /]