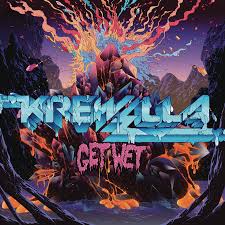 Krewella
Get Wet Album Review
Columbia Records
Released September 20, 2013
Genre: Electro House, Progressive House, Dubstep, Drum & Bass, Drumstep
Get Wet is a masterpiece.  I expected a lot of Krewella through the Party Hard EP and the sneak peeks they released in the weeks leading up to the album release, and then they streamed the album on SoundCloud, and that was the moment I fell in love.  From start to finish, Get Wet is a journey through the amazing group that is Krewella.  As Jahan (one of the three members of Krewella) puts it, "[Krewella has] carefully crafted every lyric, instrumentation, song order, and nurtured this album like it's our new born baby".
Many people are used to the all-out and upfront nature of Krewella displayed through their earlier music, but this album displays every dimension of the trio.  The themes of partying and prodigality that are associated with the trio are still there, but there is a new, deeper feeling present in this LP.  Songs like "Human" and "Enjoy the Ride" take the listener off the usual wild vibe of Krewella's music with sentimental chords and meaningful lyrics.  Now, although there is a certain necessity for a dynamism in their music, if you come for Krewella, you come for a party, and this first album from them doesn't disappoint.  From start to finish head-bobbing is a must, and at many points it's hard to stay in your seat and resist jumping up and down with abandon.
As if to perfect the album, they cut the fat from their earlier EP, only allowing the best songs into Get Wet.  Barring their cut of "Play Hard," they did a perfect job in only allowing the premier songs into their album.  The Krew's song selection couldn't have been better.  From their classic drum & bass style, they expand to big-room style house, hardstyle, and more progressive house (though some accuse them of "selling-out").  This LP is an amazing step forward for them through still staying with the classic Krewella style, but also having a new vibe that has me excited for the future for the group. The only complaint that I would have with this album would be that some of the tracks do not fully transfer the energy from the previous songs in a unifying manner.  The songs "We Are One" and "Lights and Thunder" have elements that don't seems to cohesively fit in the mesh of the album, and therefore are a slight detriment to the LP as a whole.
"Get Wet is clearly just BOOM… in your face, that's how many people take it. But how I want people to take it is in a different way. You're getting wet, you're jumping in, like when you jump into a pool wearing all your clothes, you're just letting loose, you're just kind of letting go, you're doing something you've never done, you're being free, you're being a kid no matter how old you are." – Yasmine Yousaf.
If you aren't a fan of EDM or a seasoned veteran it is hard to hate this album.  Get Wet today and listen to this amazing album.
Fav Tracks: Live for the Night, We Go Down, Enjoy the Ride, Human, This Is Not The End (ft. Pegboard Nerds)
Worst Track: Lights and Thunder
Score: (9.4/10)