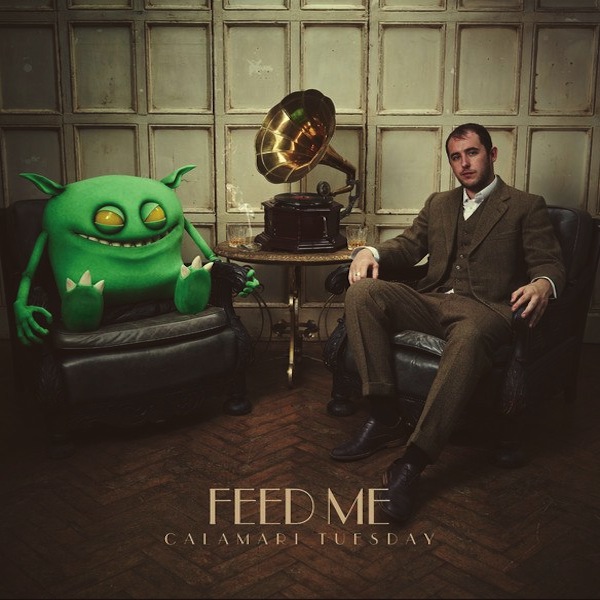 Feed Me
Calamari Tuesday Album Review
Sotto Voce
Released October 14, 2013
Genre: Dubstep, Electro House
Feed Me has recently released his second full length LP, which is surprising considering all of the music that he has produced.  Nevertheless, the standard that Jon Gooch has set over the last few years is definitely maintained in this album; he continues a tradition of high quality productions and truly takes a positive step forward in his production career. He did not back down with this album, and even with all of the hype, the album impressed me greatly.
His album addresses more genres than his music traditionally has in the past, with Feed Me's Escape from Electric Mountain and Death by Robot, which primarily has a more dubstep-esque feel with an electric-house style on the side.  In this album, he really shows us more shades of what his production style is and what it has the potential to be. Gooch dabbles in a light trap with the track "Rap Trap," which would impress any fan of the sub-genre, and in "Chinchilla" Gooch displays his skill in a sort of deep bassy complextro.  Despite this deviation, he does stick to his guns with bass that definitely doesn't leave anything to be desired.  Despite the positive aspects of the album, the opener "Orion" is rather lackluster, not exactly enticing the listener to explore the rest of the album upon its completion.  Similarly, the track "Dazed" really isn't that exciting of a track and doesn't add much of a positive light or contribute to the album as a whole.  Some of the album feels a little awkward with the middle of the album not really carrying the energy found in the tracks flanking it.
I am truly excited by what the British producer has in his future with this release.  This is a straight-up quality album that flows well between each of the tracks.  He defines himself with this album and shows the listener what Feed Me is truly capable of. Gooch, in the days leading up to his album release, expressed his distaste for the DJing lifestyle, disclosing that he primarily intends to produce music instead of traveling to entertain live audiences, and personally, I am fine with that direction. I'm not a huge fan of seafood but I'm liking the sound of Calamari.
8.8/10
Fav: Ebb & Flow, Death by Robot, Rat Trap, Love is All I Got, Short Skirt
Least: Orion, Dazed