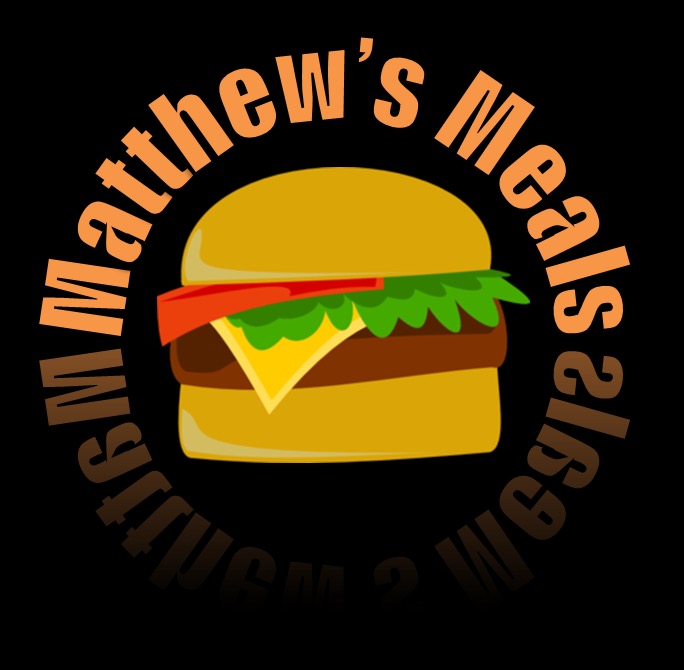 **In the land of Dallas where meat lies
One Rib to rule them all, One Rib to satisfy them
One Rib to bring them all and the Lodge fill them.**
Now, anyone from a hungry office worker in downtown Dallas, to a wandering hipster in Deep Ellum, or to the barbecue enthusiast (basically anyone) who enjoys Dallas food knows or needs to become acquainted with Pecan Lodge.
With a nontraditional start of leaving their corporate jobs, Justin and Diane have honored their family's cooking traditions to serve the Dallas Metroplex, and since then the barbecue landmark has been serving hungry customers since 2010 and has quickly risen through the ranks to become one of the best pits in Texas.
In this article, I will outline and review my experience with Pecan Lodge, as well as provide some tips on the crowds and my personal opinions on what one should get. For more photos and review check out @matthews_meals on Instagram.
The Meal (Three Meat Plate)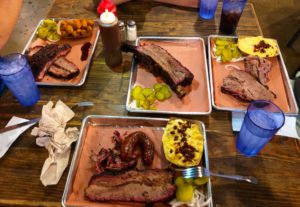 The Pulled Pork
Ah, pulled pork, a cornerstone of any good barbecue experience. Safe and reliable, your warm embrace soothes my hungry stomach for the main events to follow.
And Pecan Lodge follows suit. Their pulled pork, while tasteful, only serves as a stepping stone of the meat that is to follow. In my opinion, the Lodge has done well in cooking the pork just right to offer the best taste, without drying it out or leaving it raw. Justin and Diane choose not to embellish the meat with superfluous additions or abnormal cooking methods because the process speaks for itself with the pulled pork acting as an example of their passion for barbecue, making it a dependable choice for any visit.
All in all, a very dependable choice, but comes close to last in my selection list.
The Handmade Sausage
Now, before I get too far into this description, understand that I am a sucker for sausage. Wait, that does not sound right… I love sausage meat. Nope that is not any better. Well, I am just going to hope that you get my point.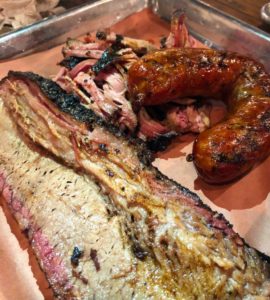 Just like their pulled pork, you can never go wrong with the Homemade Sausage at Pecan Lodge. It packs a lot of flavor and blends perfectly with the other meats available. Also, the snap factor (the force required to break the skin of the sausage, making the *snap* noise) is just perfect, marking the sausage as cooked by those who know what they are doing.
The sausage remains as my number two choice for my meat combo picks. However, my one complaint is that Pecan Lodge only provides one link of the sausage with the meal which usually tends not to last the duration of the course because of the small amount.
The Brisket
I am not going to say that everyone should always get brisket when enjoying barbecue… but everyone should get brisket when they enjoy barbecue. It is the most iconic staple of Southern meat cooking and industry and is the first thing I am interested in with new barbecue restaurants.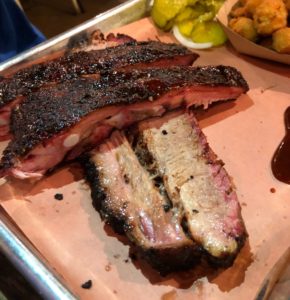 Pecan Lodge refuses to hold back with its brisket. Its lightly-tanned center remains rich in taste, outlined by a beautiful smoke ring on either side, joined by a lovely strip of fat intertwined with the entire length of the cut, not only adding a new level of taste to the meat but also showing the skill of The Lodge's smokers to effectively cook the meat without drying out the fat. This exquisite harmony of meat and fat is further heightened by the charred crust, embedded with the smoky taste of the fire.
As I said, brisket is a must for any barbecue outing, and Pecan Lodge does a fabulous job of producing consistent, flavorful cuts, which is why it is my number one choice for the meat combo.
The Beef Rib – The Showstopper
So, I have said a lot of nice things about Pecan Lodge in this article. I have complimented their meat selection and the overall passion that they pump into every cut, but none of that matters. Now, we are left with the only thing that matters, the Beef Rib.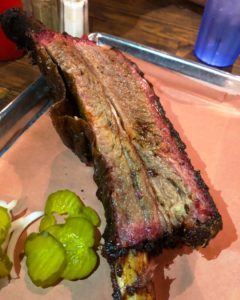 A large, cooked bone extends through the underside of the rib. Encasing the heavenly package, the crisp, black char acts not only as a reminder of the precise flames used to embed the rib with unique and magnificent tastes. Just inside of the awe-inspiring crust, the soft pink of the smoke rings cradles the lightly-tanned meat center in a loving embrace.
I can only say so much to attempt and convey the absolute blissful taste this beef rib possesses through an article and fancy words. So take these words of praise for this masterpiece. This beef rib surpasses any sort of inconvenience for getting it, any wait or any price. It melts like butter once eaten because of its masterful cooks and quality of meat. This one dish, despite the quality of everything else, is the showstopper. One can even say that this magnificent epitome of human culinary skill and knowledge, at least in my opinion, serves as the pure Platonic Form of beauty and divine taste. It is that good.
Overall Review
The barbecue at Pecan Lodge is much better than average. Justin, Diane and the cooks put in the effort to ensure that quality. However, the pulled pork, the homemade sausage, and the brisket only remain that, above-average. (Sadly, I can not speak about the pork ribs because I did not have any last time I went, but I do not remember anything bad about it from other times.) I believe that it is the beef rib that gives Pecan Lodge its notoriety in barbecue lore. If you go and do not get the beef rib, it is a wasted trip.
Pecan Lodge is most definitely a part of not only Deep Ellum culture, but also Dallas'. It has done its part of rising through the ranks to gain the respect it deserves. And despite my opinion, it consistently remains some of the best barbecue in Dallas and Texas. All should dine here, as long as you get the beef rib.
Advice
Here is some additional advice about dining at Pecan Lodge.
Pecan Lodge will likely have a line out the door any time of day.

Avoid this by showing up 30-15 minutes before opening (only closed on Mondays)

The beef rib runs out extremely quick

Avoid wasting a trip by also getting there early

This place is most fun enjoying it with a few friends
With a few friend, y'all can buy The Trough, which is five pounds of meat (including a beef rib) for $75

Also, there is a special counter just for Trough orders, so this is another way to avoid the line

Be prepared to pay with a card

It is easier than dishing out with a lot of cash
Certain meats (like the beef rib) vary on the price depending on its weight
Check back to the Roundup for more Matthew's Meal's reviews in the future!