The inclusion of burgers in American culture runs deep; nothing is more iconic in the American diet. Some find that notion to be worrying, but to me, I find it to be beautiful. They are a staple of celebrations, the main dish of a cookout, or the pathway to a solid nap. And with this integration, burgers vary drastically from table to table, offering a wide selection of differing tastes and qualities.
In my freshman year, I became a "foodie." So much so, I made an Instagram food account (@matthews_meals) to display my journey through the Dallas food network. Since then, I have visited many different restaurants and tried new foods. However, burgers have always made an appearance on Matthew's Meals, yet the average burger for a high school budget, or any budget for that matter, is taxing.
In this article, I will outline a few cheap burger joints in Dallas, ones that are easy on the wallet (not on the heart) but don't sacrifice quality. While this list is not a ranking, if anyone feels that there are inaccuracies, feel free to discuss your point of view with me; I will happily defend my reasoning. In addition, if anyone has any suggestions for other restaurants, come up and share them with me during school; I always look forward to new places.
Keller's Drive In – The "No. 5 Special"

In Dallas, no conversation about cheap burgers can be had without the mentioning of Keller's Drive-In. Just passing by on Northwest Highway and Abrams, the worn, metal awnings and centerpiece brick building seem ordinary; Keller's is anything but. Their astounding night-life, iconic neon sign, and, of course, the burgers, place this drive-in as a essential Dallas landmark.
For over 50 years, Keller's has been serving their old school menu, and they have certainly gotten damn good at it too. At $2.89 (yes, you read that correctly), this staple of Dallas food culture serves up a double-meat burger with cheese, lettuce, and tomato with their special dressing drizzled on top, served in their signature pressed poppy seed buns.
The graceful blend of special dressing and dual patties stand out most in this burger. Their combination creates a smooth texture of dressing and meat that carries on from first to last bite. And let's not forget about the other contributors. With this expert mixture, the poppy-seed buns melts into the combination, providing a enjoyable taste of dough. As for the cheese and lettuce and tomato, these participants at first make thier presence known through a short period in the spotlight, but quickly fade as the main act enters the stage.
And remember, this is no ordinary restaurant. When you pull up, do not make the usual mistake and get out of you car, and more importantly, never go into the actual building. That is a crime comparable to several Class-A misdemeanor and very embarrassing. 
Adair's Saloon – Cheeseburger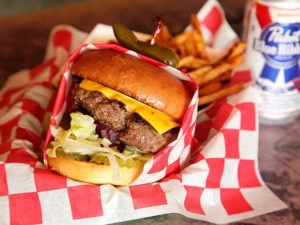 This icon of Dallas dive bars has endured at their Deep Ellum location for more than 30 years, and it shows. Once you walk in, decades of people greet you through the graffiti plastered across the walls, ventilation, and ceiling, names of hundreds of customers making their mark. Against the wall sits a working juke box, blaring classic rock. And in the kitchen, Adair's culinary mastery perpetuates from their cheeseburger.
As a quick note of advice from me to you, I want you to take whatever you knew about a regular ol' cheeseburger and promptly forget it because Adair's redefined my definition of a thick patty burger.
At $7.50, this burger features a 1/2lb patty that is sweetly tucked in by a comforting layer of American cheese lying on a bed of red onions and lettuce, all enclosed together with a delicious bun. The patty itself is show-stopping; it is cooked to perfection, offering the essential meat flavor requisite for a quality burger. And, the blend of cheese, onions, and lettuce stack onto that, creating a unique balance of texture and taste.
Angry Dog – The Burger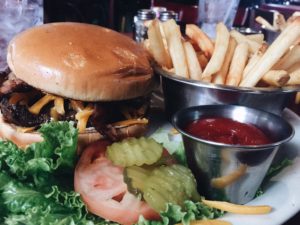 Now, don't let the name fool you. The Angry Dog family is one of the friendliest establishes on Deep Ellum. Open since 1990 at their Commerce Street location, the Angry Dog Pack strives to provide a simple goal, to make some good food. And on my word as a burger lover, they have achieved that, and then some.
Although being one building and a parking lot down from Adair's, Angry provides its own special signature to the Deep Ellum culture. Inside, high ceilings allow for a spacious feel to the restaurant, but once you look down, dozens of tables fill every nook and cranny with dedicated staff bustling about in an almost beautifully chaotic manner. Also, the kitchen at the back of the restaurant never ceases to produce delightful aromas of burgers, hot dogs, and other grilled meats.
At $9.95, this half-pound of ground beef with mustard or mayo, served with raw or grilled red onions, lettuce, tomato & pickles on the side, satisfies any hungry food-goer completely. Not only has this burger been attributed as one of "D's Best" by D Magazine, but it also justifies its achievements with every bite. While Adair's cooks astounding patties, Angry Dog constructs a burger in which all the ingredients work equally with one another, exchanging their own flavors as well as a pleasant mixture, to make exactly what the Pack desires, a quality burger.
Del's Charcoal Burgers – Del's Special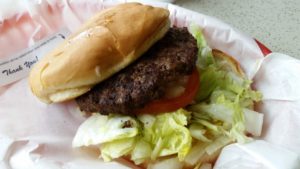 Del's Charcoal Burgers, in my opinion, is the hidden gem of Richardson. Quiet and quaint, Del's embodies the archetype of extraordinary local burger establishments. While out of the way for most in Dallas, it is always worth the drive. Marked by its emblematic sign, Del's sits politely on the corner of South McKinney St. and West Polk St. Inside the small establishment, guests are greeted with friendly faces behind a faded red-brick counter and a vintage menu hanging from an archway. Along the walls, tokens outline the experienced years of business, ranging from old pictures to a life-sized poster of John Wayne frozen in his signature dueling stance.
Coming in at $4.45, the Del's Special is both ordinary but unparalleled. It features an old-style grilled quarter-pound patty (with cheese as a possible add-on), lettuce, tomato, pickles, onions, and mustard. Del's Special combines classic American ambiance and flavor. While the busy world of Dallas rushes nearby outside the door, Del's Charcoal Burgers lets you enjoy the simplistic feel of a small town, if just for a little while.
Simple and easy to eat, this burger requires no embellishments, just an open soul. 
Burger House – Double Cheeseburger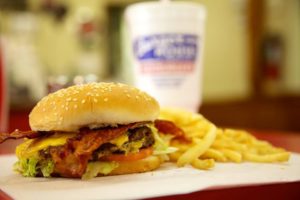 As for Burger House, we go way back. Every half-day at St. Thomas Aquinas, I used to walk to the nearby Mockingbird location. We will just leave it at that I have spent an ungodly amount of my parents money going there back in my middle school days. But Burger House has been around far longer than I. This small chain has been serving an extremely loyal fan-base starting in their small Snider Plaza location since 1951, and ever since, Burger House holds on tightly to its original roots, creating fresh old fashioned burgers.
Sitting strong at $6.49, American entrees cannot get more classic than Burger House's Double Cheeseburger with bacon. Being a traditional burger establishment, the burgers range on the smaller size, but this meal provides the perfect filling sense and taste to the average high school student. Its inclusion of fresh ingredients highlights the variety of tastes within its sesame seed bun, while also emphasizing the strong taste of beef and bacon. However, as any veteran customer would know, the Burger House experience is not complete without a side of their fries covered with their renown seasoning salt. Those themselves are a solid reason to come anyways. In addition, I find that the handmade milkshakes contribute a soothing sweet flavor to the saltiness of the meal, balancing out the entire experience.