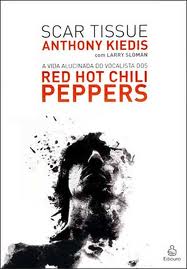 "Under the bridge downtown is where I drew some blood/Under the bridge I could not get enough/Under the bridge forgot about my love/Under the bridge I gave my life away."
Perhaps no other set of lyrics that Anthony Kiedis—the lead singer of the Red Hot Chili Peppers—wrote is as insightful or powerful as this set here. These lyrics, excerpted from the song "Under the Bridge," express what Kiedis considered rock bottom during his years of drug addiction.
His whole body itching for heroin, Kiedis was forced to enter territory under a bridge in downtown Los Angeles belonging to a Mexican drug cartel. To purchase the drugs, Kiedis had to convince the gang members that he was engaged to a sister of another member of their gang. If he hadn't been so persuasive, Kiedis surely could have been killed on the spot.
Reflecting upon this moment, Kiedis wrote this song to demonstrate the level he was willing to sink in order to feed his addiction; he wrote Scar Tissue to bring to life the trials and hardships of a recovering addict who is constantly in and out of rehab. This #1 New York Times bestselling autobiography is as "thoughtful, candid, and entertaining" as any other book imaginable (GQ).
It is no surprise that Anthony Kiedis became a heroin addict. At the young age of twelve, Kiedis went from living an ordinary American boy's life with his mom and stepdad in Michigan, to living with his drug-dealing dad in Hollywood, California.
Determined not to be as hard on his son as his father was on him, Kiedis's father set no rules for his son. He even provided his son with his first drug experience during Anthony's first summer in California when Anthony smoked his first joint. Pretty soon, the twelve year old boy was seen out in the middle of the night at bars and nightclubs with his father and his father's drug addicted friends. Among these friends were Cher and Sonny Bono, who even looked after Anthony when his father would leave town for his drug business.
Eventually, smoking weed turned into snorting cocaine when Kiedis was still in middle school. Despite all this frequent partying and drug abuse as a young teen, Kiedis always received good grades and was more often than not at the top of his class academically.
Unfortunately, this academic success didn't keep Kiedis from being a menace to his teachers and vandalizing school property multiple times, as the book illustrates. Kiedis' life was "a life lived entirely on impulse, for pleasure, and for kicks" (Time).
An "absolutely phenomenal" read, Scar Tissue explores the roller-coaster ride of Kiedis and the rest of his band mates (newbiecritics.wordpress.com). It chronicles not only all the good times, but also all the hardships the band encountered, like the death of its lead guitarist Hillel Slovak due to overdose in 1988 and also the other drug addiction of many of the band members beside Kiedis. Nevertheless, by overcoming these obstacles, and many others, the Red Hot Chili Peppers were able to defy all odds and reach stardom.
Started in 1983, the Red Hot Chili Peppers revolutionized the music world, combining alternative rock with a mix of funk and punk rock and influencing a whole generation of musicians. One of the most successful bands in the world, the Red Hot Chili Peppers was inducted into the Rock and Roll Hall of Fame this past year. One does not have to be a fan of the Red Hot Chili Peppers to enjoy this book. One doesn't even have to like rock music. For anyone who is a fan of redemption stories, this is a must read book.