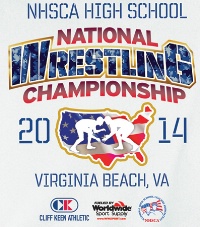 On the weekend of March 28-30, Varsity Wrestler Shane Ross '15 took a trip to the Virginia Beach Convention Center for the 25th annual NHSCA high school wrestling championships where 3500 of the best wrestlers in the country gathered to seek the elusive title of National Champion. In his division alone, the 120 pound weight division for wreslters in their junior year, there were 78 wrestlers, all of whom were the cream of the crop. In fact, four of the wrestlers in his division were three-time state champions.
In his first match, Shane wrestled against a wrestler from New Jersey with the title "the Beast of the East," Anthony Rubinetti, a Junior at Damarest High School in New Jersey. After 50 seconds of a hard fought and close battle, Shane attempted a kelly dump, a risky move because it places you underneath the other wrestler. Unfortunately, Rubinetti caught Shane's arm and was able to pin him, ending the match. Rubinetti went on to place 5th in the tournament while Shane bumped down to the consolation bracket. In the consolation bracket, Shane received a bye for the first round. After that, Shane wrestled another New Jersey wrestler, Zach Kovacs, a Junior from Parsippany High School. Shane was winning the match up until the last 10 seconds, when Shane was taken down. Unfortunately for Shane, this meant the end of his run at the tournament.
Although he was disappointed with his losses, Shane said, " it was a good learning experience. It was a tough tournament, but it showed me where my competition is." Shane also seemed pleased. Although he lost, he stated, "I was still competitive, and it shows me that I'm not that far off and that I'm up there."
Although he was unable to take home the national title, Shane has had an amazingly successful season this past year. With 35 wins and only 8 losses, Shane had the most wins on the team this season. Additionally, Shane had the second most team points with 206, right behind Nick Barker '14 who had 224. Shane also led the team in major decisions, take-downs, escapes, and 1st take-downs with 6, 93, 41, and 36 respectively. In fact, Shane was only pinned one time during the entire season.
Head Coach Ryan Menard had this to say: "All in all, I think that the experience out in Virginia beach was a good learning experience, and [Shane] shouldn't let it get him down because he's going to be a high commodity." Looking forward, Shane wants to go back next year, and this time, he knows what it takes to win. That being said, both Shane and his coaches see a bright future in his path. Coach Menard commented specifically that he believes that Shane "would be a great college athlete.. and he should have a lot of opportunities. In fact, I'd be very surprised if you see very few if any losses in the state of Texas next year."
Agreeing with Coach Menard, Assistant Coach Tony Brown, who accompanied Shane to the tournament, also sees a bright future for Shane. In an interview, he stated that "he's an extremely competitive kid, and I love that competitiveness." Coach Brown went on to say that despite these losses, he has had a great experience, and "he's going to be a better wrestler because of it."
Shane mentioned that for now, he is going to focus on getting more experience by going to the local freestyle competitions. Additionally, Shane mentioned that he wants to get heavier for next year and that his main goal is to win the state championship.
When everything is considered, Shane has had a stellar season this year, and with his talent and dedication, there are no limits to what he can accomplish.