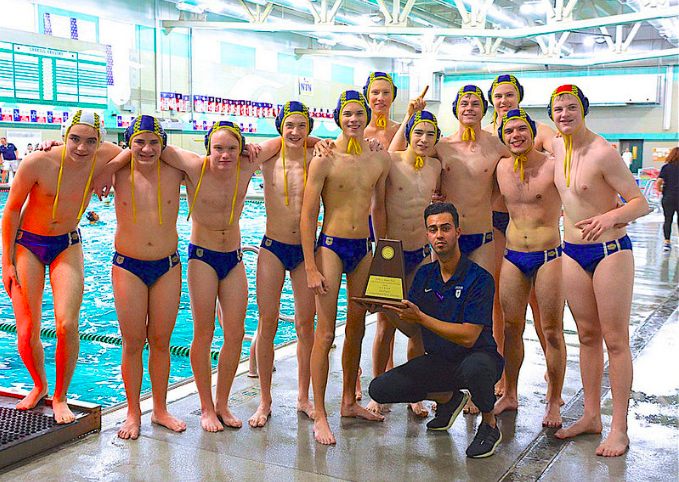 "Water polo is my life. Our relationship is that of predetermination. I'll never be better at anything than water polo and that is why it is my duty to pursue this sport as long as I can, and to the best of my abilities." (Tibor Benedek, three-time Olympian from Hungary)
Over the course of April, the Jesuit water polo team competed in the Rockwall Tournament on April 7, the Carroll Invite on April 14, and the Regional Championships from April 21-22.  To finish the season, the Rangers won the Regional Consolidated Championships on April 28.
Rockwall Tournament
In the final game of the Rockwall Tournament, Jesuit competed against and beat Rockwall 9-2.
Matthew Yerrington '20 commented on the team's performance and determination to win, saying that "throughout these few tournaments, we have learned from our mistakes through losses and even victories. Even though we [encountered] quite a few tough teams, we managed to put up some fight and stay [with] them."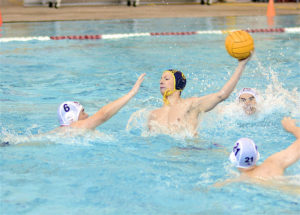 "This win was so big because Rockwall had beaten us in the previous week. The team showed great determination and passion in the final game and it was a great way to end the season on a high note," said Ryan Brown '20.
Carrol Invite
On Saturday, April 14, the Water Polo team played in two JV games against Carroll and Marcus, losing both with a close score of 9-8 against Carroll and 6-9 against Marcus.
Coach Joe Linehan discussed how the team had been practicing and working hard.
"Everyone had plenty of playing time this weekend and gained great experience. The hard work in practice is paying off in the games. There is still a lot of work to do this season both in practice and in the competitions," he remarked.
John Hibbs '20 discussed his view on the team's performance as a whole over this past season:
"I believe that the Jesuit water polo team had drastically improved since last years season. We have grown together as a team and are working to achieve our goals and improve our skills both individually and as a community. The team has gained many strong committed players this season who I believe will help us build on the success that we have accomplished this season. We have all improved throughout the season as we have continued to gain experience in every practice and in every game."
Regional Championships
In the North Regional Championships, the water polo team played two games, but unfortunately lost both.
Coach Linehan reflected on the team's performance at the Regional games:
"It was great to qualify for the North Region Champs which were challenging and allowed the athletes to play games and continue to improve. I was very proud of the effort the athletes played with this weekend."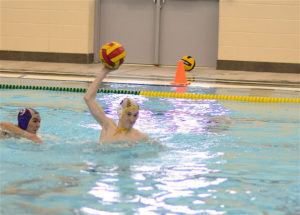 Hibbs commented on his own personal performance over the course of the season.
"I've been able to help many of the less experienced players improve and become the best they can throughout the season. I believe that I have become a better player, becoming more aggressive and willing to do anything in my power with my level of experience to improve the teams overall success. I am willing to do anything to help the other players on the team learn more, and hopefully become as passionate and energetic about the sport as I am."
Regional Consolidated Championships
"The team ended the season in great fashion…with THREE big wins and an even bigger first place trophy at the North Region Consolidated Champs in Southlake. Jesuit started off the day with a 15-4 win over South Grand Prairie. This put Jesuit into the semi-finals where we beat Braswell 16-4. In the Championship Game, the team beat Rockwall ISD, 9-2," said Coach Linehan.
He continued:
"It was a great season for Jesuit water polo! I am very proud of all of you for your hard work and dedication throughout the year."
Yerrington looked back at the entire water polo season, noting that, "I feel our team's experience has come a long way, because, for most of us, this is our first time playing water polo. Over the course of the season, we have developed a quite unique team chemistry that enabled us to win a championship none of us thought we could."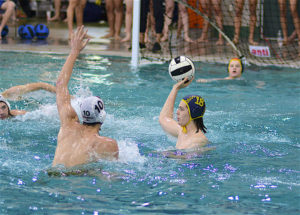 "In the beginning of the season I played goalie for the team. However, with the loss of a few of our key field players I began to play more in the field. I felt like I did a good job making that transition and enjoyed paying every position. I feel like I was able to contribute both offensively and defensively throughout the season and more so over the last couple of tournaments," observed Brown.
Hibbs looked toward a bright future and another successful season next year:
"I look forward to the next season knowing that we will have many committed players who are devoted to developing the Jesuit water polo program, as well as improve their own skills for the overall betterment of the team. I am looking forward to watching and helping the team improve next season. I know that as the Jesuit water polo program expands and continues we will become more successful, winning more games and learning more about the sport."
Check back for more news on an amazing team with great potential for next year's season.