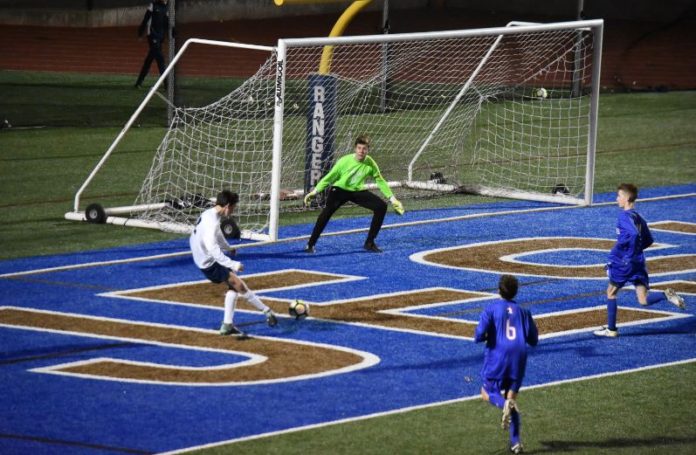 In their last game on Friday the 19th, the varsity soccer team defended their home field, Postell Stadium, attempting to defeat a strong Trinity Christian Academy team. Both teams have had a successful start to the season with only a few preseason losses.  The stage was set for a well matched competition.
The first half was silent as Jesuit and Trinity Christian played quite evenly, approaching the middle of first half 0-0.  Neither team capitalized on frequent chances to score. Notable attempts include Jesuit's Christian Lerma '18 nearly scoring a goal kick at the 10 minutes remaining mark.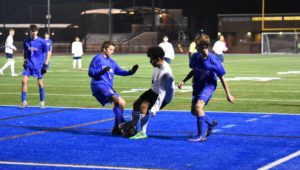 Alex Reznicek '18 helped maintain this balance by denying a Trinity Christian penalty kick.  He commented that "it was a good game but we still have room to improve." Showcasing what appears to be that Jesuit mindset of the Magis and seeking todo the best one can.
Despite attempted points by both sides, the game remained 0-0 as strong blocking and teamwork by Jesuit helped protect the goal.  However, as the end of the first half approached, sophomore Diego Sierracame shot on Trinity Christian's goal thanks to a skillful pass from Chris Flabiano '19.  However, on the rebound the opposing goalie denied his attempt. Thus, Jesuit remained 0-0 at the half.
Jesuit appeared to create opportunities in the second half.  The Rangers had a free kick to a far pole when Chritian Lerma'18 passed to Diego Sierra '20 who shot and hit the crossbar.  Likewise, John Scott '19 missed a close snipe at the goal.  Although no points were made on offense, which lacked a finishing touch, the Jesuit defense played well and allowed no points.
Kaz Hirota '19 stated that "defense played alright, however, it can still be improved."  He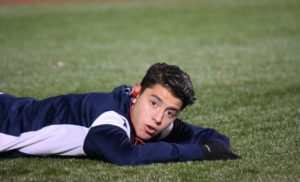 continued, "the offense had a lot more chances than Trinity Christian….[however,] they couldn't finish their chances." Similarly, Coach DeLong head varsity soccer coach said that "although "the team was " out to a slow start, missing many opportunities, they showed glimpses that they could hold off other teams by working together." An excellent optoom from the head coach himself, exemplifying that the team still has much room to improve.
Despite the disappointing draw, players Kaz Hirota, Aleksei Ramirez, Flávio Calderon, and Israel Ollarzabal finished with clean stat sheets, that is, they made no fouls.  Hopefully they can continue this trend while still improving their offense. Making less mistakes is always a sign of improvement. This improvement reflects the Jesuit varsity Soccer team's great commitment to diligent practice and daily betterment.
Look for the Rangers to make a run at the state title soon!
Photography by Daniel Nguyen '18