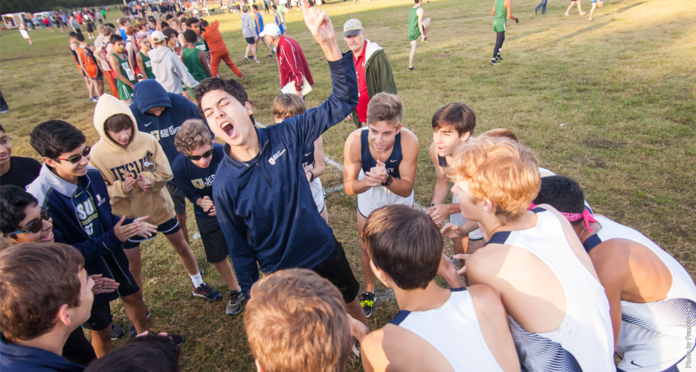 Amidst a series of inopportune meet cancellations due to Dallas' erratic, rainy weather, the Jesuit Track Team managed to shine through the storm clouds, exhibiting outstanding performances and high potential for the remainder of the season.
     Both the JV and Varsity teams competed at the Newman Smith Trojan Relays on Saturday, February 17th, with the Varsity team achieving 5th place out of the 16 teams present, and JV placing at 3rd. The track team is building up momentum, which will prove useful as they enter the home stretch of the season.
     Member of the Varsity Track Team and Co-Captain of the Cross Country team, Jacob Bartkoski '19, admittedly noted that he walked up to the painted white line "not knowing what to expect" however he managed to run his "second best time ever, picking up where he left off at the end of last season" demonstrating his individual growth after months of practice.
     Fellow distance runner Gavin Martinez shared a similar, forward-thinking mindset, stating that "it was a great way to start the season" believing that so long as they "keep showing up to the meets ready to run regardless of the conditions" the team will be able to "accomplish big things."
     Unfortunately, opportunities to showcase talent so far this year have been limited, evidenced by the cancellation of last week's Freshman Track Meet, but as months of training begin to pay off, there remain high hopes for what the Jesuit Track Team can accomplish.