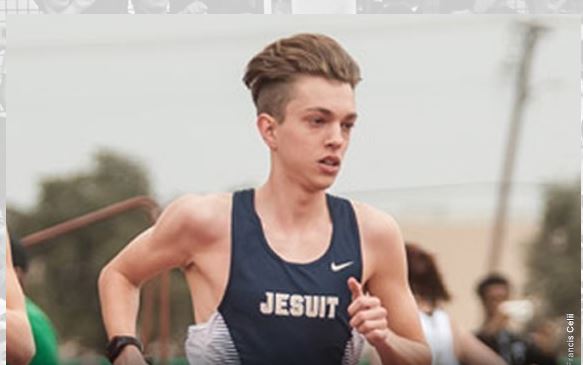 Smoke rises from the gun shot fired on the track, 6 high school boys take off in a full sprint, one of whom is wearing a gold cross on his chest.
The Jesuit track and field team competed in the Distance Festival meet last Saturday, February 26. The team competed on the Southlake Carroll High School track against other high schools from around the Metroplex. 3 year runner Lucas Kincade '17 believes that, "running in meets like these, our main goal is to improve our times both as a team and as individuals. Since its still relatively early in the season, we don't expect to be bringing home first place in every race throughout the meet but Coach Squeaky likes to see us improve week to week. Our long distance team really impressed everyone with their high placing finishes. Connor O'Neil '17 really impressed the whole team by setting the school record with a time of 9:24."
The day started off with the field events in the morning, and wore on as more and more Jesuit runners arrived at the track, preparing for and stretching for their races. Generally, the order of the races goes: field, short distance, long distance. Jack Lynch '17, a substitute for the 400 meter race, was "extremely tired by the end of the day. After running and sitting in the sun all day, it sucks to have a long distance race because all you want to do is get inside and hydrate. Although during the day, I may not appreciate it as much as I should. The feeling that you get driving home at the end of a succesful meet is one of the best feelings in the world. I wouldn't trade it for anything."
While the short distance runners may have not placed as high as they would have liked to, the long distance runners blew everyone away with their impressive finishes. Led by Connor O'Neil, who placed 2nd in the 3200, the long distance team saw a large jump from their last meet.
First year runner, Tommy Paredes '17 thought that his first meet went, "well, but it could have gone better. It's still my first season as a member of the track team, but I was injured for the beginning part of the season. Because it is my first season, I wanted to get out on the track for my first meet as fast as possible, which, now looking back at it, wasn't that great of an idea for my injured hamstring." Paredes did see his "team chemistry both on and off the track improving from the last meet he was at."
While track may be a individually run sport, in order for your team to succeed, you have to be able to "work well as a whole unit. You can't just rely on one single person to carry your team because at the end of the day, he can only do so much. So you have to make sure that you are running the best possible time, not just for yourself, but for your teammates," says Dillon Kirgis '17.
Looking forward, the team will have many chances to improve their times and races. They have two meets this week followed by 7 more after Spring Break. All in all, the team is in a good position to make a strong finish to the season.