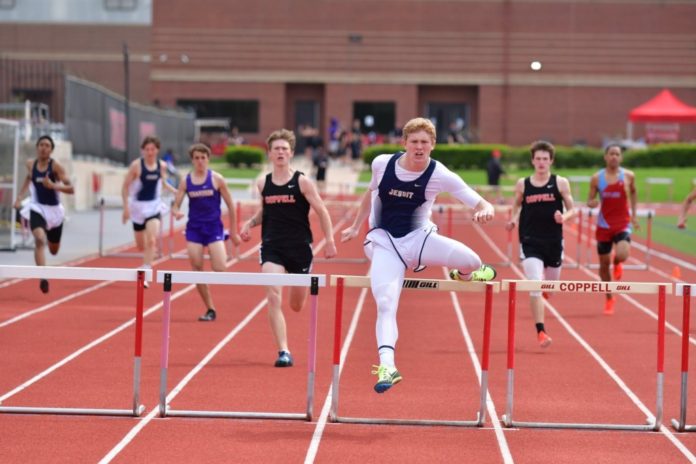 "Find the good. It`s all around you. Find it, showcase it and you`ll start believing in it."      -Track Legend Jesse Owens
The Jesuit Track and Field Team had a major District Championship meet on April 4th at Coppell High School. The Freshmen Track and Field Team met on April 5th for their District Championship. The Varsity team finished fifth overall and the Junior Varsity team walked out with a second place finish.
Coach Doug Robinson, on the meet, said "My overall thoughts of the District Championships were peaks and valleys.  We went into the meet with high expectations for both varsity and JV."
On the performances of the athletes Coach Robinson commented, "We had some big performances in the hurdles by senior Parker Towns and in the Pole Vault by Collin Lark '19 and Jake Elrod '18.  In addition, Joey Preboy '18 in the high jump and Tommy Roy '20 in the shot put had their best efforts of the season.  Our 1600 m relay team of Finn Maguire '18, Travis Whisler '19, Pierce Strong '19, and Parker Towns turned in their best time of the year.  All those athletes advance to the Area Meet.  There were also some nice varsity surprises by two Freshmen—Henry Domine in the 1600 m & 3200 m and Austin Uke in the discus.  Both performed extremely well and placed 5th in their respective events."
Coach Robinson continued "Our JV finished as Team Runners-Up in the point standings and showed a balanced effort in all events especially the relays, finishing 2nd in the 4 x 100 relay and 4 x 200 relay and placing 3rd in the 4 x 400 relay."
Long distance runner Henry Domine '21 said "I think I performed well, but I could have run better in the 2 mile. I was very happy with my one mile performance because it was a pr of 5 seconds(4:42). I think the team performed well on both the JV and varsity side, but it could have been better. I hope that the area qualifiers move on and perform well." He would also add that he thinks "the upcoming cross country and track seasons look very promising."
Gavin Martinez '20, another long distance runner, said "I don't think I did well at all. I went into the meet hoping to run a faster time than my previous records and I knew it would be very tough with the wind but I had high hopes. I ended up running slower than my records and I was upset with myself." He thought that "overall the team did okay," but showed optimism towards the younger teams saying "Our JV however performed well and it was obvious the rising talent we have on Jesuits track team and I know in the next few years this team will experience great success."
Robinson also added that "For the most part, our future looks bright.  If we can continue to build on what we have in place with our throwers, jumpers, sprinters, hurdlers, and distance guys we will be a top team in our district.  Not to say there aren't needs that must be addressed, but I like where this team is headed."
The Track and Field team overall played very well, and the promise from all the young talent brings excitement for the future.