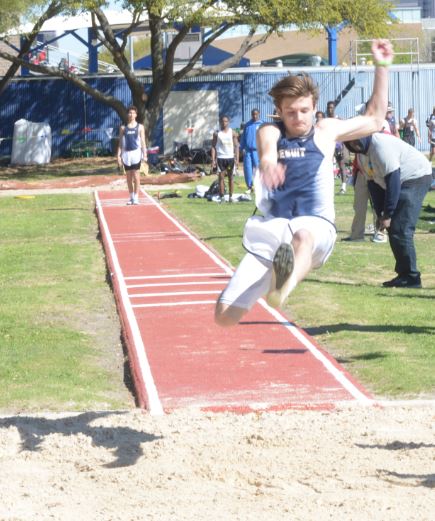 The sound of a gun goes off as runners spring from their starting spots as they compete against one another.
On March 18th, the Jesuit Dallas Track team had the pleasure of hosting schools from around the city in the Sheaner Relays. With home field advantage, the Rangers running squad felt confident going into this meet. Junior Lucas Kincade thought, "This meet is always special to the team, because it is one of the few meets we get to host at Jesuit. It's always nice to play where you practice no matter what sport it is. It's nice to be able to be acquainted to the track you run on. Even though every track is more or less the same, the added mental readiness that we can obtain is just the type of push we need to win a meet or two before regionals."
Obviously, this home field advantage helped atleast one Jesuit runner in the meet. Connor O'Neill '17 set a new Jesuit record with a time of  9:13.39 in the 3200 meter. The record was previously held by runner Will Smith in 2006 with a time of 9:22.28. I guess you could say there's a new "Fresh Prince" of the Jesuit 3200 meter.
O'Neill's success was carried forward as Shawn Regan '16 tied for fourth in the high jump competition. In a meet with 167 schools and over 1,250 athletes, Jesuit Dallas competed fiercely with some of the highest competition in the nation.
Although Jesuit Dallas did not win a high place overall in the meet, our brother school from Houston, Jesuit Strake, took home gold with 68 points. This win for Strake is enormous for the school because of the amount of highly talented athletes this meet hosted. Five Texas No. 1 times were posted along with two No. 1 Oklahoma times. Nine relay records were broken in this meet, which highlights the talent possessed by the athletes participating in the meet.
New runner, Tommy Paredes '17 believed that "runnning at an event like this really helps me become acclimated to the type of times I should be getting. For high school runners, I truly think that the best way to become a better runner is to run against better competition, which is what this meet was full of."
With the season winding down, the track team is focused on making it far in the district and regional meets and going as far as they can.